Thu 7/6

Connecting The Dots: A Jazz Flamenco Performance

Flamenco is to Spain, what jazz is to America. Both are improvisational styles of music that originated within oppressed minority communities and have now reached a status that sees them as their respective country's unique export and original contribution to the arts. The first cross-pollination between the two forms is generally credited to a performance at the 1967 Berlin Jazz Festival by Spanish saxophonist Pedro Iturralde and master guitarist Paco de Lucia. De Lucia, who would continue blending elements from various other musical
forms into flamenco, is also credited with reinvigorating the ancient art form in the late 20th century. Another striking commonality between the two art forms: the idea of
duende
, which can be loosely translated in the jazz world as "soul." When a musical performance does not give you goose bumps, most likely, the performers are lacking
duende
. Known for its operative "Jazz Thursdays," and "Flamenco Fridays," Carmens de la Calle will present its first ever jazz flamenco performance in its 17-year history on Thursday, July 6. Considering the popularity of both genres at this venue, it's almost surprising that it's taken this long for a collaboration to emerge between its regular seasoned performers. This special event will feature a performance by saxophonist Rene Saenz and Brazilian jazz guitarist Gabriel Santiago alongside flamenco guitarist Alejandro Pais Iriart and flamenco dancer Illeana Gomez.
$15-$20, 8pm Thu, Carmens de la Calle, 320 N. Flores St., (210) 281-4349, carmensdelacalle.com.
— Marco Aquino
Thu 7/6
Big Freedia
Perhaps now best known for her feature on Beyoncé's track "Formation," Big Freedia has been representing New Orleans long before she teamed up with the
Lemonade
star. Dubbed the ambassador of bounce, a style of high-energy dance music with lots of call-and-response party and Mardi Gras Indian chants, Freedia's been convincing audiences to literally shake their asses since her first single, 1999's "An Ha, Oh Yeah." Fast forward nearly two decades later, and Big Freedia is now an icon in the LGBTQ community. Come prepared to bounce – she's known to pull audience members out of the crowd to dance on stage.
$20, 7pm Thu, Paper Tiger, 2410 N. St. Mary's St., papertigersatx.com.
— Chris Conde

Fri 7/7
"Twofold"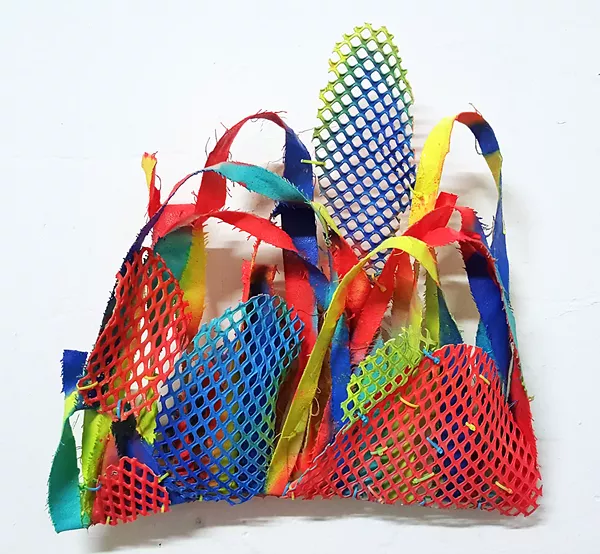 Gil Rocha-Rochelli, Roller Coaster
In one of the more conceptual components of Contemporary Art Month 2017, Museum of Pocket Art (MoPA) director/curator Roberto Jackson Harrington roved the streets of the Lone Star Arts District armed with pocket-sized works of art created by Gil Rocha-Rochelli. A Laredo-based artist who earned his MFA from the School of the Art Institute of Chicago, Rocha-Rochelli works in an array of media and styles — including portraiture, murals, "tapeography"
Gil Rocha-Rochelli, We Held On for Far Too Long
installations, and amusing billboards and signs involving English/Spanish code-switching — but has recently sharpened his focus on fabric. Employing acrylic paint and hardened fabric remnants, Rocha-Rochelli creates striking sculptural pieces at times imbued with layers of personal meaning. Entirely abstract at first glance, his 2017 piece We Held on For Far Too Long reviews tumultuous energy when you learn it's based on a roller coaster-like relationship. "By embellishing and hardening fabric with vivid colors, tangled forms, and other objects, my intention is to visually destroy everything around it," he writes in his artist's statement. Guest curated by CAM director Nina Hassele and presented as "CAM in July," Rocha-Rochelli's solo show "Twofold" opens First Friday and remains on view through July 29.
Free, 7-10pm Fri, Southtown Flats, Rubio Gallery South, 111 Probandt St., (210) 630-0235, facebook.com/rubiogallerysouth.
— Bryan Rindfuss
Fri 7/7
The Big Lebowski
Following an unusual gallery talk held in conjunction with the exhibition "Heaven and Hell: Salvation and Retribution in Pure Land Buddhism" ("The Dude and the Buddha," $8-$15, 7:30-8pm Fri), SAMA invites guests to "order a White Russian from the cash bar" and head out to the lawn for a free outdoor screening of the Coen Brothers' surreal stoner classic starring Jeff Bridges as a slacker and avid bowler who's mistaken for a millionaire.
Free, 8:30pm Fri, San Antonio Museum of Art, 200 W. Jones Ave., (210) 212-9373, samuseum.org.

Fri 7/7
Heavy Metal Wrestling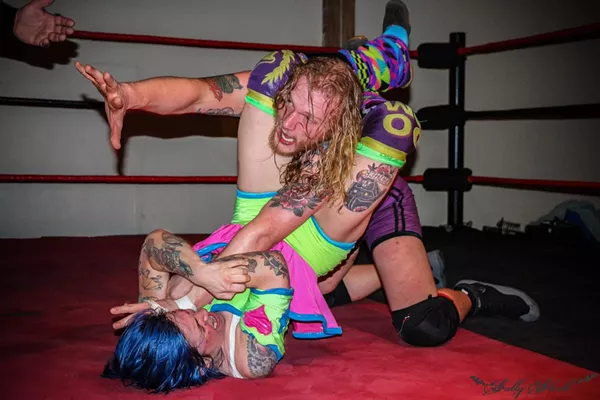 Whether it's Goldust's sci-fi-soundtrack, Mark Henry's Three 6 Mafia-rapped intro or the Undertaker or Bray Wyatt's creeping, unsettling entrance themes, music plays almost as big a role in "sports entertainment" wrestling as metal folding chairs. By pairing six matches with a live band, Heavy Metal Wrestling gives fans the chance to bang their heads between bodyslams and beatdowns. San Antonio's Party Robot — a self-described "local punk rock band that love getting drunk and playing to people like us" whose new album is titled
Crazy Shit Happens When You're Chasin' Pussy
– will set the tone, playing live entrance music for wrestlers such as "The Latin Heartthrob" Gino, masked luchador Destructor, "The Heavy Metal Berserker" Ruben Steel, "The King of 420" Low Rider, "The Punk Hunk" Dylan Dunbar and "The King of Pong" Ethan Price. Card subject to change, but what's better than a party where the music's live (literally) and all the fights are planned (hopefully)?
$10, 9pm Fri, The Korova, 107 E. Martin St., (210) 957-0967, thekorova.com.
— Jeremy Martin

Fri 7/7
"Ojos Hacia el Futuro" ("Eyes to the Future")

For some youth artists at the Westside nonprofit San Anto Cultural Arts, the first time they'll be inside of an art gallery will also be the first time they'll sell a piece of their own artwork. Through the month of July, Presa House Gallery will host "Ojos Hacia el Futuro" ("Eyes to the Future") — an exhibit showcasing artwork from youths ages 8 to 19. Benefitting San Anto's youth programs, the exhibit is said to be the "brainchild" of Presa House Gallery owner and previous San Anto student Rigoberto Luna. "It's important that we make an effort to give back to the organization that built our foundation and appreciation of art, our culture and our community as well as instilling in us the work ethic needed to succeed in all facets of life," Luna said in a release. San Anto, a nonprofit organization that focuses on connecting people of all socio-economic backgrounds to art, is best known for its community mural program and bimonthly newspaper. "We aren't just an arts organization," San Anto's development manager Keli Rosa said. "We are a community arts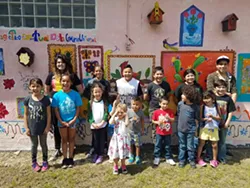 organization." San Anto holds a youth exhibit every year, but never of this magnitude. The exhibit will feature paintings, drawings and photographs. San Anto student Marisol de la Garza, who's been with the center for nearly three years, says that the youth exhibit will feature many different styles. Her eight pieces at the gallery follow a realistic style, but with some aspects of surrealism blended in. She says that besides the children creating community-minded works, another reason the event is unique is the fact that previous San Anto student Luna is making it possible, adding that it shows that the arts organization, itself, is a community.
Free, 7-11pm Fri, Presa House Gallery, 725 S. Presa St., facebook.com/presahouse.
— Sierra Juarez
Fri 7/7 - Sun 7/9
Hairspray
Hairspray
, one of America's favorite Broadway musicals, comes to the Playhouse this summer. Based on John Waters' 1988 film,
Hairspray
follows spunky, curvaceous teen Tracy Turnblad aspiring to become a famous performer. After winning an opportunity to dance on her favorite TV program, The Corny Collins Show, Tracy is swept up into a celebrity cyclone of social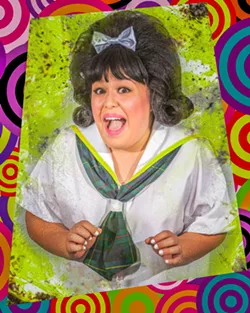 Kass Ortiz stars as Tracy Turnblad in Hairspray
pressures and prejudices. Set in 1960s Baltimore,
Hairspray
confronts issues of race, beauty and confidence. Shaking up the city, Tracy battles racism and social prejudice as she tries to use her new celeb status to advocate for the causes dearest to her, most of all racial integration. This musical's award-winning witty script, touching lyrics and catchy melodies have made it one of the most renowned plays in recent history.
$10-$40, 8pm Fri-Sat, 3pm Sun, The Playhouse, 800 W. Ashby Pl., (210) 733-7258, theplayhousesa.org.
— Kimberly Rivera
Sat 7/9
"Angel Baby"

Courtesy of Lady Base Gallery
Based around a feminist adaptation of the well-known South Texas folktale "El Camaroncito," this Lady Base Gallery collaboration sees artists Lisette Chávez and Audrya Flores challenging viewers to consider the manner in which folktales reinforce societal expectations of women and gender-related power.
Free, 7-10pm Sat, AP Art Lab, 1906 S. Flores St., (210) 705-2332, ladybasegallery.com.
Sat 7/9
"Modplexi"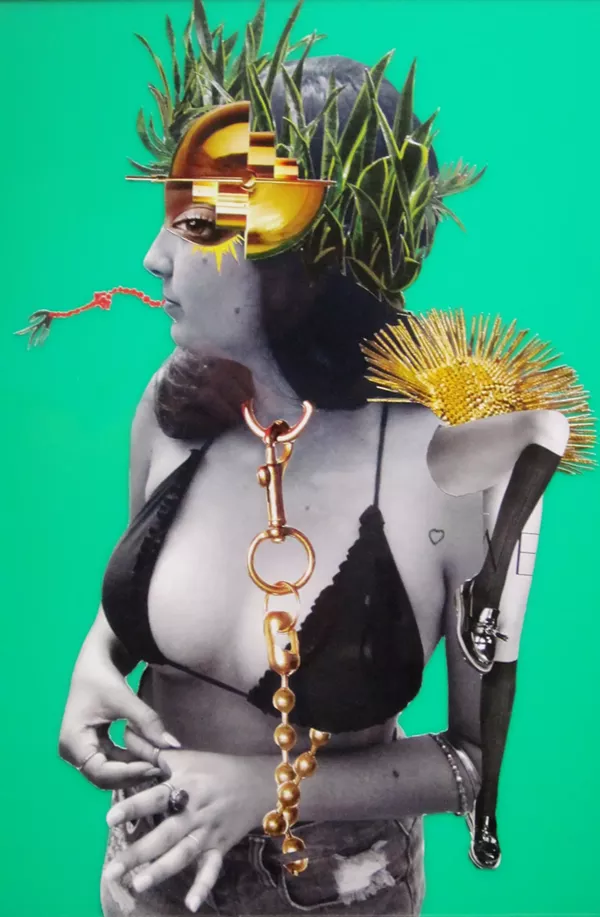 Drawing inspiration from "pop art, trash art, music, culture, old, new, whatever," Austin-based collaborators Wendy Saha and Melissa Sonzala reinterpret found imagery in hand-cut collages mounted on plexiglass.
Free, 7-10pm Sat, Dorćol Distilling Company, 1902 S. Flores St., (210) 630-0235, modplexi.com.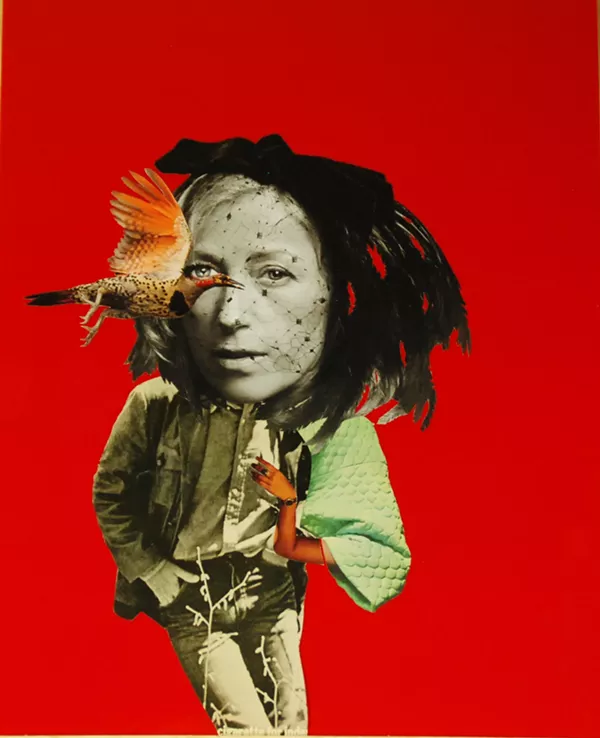 Sun 7/9
Frida Birthday Bash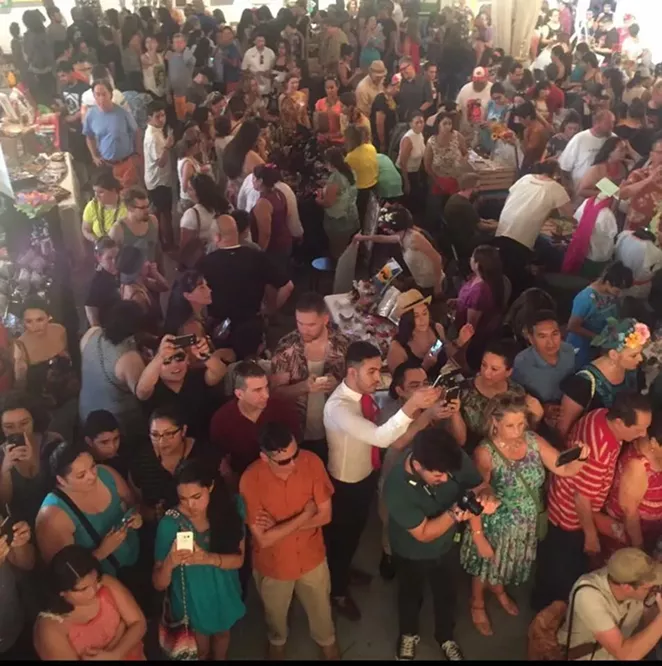 During their lifetimes, Diego Rivera easily surpassed his wife Frida Kahlo in terms of success and notoriety … but in death, Kahlo's undeniably overshadowed Rivera — not to mention his well-known contemporaries David Alfaro Siqueiros and José Clemente Orozco. A decade ago, the Palacio de Bellas Artes in Mexico City observed the 100th anniversary of Kahlo's birth with the largest, most comprehensive retrospective of her work. Assembled by five curators and comprising 354 pieces (paintings, drawings, photographs, manuscripts and letters), the exhibition aimed to present viewers with what museum director Roxana Velásquez Martínez del Campo described as "the complete Frida" — a tortured yet defiant artist who "wrote, thought [and] challenged the Americans." That same year, the Museo Frida Kahlo in Coyoacán unveiled a small portion of a bounty discovered in 2004 — 22,000 personal items, including letters between Kahlo and her unfaithful husband, sketches, magazines, books, keepsakes, clothing and even a puppet theater. Taken together, this pair of exhibitions combatted the flimsy nature of "Fridamania" — a cultish fandom often critiqued for airbrushing Kahlo (strong communist leanings, overt bisexuality, personal woes, medical misery and all) into a digestible commodity based not on her work or convictions but her persona and signature style (unibrow, flower crown, Mexican Revolution-era attire, etc.). Offering a bit of a sneak preview of what's in store for San Antonio's second annual Frida Fest (July 15 at Wonderland of the Americas), the Frida Birthday Bash celebrates the enduring cultural icon's 110th birthday (technically July 6) with a Sunday funday combining a "Frida-inspired" market with live entertainment, drinks and local cuisine.
Free, noon-6pm Sun, Brick, 108 Blue Star, (210) 262-8653, (210) 273-5023, facebook.com.
— BR