Thu 7/13
International Artist-in-Residence Exhibitions

In the midst of recent developments in programming (including the introduction of open studio events and a new curatorial residency to be inaugurated later this month by Chicago-based Erin Jenoa Gilbert), Artpace is set to unveil site-specific exhibitions created by Summer 2017 residents Christie Blizard (San Antonio), Rolando López (Aguascalientes, Mexico) and Kang Seung Lee (Los Angeles). Organized by Mexico City-based artist and curator Yoshua Okón, the trio of shows represents the culmination of residencies that began May 15.
An assistant professor of painting and drawing at the University of Texas at San Antonio, Blizard once jumped out of an airplane with a Willem de Kooning drawing sewn into her skydiving jumpsuit, but is better known for her performative interventions on the early-morning sets of
Good Morning America
and
The Today Show
— where she's always armed with signs bearing conceptual slogans such as "The Brokenness of Painting," "Without You I Have No Mirror" and "The Absorption of Meaning."
Often focusing on the intersection of economy and culture, López's work reached a pivotal juncture when he traced tons of toxic waste to the Guggenheim family's mining and smelting operations in Mexico. Assuming the responsibility to address this overlooked history, López frequently incorporates industrial detritus in his work and has proposed to build the Guggenheim Museum of Aguascalientes — "a black museum, a sick museum, an underground museum."
A native of South Korea, Lee has worked to bring marginalized cultures, women and people of color to the forefront through his projects
Covers
(a photocopied archive presented as wallpaper and a series of five bound books) and
Untitled (Artspeak?)
, a reinterpretation of the 1990 book
ARTSPEAK
created from a critical queer perspective.
Free, 6-9pm (artists' talk at 7pm) Thu, Artpace, 445 N. Main Ave., (210) 212-4900, artpace.org.

— Bryan Rindfuss
Thu 7/13
Tito Puente Jr.

Courtesy of Tito Puente Jr.
Tito Puente Jr. has spent a great deal of his career simply uplifting his father, magnifying the cosmic reverberations left by that singularly inventive and beloved force in music (and the world) Tito Puente. And, who could be mad at that? The New York-born Puerto Rican crafted an unforgettable creole of Latin jazz, mambo and Afro-Cuban jazz, and he delighted the world with his magnetic personality, wearing his joy impossibly thick on his face like a worldwide ambassador for happiness itself. If the father brought the passion and drama of Afro-Latin rhythms to the world stage, the son is doing his part to ensure that this style of music, and its biggest star, are not forgotten. Puente Jr. puts on kinetic shows, driven forward by delirious rhythms, playing his father's music as well as some of his own originals.
$26, 8pm Thu, Paper Tiger, 2410 N. St Mary's St., papertigersatx.com.
— James Courtney
Thu 7/13
The Princess Bride
The City of San Antonio World Heritage Office hosts a Throwback Thursday revival of Rob Reiner's 1987 cult fantasy starring Cary Elwes as a farmhand who sets out to rescue his true love Princess Buttercup (Robin Wright) from the odious Prince Humperdinck (Chris Sarandon).
Free, gates at 7pm, film at dusk Thu, Mission Marquee Plaza, 3100 Roosevelt Ave., (210) 207-8612, slabcinema.com.
Thu 7/13
Hall & Oates with Tears for Fears
Yes, the duo that spawned such hits as "Rich Girl" and "Maneater" will be making an appearance in the Alamo City with your favorite sad boy new-wavers who made it OK to dance and be sad at the same time (see: "Mad World"). It's no secret that us San Antonians live for a blast from the past, what with bands like Metallica, and Bush visiting us on the weekly, so, of course get ready to throw an enormous amount of product in our hair, tease it up as much as possible, pop our collars, put on some Ray Bans and sing along to "Shout."
$35-$129.50, 7pm Thu, AT&T Center, One AT&T Center Pkwy., (210) 444-5000, attcenter.com.
– Chris Conde

Fri 7/14
La La Land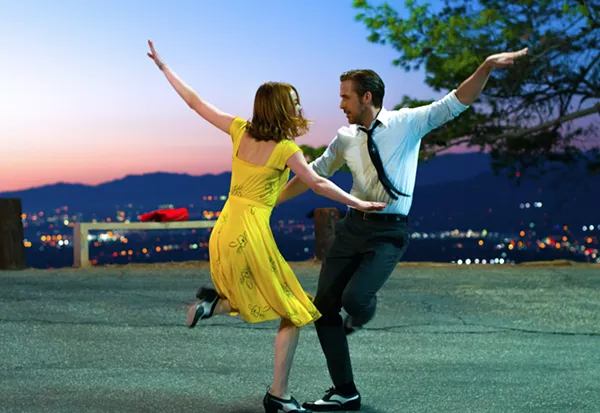 Cinema on the Plaza returns to the Tobin for a special outdoor screening of the 2016 musical phenomenon
La La Land
, written and directed by Damien Chazelle. Starring heartthrob Ryan Gosling and America's sweetheart Emma Stone,
La La Land
follows the relationship between a struggling jazz pianist and an aspiring actress/playwright and their roller-coaster journey chasing fame and the American Dream. Confronted by hectic and heartless Hollywood demands, the pair struggles to balance their romance with personal/professional aspirations. Dare to dream and let yourself get whisked away in this infectious, Oscar-winning musical as it plays out on San Antonio's largest outdoor screen (spanning 32 feet). Sponsored by H-E-B, the free screening comes complete with food and beverage vendors (including beer and a full bar) available throughout the film. Bring the family, friends or a sweetheart and don't forget to pack lawn chairs and picnic blankets to get cozy under the stars.
Free, 8pm Fri, Tobin Center for the Performing Arts, River Walk Plaza, 100 Auditorium Circle, (210) 223-8624, tobincenter.org.

— Kimberly Rivera

Fri 7/14
"Grim Manor Gallery"

In a tribute to animator Marc Davis' Haunted Mansion, a Disney favorite, Brick will host a "Grim Manor Gallery" exhibit promising attendees the "much-needed jarring spark when engaging with art." Artists Vidvad Scare and Daniel Kranz curated the exhibit with the intent to present what the Haunted Mansion could have been — a "museum of the weird." The curators said they hoped to create a strong imaginative cohesion and collection of artists that would stimulate and inspire guests. The one-night-only exhibit will feature works primarily from San Antonio artists, but it will also represent artists from all over the world, including one from the United Kingdom. Guests can expect live music from DJ Rickbats and DJ Fell in addition to the Haunted Mansion's soundtrack. Haunted Mansion-inspired costumes are welcomed and encouraged.
$2, 7pm–midnight Fri, Brick, 108 Blue Star, (210) 262-8653, facebook.com.
— Sierra Juarez
Sat 7/15
Frida Fest

At the first San Antonio Frida Fest last July, hundreds of women with their hair braided in
trenzas
decorated with flowers showed up to wait in line at Brick in the Blue Star Arts Complex. Fridas of all shapes, sizes and ages dressed up in colorful and intriguing clothing in homage to the Mexican artist whose tortuous, tempestuous life is celebrated by the cult of "Fridamania." Waits lasted more than an hour to get into the first Frida Fest and many people were turned away, but organizer Fred-Anthony Garza said that shouldn't be a problem for this year's expanded
Frida Fest
, to be hosted by Que Retro Arts and Viva Vegería at Wonderland of the Americas. "Frida Fest is a grassroots, community-run event and we were just blown away by the response last year," Garza said. "So we've been working and planning for the past year to make a bigger, better event. We'll have more than 50 vendors offering one-of-a-kind arts and crafts, plus an art gallery, fashion, special food and live performances. We'll be indoors with air conditioning and a lot more room for people to celebrate Frida's life and art."
However, this year the Kahlo family of Mexico City will be involved in vetting and approving Frida Fest participants. "The family found out about the first Frida Fest through social media and wanted some say because licensing of her image is a real concern for them," Garza said. "But we're glad to have them involved. We are telling vendors to come up with original work and to avoid the kind of cheap knock-offs of her work that have become so common." While her brooding gaze, elaborate Tehuana coiffures and signature unibrow have become almost as familiar as Mickey Mouse, the second Frida Fest is encouraging fans to take an original approach, using Kahlo's life as a model for the theme "A View of Our Own Reality."
Exhibit curator Kristel Puente, a San Antonio photographer, said she looked for artists who went "further and deeper," rather than simply copying or mimicking Kahlo's style. "As a dark-skinned woman of Mexican heritage, Frida Kahlo was a revelation for me," Puente said. "Seeing her images and paintings was the first time I saw someone like me in a museum. Her life reflected my life, from her sexuality to using clothing to hide her disabilities. She was an activist who continues to inspire activists today. So I wanted to put together an exhibit that celebrates her life and spirit, but with artists who have their own, unique, original vision." Paintings, photography and three-dimensional work will be featured in the storefront exhibit that will be on view only during Frida Fest.
Free, noon-9pm Sat, Wonderland of the Americas, 4522 Fredericksburg Road, (210) 785-3500,
wonderlandamericas.com
.

— Dan Goddard
Sat 7/15
Dancing with the Stars: Live!
Dancing with the Stars: Live!
San Antonio's scorching summer reaches new heights this weekend as some of America's finest dance performers take the Majestic stage for the
Dancing with the Stars: Live!
Hot Summer Nights tour. The traveling production features Emma Slater, Sasha Farber and an array of other internationally recognized ballroom dancers, all coming together to perform dynamic numbers from a wide range of styles and genres. Revisiting some of the breathtaking group numbers and duets from the hit ABC show, the high-energy sensation stops in San Antonio for one night only.
$40-$100, 8pm Sat, The Majestic Theatre, 224 E. Houston St., (210) 226-3333, majesticempire.com.
— KR
Sat 7/15
Video Games Live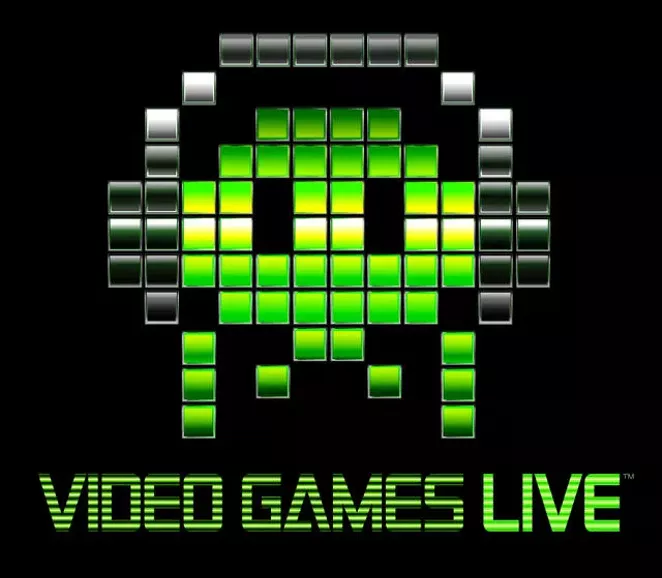 Known for composing music for over 300 video game titles, Tommy Tallarico presents
Video Games Live
– an explosive performance infusing live symphony with digital sounds and astounding aesthetics. Partnering with the Youth Orchestras of San Antonio (YOSA), Tallarico brings the musical spectacular to the Alamo city, engaging the talents of the city's youth. Featuring all of the best tunes from the world's best-selling video games set to synchronized videos,
VGL
includes nostalgic tunes from
Zelda
,
Halo
,
Prince of Persia
and more. More than just music, the show mixes popular internet performers, stunning laser light shows and interactive segments to immerse the audience into the digital world. Experience the raw sentiment of symphony with the bombastic electronic percussion and dazzling lasers. Before the performance, mingle with local video game designers to discover the most recent news in the San Antonio video game community. This unique show is perfect for audiences of all ages.
$22-$89, 8pm Sat, Tobin Center for the Performing Arts, 100 Auditorium Circle, (210) 223-8624, tobincenter.org.
— KR

Sat 7/15
Ghostland Observatory
Remember Ghostland Observatory? I don't know if it's just because we were in such close proximity to Austin, home base to the duo, but in 2008, didn't it seem like like no matter where we went, we couldn't escape the electro grip of "Sad Sad City" and Aaron Behrens' braided pigtails flopping against his head as he sang and gyrated across stages? While the band hasn't released a full album since 2010's Codename: Rondo fans can be sure to expect the same high-energy pulse from the group which made us throw their music on our party playlists all through the late aughts.
$30.02-$872.06, 8:45pm Sat, WhiteWater Amphitheater, 11860 FM306, New Braunfels, (830) 964-3800, whitewaterrocks.com.
– CC

Sat 7/15
Dismal Light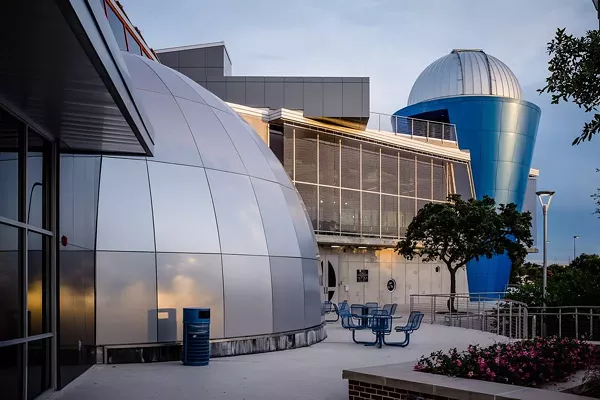 Following up on the wild and truly tripped-out success of the first installment, the folks behind K23/Purple Bottle bring us the second dose of Astral Projections, a swell concert series hosted at the Scobee Planetarium, this Saturday. The series, which pairs experimental electronic artists with light/projection show wizards, kicked off back in April with the slow-building and meandering sounds of ATX's Dallas Acid and will now continue with Dismal Light. The side-project of Destruction Unit's Ryan Rousseau, Dismal Light sounds like the melodic sputterings of a machine/computer network that has begun to think erotically about itself. It's deeply psychedelic stuff, without ever being overwhelming or random. Dig
auasca.bandcamp.com
to hear Dismal Light's 2014 debut
Mindswap
. Just as with the first Astral Projections, intense eye candy in the form of mind-assaulting visuals will be provided by The Mustachio Light Show.
$21, 7:45pm (doors at 7pm) Sat, Scobee Planetarium, 1300 San Pedro Ave, (210) 733-2910, k23.ticketbud.com.
— JC