Want noodles with that?
Tampopo
is the movie that put Japanese filmmaker Juzo Itami on the international map in the 1980s and remains by far his most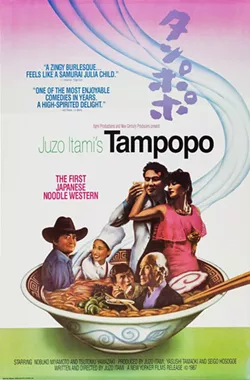 famous film. Advertised as a "ramen Western" (as opposed to spaghetti Western), the movie's not a Western but its style injects many send-ups of film genres as it spins a rambling anecdote of how various experts teach a woman to make the perfect ramen for her little restaurant. The main story, already tongue-in-cheek, keeps digressing into unrelated vignettes about food in the lives of various wacky characters, especially a gangster and his moll who play with food erotically. The result is a free-wheeling comedy, low in calories but throwing in plenty of spice, all for the purpose of satisfying an audience's delectation. You should probably eat first.