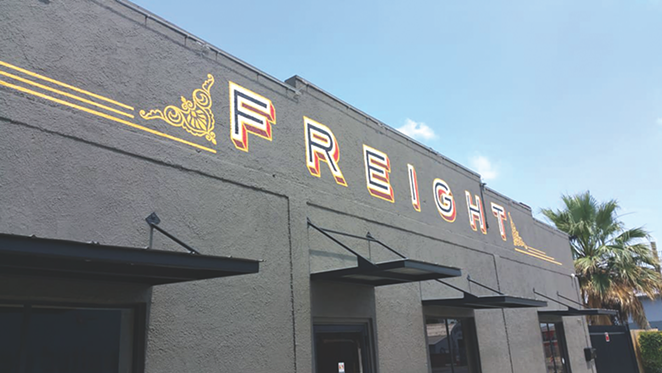 Photos courtesy of Freight Studios
If you've driven down South Flores Street recently, you may have noticed the freshly painted signage on the front entrance to Freight Gallery & Studios. The sprawling arts complex, one of the latest additions to the Southtown arts district, has recently undergone extensive renovations. Formerly known as Gallista Gallery, the space was previously owned by revered Chicano artist Joe Lopez for nearly 20 years and was the subject of a 2009 documentary.
Sergio Martinez, who bought the compound a little over two years ago, is hoping the new facelift will bring the space to a larger audience. Freight will now be open throughout the week, marking a stark departure from the surrounding galleries — most of which are only open by appointment and during Second Saturdays, the neighborhood's monthly art walk.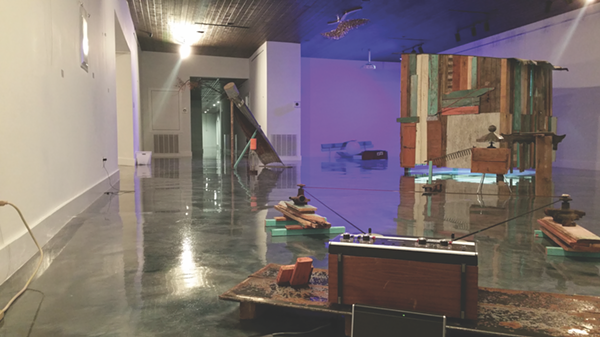 "What we want to do is give people a place to go during the week, you know, to give people a chance to come check out the studio … check out the art," Martinez recently told the Current. "Hopefully that will bleed over into the other spaces across the street and around to maybe encourage them to open during the week as well. Hopefully, we can be that catalyst to help change the neighborhood a little bit."
There are also plans to open a coffee shop, cafe and retail shop later this summer that will add allure to the space. During a recent Second Saturday opening, the newly renovated space felt decidedly more sophisticated compared to its former self (a colorful hodgepodge of DIY art studios). Shiny black floors and freshly painted white walls welcomed the crowd of art lovers. "The biggest thing was to clean up the space because it was a little bit like a labyrinth before as far as the studio spaces and main gallery space," Martinez explained. "It didn't really have a clear flow to it. We worked with Alamo Architects to develop the original concept design. My main goal was to keep it really clean, give it an urban feel and open it up as much as we could. We wanted to create a space that was a blank canvas for artists to work with."
Martinez is already renting out space to a number of well-known local artists, including printmaker Harvey Mireles, who has created a sort of "satellite space" for his Westside nonprofit La Printería. Ceramicist Mark Crutsinger is also renting a space here, and the latest gallery to open at Freight, Revenant Gallery, curated by Liz Paris and Roland Fuentes, recently held its inaugural exhibition. "My goal is to bring in artists that are going to produce work consistently and produce work of a high quality," Martinez said. "We feel that having those types of artists working and showing here will really showcase what the SA scene is all about and will attract people from areas of town that maybe don't come down here often."