Thu 8/17
North by Northwest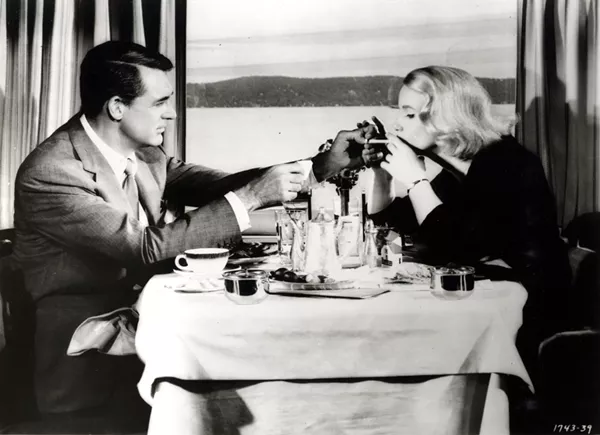 The thing about the best Alfred Hitchcock films that makes them so enduringly great is their timeless universality. Hitchcock was a pioneer in using our collective fears, doubts and alienation to create powerful cinematic experiences that thrive in the unknown. Any list of the great-grandfather of macabre and suspenseful cinema's best work is likely to include the 1959 thriller
North by Northwest
. This Kafkaesque gem of a film, which is ideal for an outdoor, after-dark screening, was described by its writer Ernest Lehman as "the Hitchcock picture to end all Hitchcock pictures." And, aside from being a pretty righteous humble brag, that's definitely not an exaggeration. Starring Cary Grant and Eva Marie Saint, the movie is a rollercoaster ride of intrigue that follows its protagonist, a victim of mistaken identity, on a harrowing and exasperating cross-country chase, with every hazy detail serving to magnify the existential dread that lies at the film's core.
Free, 8:20pm Thu, Mission Marquee Plaza, 3100 Roosevelt Ave., (210) 207-8612, slabcinema.com.
— James Courtney
Thu 8/17
Gente de Zona
Courtesy of Gente de Zona
In the music video for Cuban reggaeton duo Gente de Zona's 2015 dance anthem "La Gozadera," a traffic jam leads motorists to abandon their cars for an impromptu dance party on the streets of Havana. In a display of pure joy and cultural pride, Latinos in every shade of brown are depicted dancing atop cars and waving flags representing their country of origin. It was fitting that on the evening of June 11, 2016, Orlando's Pulse Nightclub shared the video on Facebook to promote its weekly "Latino night" hours before one of the biggest mass shootings in the U.S. occurred on its premises. To date, the video for "La Gozadera" has received over 930 million views on YouTube as the group's appeal among young listeners continues to rise. Founded in 2000 by Alexander Delgado, Gente de Zona rose to international fame after being featured on the 2014 flamenco-tinged Enrique Iglesias single "Bailando." Most recently, Gente de Zona collaborated with Jennifer Lopez on her latest single "Ni Tú, Ni Yo" and are among the latest wave of Spanish-speaking artists making a dent in the U.S. market. While the group claims their music is not meant to be political, it's hard not to consider its impact within the context of the current political climate.
$29.50–$155, 8pm Thu, Aztec Theatre, 104 N. St. Mary's St., (210) 812-4355,
theaztectheatre.com
.
— Marco Aquino
Thu 8/17 - Sat 8/19
Dixie's Tupperware Party

Courtesy of Dixie's Tupperware Party
Since her early days entertaining "straight Republican white women" in Orange County living rooms, wayward Southern belle Dixie Longate — an over-the-top drag character created by writer/actor Kris Andersson — has earned comparisons to Dame Edna and emerged as an unlikely ambassador for Orlando-based Tupperware Brands Corp. Putting an unapologetically trashy spin on the Tupperware-party format, Andersson's signature show (touring since 2008 and returning to San Antonio as part of the Tobin Edge Series) combines comedic storytelling, a storyline about homegrown entrepreneur Brownie Wise, and actual sales of plastic food storage containers. In addition to raunchy laughs and a handy Tupperware catalog, guests can expect to be called "hooker" — which Dixie naturally considers a term of endearment.
$39.50, 7:30 Thu, 8pm Fri, 2pm & 8pm Sat, Tobin Center for the Performing Arts, 100 Auditorium Circle, (210) 223-8624, tobincenter.org.

— Bryan Rindfuss
Fri 8/18
La Arrolladora
It's not every day I can say something like "hey, you know, Miller Lite has great taste in music." However, the beer giant certainly seems to know what it's doing with the ongoing Conciertos Originales live series, which is now in its fourth year and spans seven cities. For the latest San Antonio installment, the series will feature massively beloved, Latin Grammy-winning outfit La Arrolladora Banda El Limón (or La Arrolladora for short). In its more than 40-year run of producing the finest in Sinaloa-style Banda music, La Arrolladora, founded and led by Banda pioneer René Camacho, has amassed a well-deserved following. The group, which is usually more than 12 strong, didn't even bother releasing music commercially until 1997, after more than 35 years playing regionally in various incarnations. If you aren't already a fan, now's as good a time as any to see, hear, and feel the magic that Camacho and company have been brewing up all these years.
Free with RSVP, 7pm Fri, The Aztec Theatre, 104 N. St. Mary's St., (210) 812-4355, theaztectheatre.com.
— JC

Fri 8/18
"Onslaught"
Courtesy of the Blind Tiger Comedy Club
For scene supporters wise and resourceful enough to venture beyond the predictable confines of mall-based comedy clubs, there's the Blind Tiger — a delightfully odd, underground lair that bills itself as a "haven for trying out new ideas in a environment not dependent on two drink minimums and delicate sensibilities." Situated in the basement of the kitschy, costumed Magic Time Machine, the club occasionally hosts touring headliners but more frequently showcases established and emerging comics of the homegrown variety. Combining "true stories of childhood, valor, honor, horror, sex, drugs and everything in between" in a format likened to "Martin Scorsese meets Bill & Ted," the Blind Tiger's "Onslaught" brings together the talents of longtime local favorite and Comedia A Go-Go co-founder Larry Garza (crowned the Funniest Person in South Texas in 2016); Best of San Antonio winner Gabriela Tijerina (who honed her craft at New York City institutions such as the Comedy Cellar and the Upright Citizens Brigade); George Anthony (a gifted storyteller who's "very humble [but] would like everybody to know he's the greatest"); Raul Sanchez (a rising stand-up making waves on the festival circuit); Holli Cuomo (known for her snarky attitude and absurdist point of view); Bob Khosravi (an Austin-based avocado enthusiast who's been described as "bright and engaging with a subtle sense of darkness"); and Edward Hernandez (an Austinite who's toured with the likes of D.L. Hughley, Rob Schneider and Carlos Mencia).
$5, 8pm Fri, Blind Tiger Comedy Club, 902 NE Loop 410, (210) 828-1470, blindtigercomedy.com.
— BR
Fri 8/18 - Sat 8/19
Sinderella and the Glass Zipper: A Burlesque Fairy Tale
Jade Esteban Estrada directs international burlesque star Coco Lectric in this original new production following a "boobalicious" maiden determined to escape the grips of her wicked stepmother and stepsisters to attend the royal burlesque ball at Pink Taco Palace.
$20-$25, 8pm & 10:30pm Fri, 8pm Sat, The Overtime Theater, 5409 Bandera Road, Suite 205, (210) 557-7562, theovertimetheater.org.
Fri 8/18 - Sun 8/20
Lorca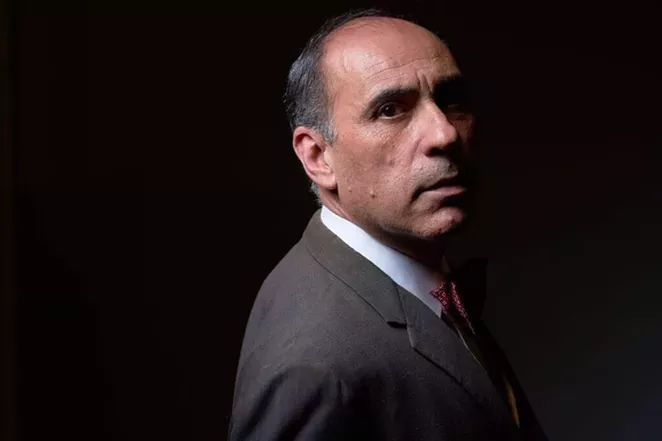 With his 1932 play
Blood Wedding
, and collection of poems
Poet in New York
, published in 1940, Federico García Lorca became one of Spain's most revered poets and dramatists. But his influence far exceeds the world of literature. Lorca was part of a group of artists known as La Generacion del '27, which included filmmaker Luis Buñuel and artist Salvador Dalí. In the 1930s, Lorca explored the Gypsy caves of southern Spain to gather and later transcribe to piano the folk music of that region. On August 18, the Classic Theatre will present
Lorca
, a one-man-show starring José Rubén De León. Set against a backdrop of the Spanish Civil War, the play covers the major accomplishments of Lorca's life up until his assassination in 1936 by right-wing military authorities. De León, who is fluent in both Spanish and English, says there was a time when his accent was actually a hindrance and recalls being laughed off the stage by a director. "I felt very humiliated and walked out of the theater,'' he explained. "I thought, 'You know what? I'm going to create a one-man show for myself and never audition again.'" In 2003, De León premiered
Lorca
and has since gone on to produce other one-man dramas including 2005's
Simplemente Lara
, based on the life of Mexican composer Agustín Lara, and 2015's
Unforgettable
, a tribute to Nat King Cole. While De León has also become known for his collaborations with jazz musicians Aaron Prado and George Prado on recent productions, he says he will carry
Lorca
entirely on his own. "It's all me," De León said. "I had a lot of dreams about Lorca because of all the reading and researching I was doing." His hope is that the play will "prompt more people to investigate Lorca's life and read his material."
$20, 8pm Fri-Sat, 3pm Sun, The Classic Theatre of San Antonio, 1924 Fredericksburg Road, (210) 589-8450, classictheatre.org.
— MA
Sat 8/19
Pee-wee's Big Adventure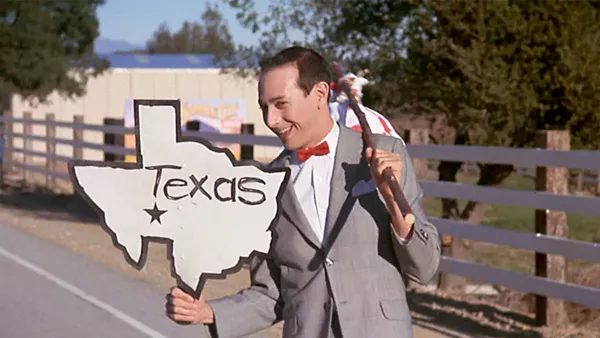 Slab Cinema and Representative Diana Arévalo co-host a screening of Tim Burton's 1985 cult classic starring following goofy man-child Pee-wee Herman (Paul Reubens) on an epic quest to retrieve his stolen bicycle from the "basement of the Alamo."
Free, 8pm Sat, Woodlawn Lake Park, 1103 Cincinnnati Ave., (210) 207-7275, slabcinema.com.
Sat 8/19
The Avett Brothers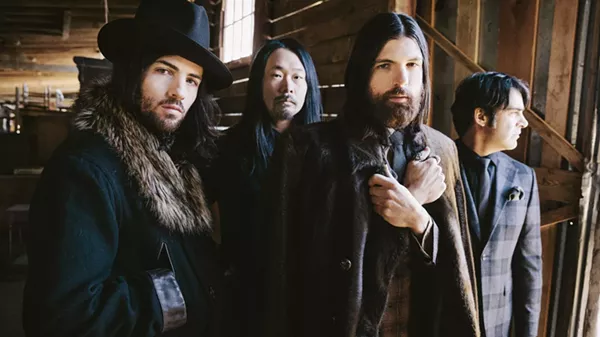 The 2000s saw an emerging folk revival with artists like Sufjan Stevens, Devendra Banhart and Joanna Newsom. On the more bluegrass-y, Americana end of the spectrum were bands like Old Crow Medicine Show and The Avett Brothers, which formed when brothers Scott and Seth Avett's respective bands converged in the late 1990s. From a little town called Mount Pleasant in North Carolina (population 1,652), The Avett Brothers, (who were scheduled to play this past April but had to cancel because Scott caught the flu) strung together a sound that's equal parts contemporary folk and vintage Appalachian bluegrass. It's jangly as hell, and, at times, pretty punk rock as rapid-fire banjo strumming blends with three-part harmonies, fiddle, cello, acoustic guitar and drums — all to create music that's as exciting as any punk rock show.
$45.27-$1,019.86, 8pm Sat, Whitewater Amphitheater, 11860 FM 306, New Braunfels, whitewaterrocks.com.
— Chris Conde
Sat 8/19
Art of War featuring GZA
If there were any appropriate time to use the "air siren" sound DJs use almost ironically through their sets, it would be now. GZA of the legendary Wu-Tang Clan is slated for an appearance at Paper Tiger and we're more than just a little excited about it. Back in 2015, a survey was done analyzing who had the most extensive vocabulary in hip-hop. Though, he didn't come in first, Wu-Tang Clan's GZA, aka "The Genius," snagged an honorable second place to the weirdo indie rapper Aesop Rock, a pretty notable feat considering Aesop probably gets off on reading dictionaries. Let's circle back to GZA. What sets this particular Clan member apart from most rappers, especially those from the "gangsta rap" era, are the truly unique references in his lyrics, like on the 1995 track "Duel Of The Iron Mic": "Picture bloodbaths and elevator shafts / like these murderous rhymes tight from genuine craft / check the print, it's where veterans spark the letterings / slow moving mc's is waitin' for the editin' / the liquid soluble that made up the chemistry / a gaseous element that burned down your ministry." The Wu-Tang member is appearing as part of the Art of War 2017, which also includes 2 on 2 Bboy/Bgirl battle for $1,000 cash prize, Track Battles (emcees) for $500, Beat Alert (producers battle) for $500 and live aerosal art by guest graffiti artists.
$20, 4pm Sat-2am, Paper Tiger, 2410 N. St. Mary's St., papertigersatx.com.
– CC