Wed 9/6 - Sun 9/10
World Heritage Festival

This collaborative five-day festival takes place across the city in celebration of the San Antonio Missions and to raise money for nonprofit organizations and projects that "preserve, maintain, promote and connect" the city to its world heritage. Although some events have already sold out (like Thursday's Sunset Dinner at Mission San Juan), there's still plenty to do. The festival kicks off Wednesday with an opening reception for "Entre la Sombra: Life Along the Missions," an exhibition of contemporary works inspired by "oral histories, cultural mapping, photographs, and maps" (
6-9pm, Plaza de Armas Gallery, 115 Plaza de Armas
). On Friday, join fellow San Antonians at Mission Concepción for the free event Restored by Light, where attendees can enjoy tours and activities for the kids, a concert by the USAA Band and Chorus, food trucks and a projection light show (
6-10pm, 807 Mission Road
). Grab your bicycle for Saturday's Tour de las Misiones Bike Ride & Walk at the Mission Park Pavilion (
$25-$45, registration from 6-7:30pm, ride & walk at 8am, 6030 Padre Drive
). After getting some exercise, hang back at the pavilion for Mission Pachanga (
9am-5pm
), a free, family-friendly festival with arts and crafts, food and live music by Piñata Protest, Chulita Vinyl Club, Grupo Frakaso, Eva Ybarra and Los De Esta Noche. There's also a Celebratory Mass on Sunday at at Mission Concepción (
10am
), so try not to drink too many Lone Stars.
Visit worldheritagefestival.org for details.
— Kiko Martinez
Thu 9/7
"In Rust We Trust"

Beneath the slick surface of mainstream bike culture lies a gritty underbelly distinguished by the likes of Austin-bred swap meet Frankenbike, tricked-out lowrider bikes and parades of experimental "art bikes" (see Burning Man) that blur lines between kinetic sculpture and transportation. Founded in 2009 and self-described as "a group of under-achievers who like to ride bicycles," the decidedly unpretentious and admirably charitable Wild Dawgs bike club fits squarely into this equation with "slow roll/social/no drop" First Friday rides where the only real rule is: "Don't be a butthole." Curated by California transplant and Southtown fixture Robert Tatum, the group show "In Rust We Trust" sees Wild Dawgs members Richard Tamez (aka Dirty Dawg), Dante Jones (aka Orange Dawg) and David Brinkman (aka Under Dawg) teaming up with like-minded fabrication artists for a group exhibition showcasing the unsung artistry of handcrafted bikes. A portion of event proceeds benefits the Cherry Street Bicycle Co-op, a recently established outfit that refurbishes, rents and sells budget bikes as part of an Eastside community-building endeavor.
Free, 7-11pm Thu, ShowDown Gallery, 108 Blue Star (entrance in alley behind Brick), tatumoriginals.com.
— Bryan Rindfuss
Thu 9/7
"Incite"
First to open among a cluster of exhibitions that celebrate the work and spirit of late local artist Chuck Ramirez, the Linda Pace Foundation's group show "Incite" presents works across various mediums (video, collage, painting and photography) that "provoke a feeling of festivity" but reveal deeper meanings upon closer inspection. Exemplified by Ramirez's stark photographs of fractured piñatas (pictured), themes of temporality — and the fleeting nature of life itself — run through included works by Hills Snyder, Frances Stark, Diana Thater and Cheyney Thompson. Striking up a playful dialogue with Brazilian artist Rivane Neuenschwander's hypnotic, room-sized installation
Secondary Stories
, "Incite" opens with a Thursday evening reception featuring musical entertainment by Sound Cream Airstream, refreshments from Honeysuckle Teatime's savory concept Sage and cocktails crafted by David Naylor.
Free, 6-8pm Thu, SPACE, 111 Camp St., (210) 227-8400, lindapacefoundation.org.
— BR
Thu 9/7
"Synthesis"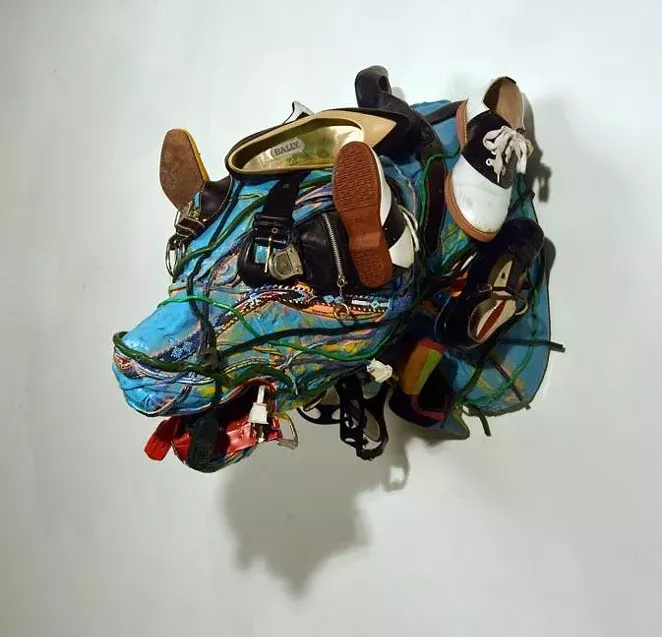 We've all heard the (at least somewhat true) cliché that artists make for difficult partners. But, what happens when two artists make a life together? Does the difficulty cancel out or is it magnified? What happens if they try to work together on an artistic endeavor? These questions, especially the last one, are entertained in Cinnabar's latest exhibit, "Synthesis." The show features three couples (six established artists), each tasked with creating a collaborative work. The resulting show will give insight into the interplay between two artists who trust each other, but have their own artistic aims and processes. Participating artists, who will also be showing their respective individual works, are Cathy Cunningham-Little, Ken Little, Chikako Kato, Bodo Korsig, Carol Robertson and Trevor Sutton.
Free, 6:30-9pm Thu, Cinnabar Gallery, 1420 S. Alamo St., Suite 147, (210) 354-3775, cinnabarart.com.
— James Courtney
Fri 9/8
Guns N' Roses

Courtesy of Guns N' Roses
The wait is finally over, friends! Guns N' Roses are about to melt out faces off this Friday at the Alamodome and we really couldn't be more excited. Despite how terrible a corn-row rocking Axl Rose sounded during the 2002 MTV Music Awards, recent reviews of their live shows have painted Rose and the boys quite stellar. And with the band approaching their 18th month on the road (not exactly an easy feat), it's pretty amazing what these guys can endure with the majority of the band in their 50s. And with how much our town holds on to rock 'n' roll, Guns N' Roses isn't just the band that gave us hits like "November Rain" and "Welcome to the Jungle." To us, they're legendary rock gods and we're ready for them to take us to church. But wait … there's more … Motherfucking ZZ Top, the legendary Houston rock group that gave us hits like "Tush" and "Sharp Dressed Man" are opening the show for what might be one of the best concerts of the year.
$35-$250, 7pm Fri, Alamodome, 100 Montana St., (210) 207-3663, alamodome.com.
— Chris Conde
Fri 9/8
"Birthright Jazz: A New Pink Mythology"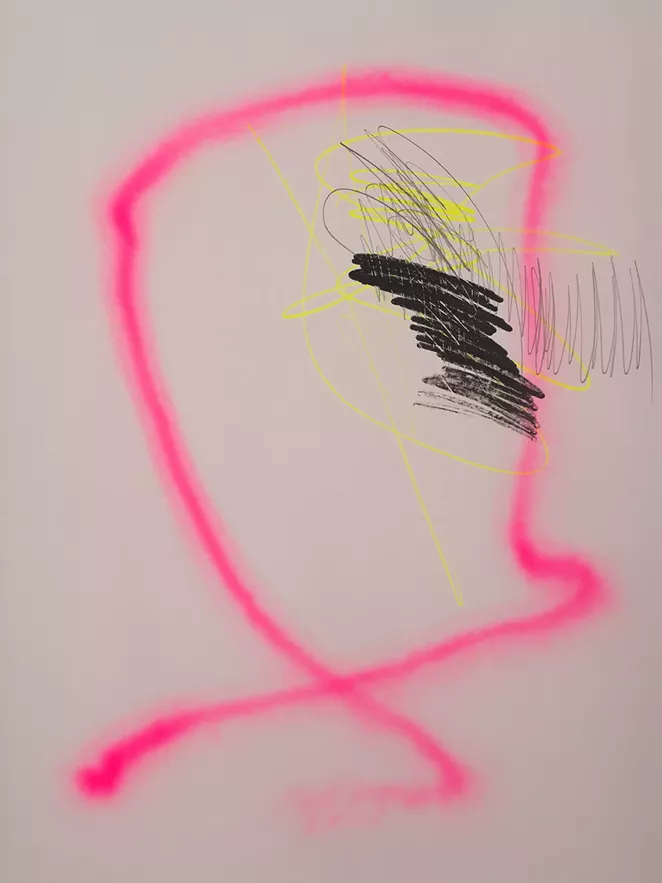 Seemingly equally at ease with figurative drawing, abstract painting, conceptual sculpture and introspective poetry, local artist Kristy Perez might be most often associated with the color gold. A creative extension of her years spent working at Anne Zanikos Art Conservation, Perez's mastery with gold leaf has led to such unexpected destinations as gilded sandbags and a supersized rawhide bone. About a year ago, Perez embarked on another concentrated color study, "furiously" producing more than 100 works on paper with two specific tools: "a Staedtler pink highlighter and a can of Montana Gold's spray-paint color Gleaming Pink." Referencing the freedom and fluidity of improvisational jazz, Perez's pink period comes to light in an edited exhibition heralded by the phrase, "The poet is the player with the queer sense of rhythm and the perfect sense of timing."
Free, 6-9pm Fri, FL!GHT Gallery, 134 Blue Star, (210) 872-2586, facebook.com/flightsa.
— BR
Sat 9/9
Out in the Park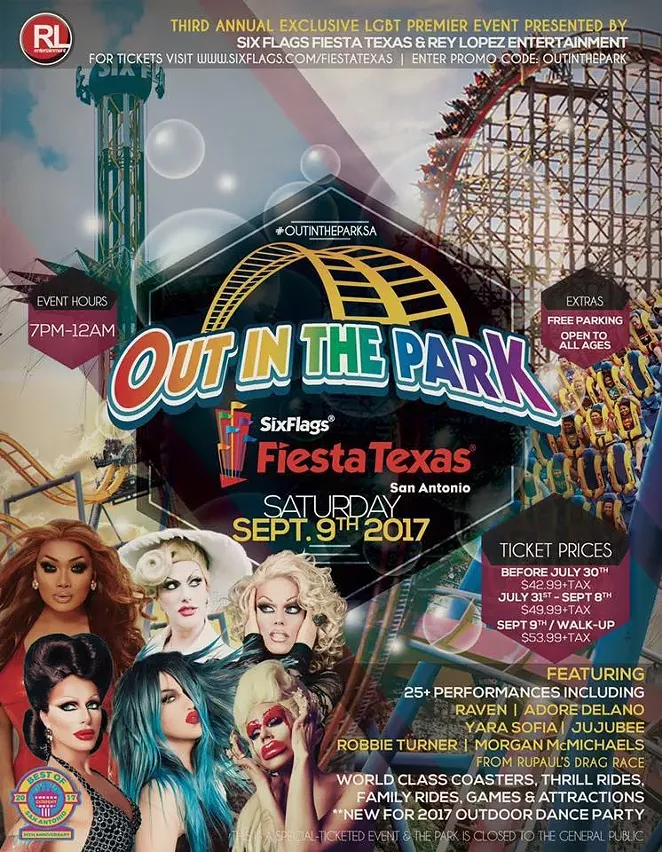 Based on the success of the first two years of Out in the Park, nightlife empresario Rey Lopez has struck a local chord with his wild and wonderful combination of thrill rides and drag queens. Serving up something in the vein of Orlando's Gay Days at Walt Disney World (which annually attracts an estimated 50,000 color-coordinated attendees), Out in the Park is a full-fledged theme-park takeover — meaning Fiesta Texas is closed to the general public and season passes do not apply. Blending a wealth of emerging and established local queens with a influx of touring talent, Lopez's third annual, all-ages outing promises performances from the likes of Tencha la Jefa, Sharkeisha Banks, Alayna Marquez, Amerie Parker, Miss Taint and Amber Nixx, not to mention an array of
RuPaul's Drag Race
alums — including season two contestants JuJubee, Jessica Wild and Morgan McMichaels, plus Yara Sofia (season three), Adore Delano (season six) and Robbie Turner (season eight). Hang onto those wigs, y'all.
$49.99-$53.99, 7pm-midnight Sat, Six Flags Fiesta Texas, 17000 I-10 W., (210) 697-5050, reylopezentertainment.com.
— BR
Sat 9/9
"Trizas"

Organized by Sarah Castillo's Lady Base Gallery and curated by Rebel Mariposa of La Botánica, artist Julysa Sosa's solo show "Trizas" takes to interpreting culture through an abstract and complex filter. The resultant work is remarkable in its ability to approach, to thought-provoking and visually-stunning effect, central themes and rituals by way of the periphery.
Free, 7-10pm Sat, AP Art Lab, 1906 S. Flores St., ladybasegallery.com.
— JC
Sat 9/9
Green Day

If you're somewhere around 30 years old, there's a good chance you blasted Green Day's
Dookie
and
Nimrod
growing up and probably saw someone perform a tear-jerking solo acoustic cover of "Good Riddance (Time Of Your Life)" at a high school graduation. Yes, Billy Joe Armstrong and the band tugged at our angsty-teen heartstrings through the '90s and even in the early aughts when their edge started to soften a little bit (it happens to the best of 'em). But the trio really doesn't have anything to prove anymore. The three decades of punk-fueled pop rock speaks for itself. For a night that's sure to hit you right in "the feels," better snatch up these tickets quick. Also, if you're feeling up for it, check out Bastille's cover of "Basket Case." Also on the bill: Catfish and the Bottlemen.
$29.50-$89.50, 7pm Sat, AT&T Center, One AT&T Center Pkwy., (210) 444-5000, attcenter.com.
— CC
Sun 9/10
Melvins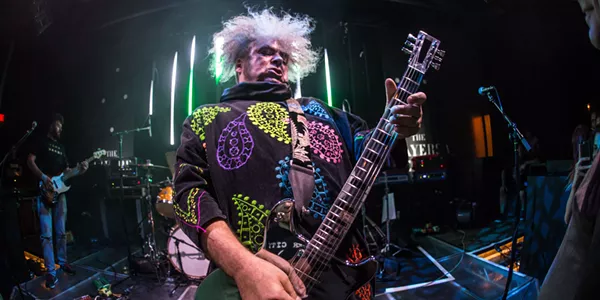 Buzz Osbourne and his band the Melvins remain so active, in the recording studio and out on the road, that you might forget, even if you're a longtime fan, that they are now in their fourth decade as a band. The band's diverse early output, all loosely falling in the weird/hard-rock category, was seminal to the development of the grunge and sludge genres and, to this day, continues to push the punk genre into new territory. After dropping two albums in 2016, the Melvins released its latest effort
A Walk with Love & Death
, a noisy, experimental double-album that dabbles heavily in sound collage, back in July. While the band is on the road supporting that album, which featured guest work from members of Le Butcherettes and The Pixies, fans can still, no doubt, expect to hear a smattering of gems from the Melvins' voluminous back catalog at Sunday's show.
$18-$20, 7pm Sun, Paper Tiger, 2410 N. St. Mary's St., papertigersatx.com.
— JC