Thu 9/14
"Leisure Lines"


Widely exhibited in galleries throughout Texas and beyond, artist and educator Buster Graybill has likened his multimedia practice — which combines sculpture, installation, video, photography and works one might mistake for paintings — to "an all-terrain vehicle to traverse the rural landscape and reconnect with often-overlooked places." Currently an assistant professor at UTSA, Graybill often transforms outdoorsy materials (the sort one might find in a garage, at a campsite, or maybe in the aisles of Bass Pro Shops Outdoor World) into peculiar constructions — some bursting with inner tubes, others riddled with archery arrows or filled with corn to function as sculptural hog feeders. While its name might elicit thoughts of an above-average bus company, Graybill's new exhibition "Leisure Lines" brings the familiar and nostalgic polypropylene webbing used for folding beach chairs into the realm of contemporary art, exemplifying his tendency to "fluctuate between the conflicting vernaculars of country grammar and art speak." In the Southwest School of Art's adjacent gallery, Chris Engman's "Prospect and Refuge" comprises photographs that serve as "documentations of the artist's sculptures, interventions, and installations" as well as "records of actions and elaborate processes."
Free, 5:30-7:30pm Thu (on view through Nov. 12), Southwest School of Art, 1201 Navarro St., (210) 224-1848, swschool.org.

— Bryan Rindfuss
Thu 9/14
Deepak Chopra

If you ask some folks, new-age font of wisdom and self-actualization coach Deepak Chopra is just the non-denominational version of someone like Joel Osteen, sleazily getting rich off people that are desperate for hope and clarity in a universe inherently devoid of either. But, that assessment is not entirely fair to Chopra, who is an esteemed (and often profound) author, an actual doctor (endocrinology) and a staunch advocate for important things like work-life balance, environmentalism, holistic medicine and meditation. Chopra is also a provocative (if not entirely academic) thinker in the realm of philosophy of science and consciousness, often helping people synthesize complex information from different disciplines into one workable, fulfilling worldview.
$34.50-$135, 7:30pm Thu, Tobin Center for the Performing Arts, 100 Auditorium Circle, (210) 223-8624, tobincenter.org.
— James Courtney
Thu 9/14 - Sun 9/17
"All This and Heaven Too"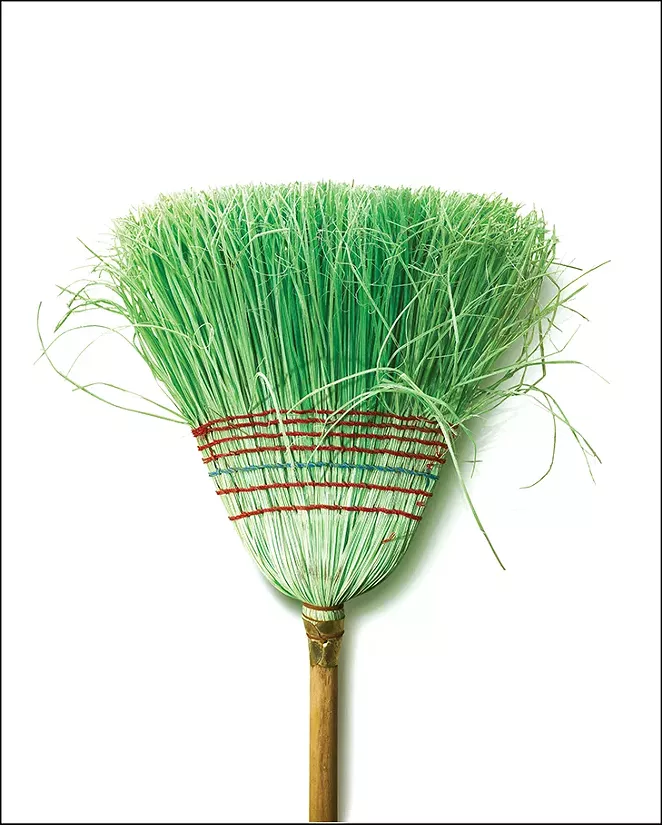 Chuck Ramirez, Brooms series, Untitled, 2007 (images courtesy of Ruiz-Healy Art, the exclusive representative of the Estate of Chuck Ramirez)
If the name doesn't ring a bell, if you've spent time in San Antonio you may have come across one of his images, likely a large-scale, micro–detailed, blazingly lit and colorful depiction of, say, a broom, a shopping bag, or a wilting bouquet. You can encounter these in private homes, in the downtown H-E-B, numerous collections public and private, in business and medical facilities, at the San Antonio International Airport, and on the covers of local publications.
And here's the simplified bio: Chuck Ramirez was a San Antonio-born artist who went to Jefferson High School, studied art and graphic design at San Antonio College, and worked as a graphic designer for H-E-B and
San Antonio Magazine
(before its purchase and transportation into an anodyne glossy). He left the 9-to-5 in order to launch himself into the contemporary art world. As a gay, HIV-positive Latino man, Ramirez, alongside artists Alejandro Díaz and Franco Mondini Ruiz, spearheaded a queer-lensed, rasquache-informed new wave of humor-laced, graphically arresting art. He quickly became one of the city's most loved artists and celebrated personalities, and a deeply involved and welcoming member of the creative community, before dying an untimely death seven years ago at the age of 48 as the result of a bicycle accident.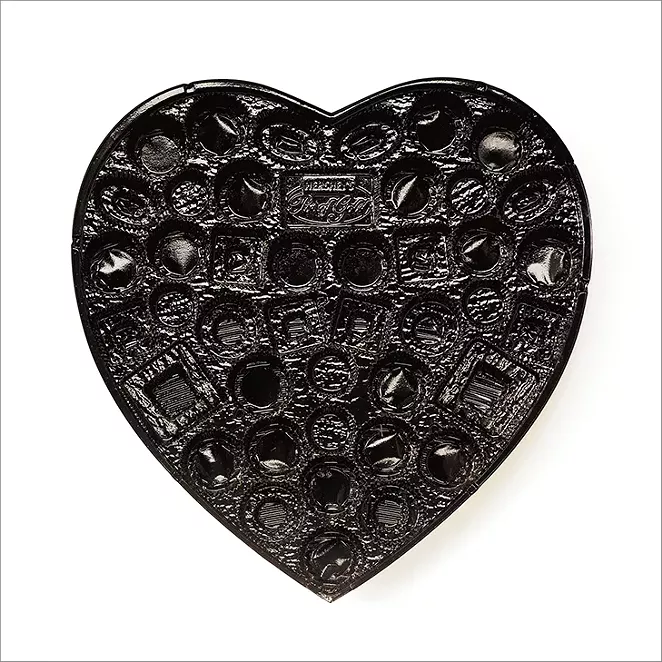 Chuck Ramirez, Candy Tray series, Black Heart, 2008
If there's one aspect of the Chuck Ramirez narrative that gallerist Patricia Ruiz-Healy would like to disrupt, though, it's that ascent from humble graphic design career into the contemporary art world. "It's too easy," she says, "too dismissive. His art transcends this classification."
But he was often un- or under-paid per-gig, and the exigencies of making a freelance living, at times, got in the way of the kind of regular studio practice that gets residencies, art fairs, and representation. At the time of his death, Ruiz-Healy was well on her way to amending this state of affairs. She was in the process of exposing his work to international curators and heads of museums, and representing him at major art fairs. These steps now seem to be catapulting him onto a much larger contemporary art stage than San Antonio's.
Chuck Ramirez, Piñata series, Scott, 2002
And there is no better staging area than the McNay, where "All This and Heaven Too" encompasses the whole of the Stieren wing. It's an undertaking that took Rene Paul Barilleaux (Head of Curatorial Affairs at the McNay) more than two years — constant communication with collectors and institutions combined with 500,000 details including shipping, mounting, knocking down walls, painting and restoring — but he has pulled it together brilliantly. The result of this long preparation and meticulous design (complete with a to-scale recreation of Ramirez's 1999 Artpace show "Long Term Survivor") is a bright, exciting, searching and deep exhibition, the finest liberation from and promotion of Ramirez's context as I've ever seen. It's so deep and all-encompassing an experience, whether or not you know Chuck Ramirez or his work personally, that I hesitate to give spoilers.

$5-$20, 10am-9pm Thu, 10am-4pm Fri, 10am-5pm Sat, noon-5pm Sun (through Jan. 14), McNay Art Museum, 6000 N. New Braunfels Ave., (210) 824-5368, mcnayart.org.
— Sarah Fisch
Click
here
for our full story on Chuck Ramirez.
Thu 9/14 - Sun 9/17
Diez y Seis de Septiembre
More than just a day to celebrate, Diez y Seis de Septiembre is a day of remembrance for those who fought and died to achieve Mexico's independence from Spanish rule. One fall night in the city of Dolores, Mexico, Padre Miguel Hidalgo y Costilla rang the bell of his church as a call to arms for the exploited and impoverished peoples of his land. It was Hidalgo's call that triggered the Mexican War of Independence. Today, the victory of this battle is commemorated through the Spanish
grito
or "The Cry of Dolores," named after the city where the revolution first took root. In San Antonio, we observe Diez y Seis de Septiembre by celebrating Mexican cultural heritage and, of course, downing ice-cold
cervezas
. While options abound (visit
getcreativesanantonio.com
for the full calendar), here a few easy ways to join the festivities. In celebration of Hispanic Heritage Month, the San Antonio Parks and Recreation Department presents
Bravo! Mi Cultura Diez y Seis Performance
, an evening of cultural dance selections (including Spanish flamenco and Mexican folklórico numbers) performed by young local talents (
$10 suggested donation, 8pm Thu-Fri, Arneson River Theater, 418 Villita St.
). On Friday, Market Square gears up for a
Fiestas Patrias Artistic Program
showcasing the Ballet Folklórico de Universidad Autonoma de Coahuila along with mariachis and singers, to be followed by an official
El Grito
ceremony led by Reyna Torres Mendivil, Consul General of Mexico in San Antonio (
free, performance at 6pm, ceremony at 8pm Fri, Market Square, 514 W. Commerce St.
). Wrap up the weekend with the Asociación de Charros de San Antonio as they present a
Diez y Seis De Septiembre Charreada
. A
charreada
is a competitive event similar to a rodeo, often described as an art form depicting the living history of
charro
(horseman) working life. Keep an eye out for food vendors to score snacks for the show (
$5-$10, gates at 2pm, charreada at 4pm Sun, Charro Ranch, 6126 Padre Drive
).
— Rhyma Castillo
Fri 9/15
Trombone Shorty

Ever since he was a small child in New Orleans, Troy Andrews, better known by his stage name Trombone Shorty, has been surrounded by jazz music. Dude began playing trombone at the age of four and has hardly looked back, through the years forging a successful musical career. It's no wonder, given this long history, that Andrews has a reputation as one of the finest young jazzmen around, with the kind of ear for the style that you might expect from someone who has lived it all his life. Despite the fact that he's only 31 years old, Andrews has released and/or been a part of a ton of albums, has earned the respect of old and new jazz heads alike, has garnered a reputation as a beacon of New Orleans culture, and has often dedicated his talents to his philanthropic interests. As is the case with all great jazz players, no two Trombone Shorty shows are alike. So, don't miss your chance to experience a one-of-a-kind concert this Friday.
$29.50-$35, 7pm Fri, The Aztec Theatre, 104 N. St. Mary's St., (210) 812-4355, theaztectheatre.com.
– JC
Fri 9/15
Leela Samson & Spanda Dance Company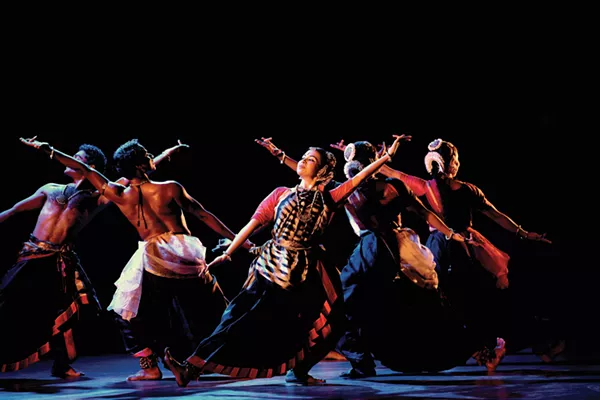 Dating back at least as far as the turn of the second century (yeah, you read that right), Bharatanatyam is a traditional form of Indian dance that often gives interpretation to important myths and/or spiritual concepts from Hindu texts. Characterized by fixed torsos, impressive footwork, and a complex language of hand symbols, the form, probably India's oldest dance style, holds profound religious and cultural significance. Thus, being a master of Bharatanatyam like Leela Samson requires knowledge and intuition that operate on multiple levels simultaneously. Bringing her own personal vision and experience to bear on centuries of tradition, Samson and her Spanda Dance Company, which she founded back in 1995, land on the Carver's stage courtesy of the nonprofit Arts San Antonio.
$28-$98, 7:30pm Fri, Carver Community Cultural Center, 226 N. Hackberry St., (210) 207-7211, artssa.org.
— JC
Fri 9/15
Kaki King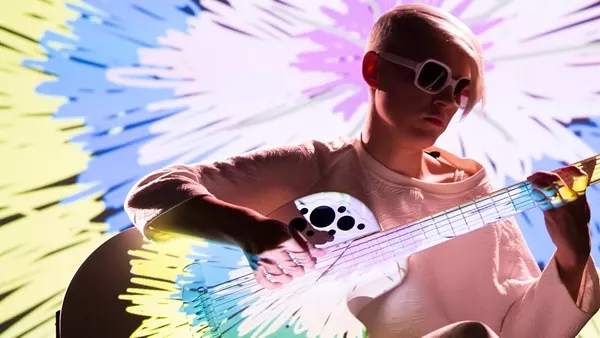 Born Katherine Elizabeth King, Kaki King became interested in guitar at an early age but initially focused her attention on percussion, which clearly shows in her guitar work. She returned to the guitar while attending NYU and started writing, performing, busking in subways, and eventually signed with NYC-based label Velour Records. Through Velour, she released her debut album
Everybody Loves You
, which showcases her signature, syncopated tapping sound. Through the years, King's music has evolved and shifted in some ways but remains technical, powerful and remarkable to watch live. As Dave Grohl once told a crowd when King was invited on stage to play a song: "There are some guitar players that are good and there are some guitar players that are really fucking good. And then there's Kaki King."
$23.50-$45, 8pm Fri, Tobin Center, 100 Auditorium Circle, (210) 223-8624, tobincenter.org.
– CC
Fri 9/15 - Sat 9/16
Roy Wood Jr.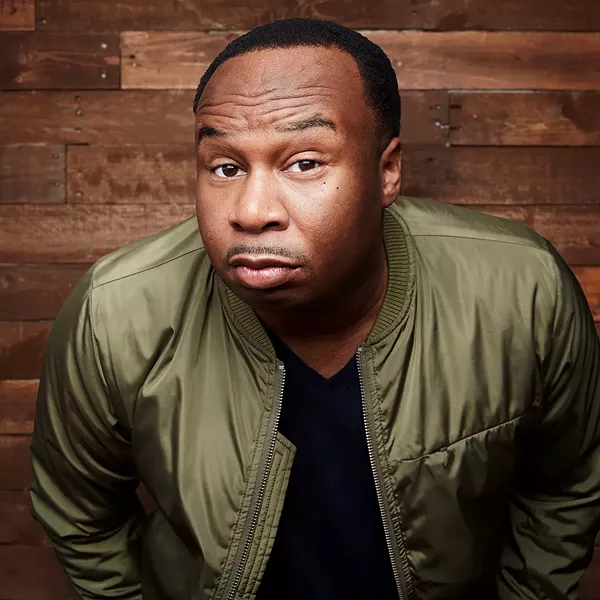 Daily Show
correspondent Roy Wood Jr. adopted a plethora of personas to pull off the prank calls featured on his first comedy albums — and he's donned a blond wig to portray Trump more than once. The uncanny rap video "They Love Me" puts the (as-of-this-writing) president's actual quotes over a hip-hop beat to show that our current commander-in-chief makes Lils Yachty, Wayne and Uzi Vert look downright statesmanlike. But Birmingham, Alabama-native Wood's stand-up act is wholly his own. "But if we get rid of the Confederate Flag, how am I going to know who the dangerous white people are?" begins his most recent stand-up special,
Father Figure
, without any other introduction. The personal and the political are intermingled — as in real life — and civil rights struggles interweave with fights with his wife for control over the thermostat. His bit on Oprah getting slapped in
Selma
could be taught in African-American and film studies and his bit on not getting a bag at Best Buy delivers an unforgettable civics lesson.
$20, 8pm & 10:15pm Fri-Sat, Laugh Out Loud Comedy Club, 618 NW Loop 410, (210) 541-8805, lolsanantonio.com.
— Jeremy Martin
Sat 9/16
Luis Fonsi

While the Trump Administration was busy enacting anti-immigrant policies, Puerto Rican singer-songwriter Luis Fonsi's Spanish-language megahit "Despacito" was busy becoming the official song of the summer. Featuring reggaeton star Daddy Yankee, "Despacito" is now the most streamed song in the history of the internet and the first Spanish-language single to top the Billboard Hot 100 chart since the "Macarena" back in 1996. Also remarkable is the fact that Fonsi has been successfully building his music career for nearly two decades. Now 39, Fonsi established himself as a hit-maker in Puerto Rico and throughout Latin America with his 1998 debut album
Comenzaré
and found greater success with the follow-up
Eterno
in 2000. While some might see his 2001 collaboration with Christina Aguilera ("Si No Te Hubiera Conocido") as a product of record companies riding the coattails of the manufactured "Latin Explosion" of the late 1990s, "Despacito" seems more a reflection of the changing demographics in America. Considering the recent wave of artists (Enrique Iglesias, Sia and Nicki Jam to name a few) riding high with Spanglish versions of their hits, it seems bilingual and Spanish-language hits might become the new norm.
$69.50-$199, 8pm Sat, The Majestic Theatre, 224 E. Houston St., (210) 226-3333, majesticempire.com.
— Marco Aquino
Sat 9/16
Mariachi Lab
Mariachi is a quintessentially Mexican musical/performance style. Hailing from Western Mexico in the 1700s, Mariachi was the homespun result of indigenous forays in colonial instruments and musical groupings. All these years later, the style enjoys a vibrant popularity the world over, especially in those areas of the United States richest in Mexican culture. On Saturday, at the Mariachi Lab, you can learn about and experience the style from some of its brightest up-and-coming practitioners (including local favorite Sebastien De La Cruz). Billed as "a showcase of mariachi talent from San Antonio including high school, all-female, and top level professional performers," the event will offer plenty of performances, as well as workshops designed to help budding players.
Free, 3-9pm Sat, Pearl Brewery (various locations on grounds), 303 Pearl Pkwy., atpearl.com.
– JC