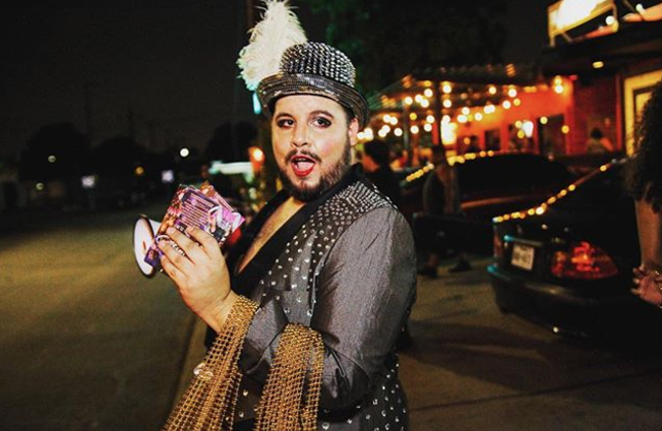 To cap off the first month of fall, the San Antonio Burlesque Festival plans to make a big splash. Friday night headliner Satan's Angel describes the fest as "a tight little show everybody wants to be in," and that rings pretty true when you take a gander at the long list of names attached to the weekend's events. In contrast to typical burlesque shows, which feature somewhere between eight and 10 performers, each night of the festival showcases a whopping 25 different acts that cover the full range of burlesque styles, from classic and neo-burlesque to circus and sideshow acts, giving a "vaudeville-style feel" to the event, as co-founder and co-producer Lita Deadly puts it. The lineup truly places diversity at its forefront, with performers of color and an overwhelming percentage of queer-identified performers in the mix, many of whom are local to San Antonio. Also, for the first time, co-producers Lita Deadly, Foxxy Blue Orchid and Jasper St. James will co-headline the Friday night showcase, giving the audience a taste of the talent that has been toiling behind the scenes in years past.
Diversity in identity and performance has been a core tenet of the festival from its inception, and it is known for "being a safe space for performers of color, for performers of all different sizes, different ages, different body abilities, people who are queer-identified, trans-identified, [and] non-gender conforming," says Orchid, who will also be serving as the festival's host. While the socio-political angle of burlesque is not a new concept to those familiar with the art form, the fraught political environment cultivated in the wake of the 2016 election results makes safe spaces such as these all the more valuable. Indeed, St. James emphasizes the importance of connecting with the audience and allowing attendees to cast off their woes, cultivating a feeling of empowerment that will make them walk out "suddenly feeling like they can hold their head up a little bit higher, they can stick their boobs out a little bit higher, they can stick that ass out a little bit higher!"
For its sixth anniversary, the festival moves from the Woodlawn Theater to the Semeneya Dance Studio, which St. James describes as something like Narnia, since it appears unassuming from the outside but contains a spacious theater with an ideal atmosphere for burlesque. The dance studio, which is tucked off Fredericksburg in Balcones Heights, is a lucky find for the festival, and the organizers are excited to christen the space with high-octane performances and sensual energy.
Of particular note is the burlesque legend headlining this year's Friday Night Teaser: the incomparable Satan's Angel. Undeniably one of the true icons of classic burlesque, Satan's Angel has given her life to the stage, and her storied career has been marked by innovation and sheer panache. While she was not the first to incorporate fire into her act, she is the originator of setting five to seven tassels ablaze and spinning them both individually and in tandem, a signature move she still performs to this day. Costumes and tassels aren't the only thing she has lit up, though — Satan's Angel has blazed a trail with her talent as well as her adamant assertion of her identity as a lesbian. At the height of her career, she would still find herself kicked out of clubs, and was even physically attacked by some club owners. Then and now, she's unflappable when recounting such harrowing experiences, and insists, "When I hit that stage nobody knew I was queer. I was beautiful." Certainly, her unapologetic commitment to her true self (she reportedly once told an abusive mob boss, "Fuck you baby, I'm queer") has helped open doors for queer-identified individuals in burlesque as well as the world at large, making her something of an activist figure — whether she intended it or not.
Satan's Angel's performance at the San Antonio Burlesque Festival is billed as her final show in the United States, and her second-to-last show ever, so this is truly a special chance to experience a living legend in the flesh. She guarantees that she can still "give a girl of today a run for her money as far as a classic burlesque strip," and will keep attendees rapt in their seats with whoops, hollers, and, of course, her famous flames. In addition to performing, she will serve on the panel of judges for the Saturday Night Spectacular, and, as part of a personal tradition, will present her very own "Satan's Angel Thinks You're the Hottest" trophy, which should be quite the coveted prize.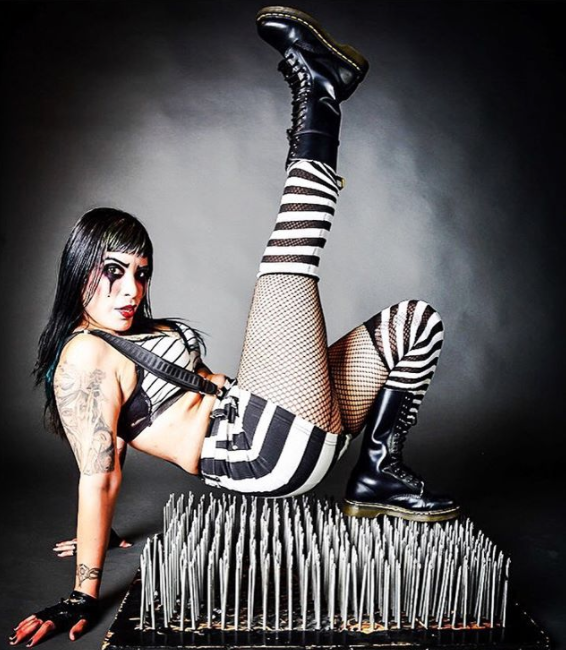 On Saturday night, the festival culminates with a performance by headliner Poison Ivory (Miss Exotic World 2016), who is described by organizers as a dynamo that "just oozes sex appeal when she hits the stage." But this isn't all there is to look forward to, for the reigning King and Queen from last year's festival, Uma Shadow and Egypt Blaque Knyle, will also take the stage and compete for this year's honors alongside the likes of Iris Le'Mour, Ginger Snaps, Hank E. Panky, Ruby Lamb and Tre' Da Marc.
With talent like this on deck, attending should be a no-brainer, but the producers want to get the word out that this year's big changes make it all the more important for them to get the venue packed. Orchid says it's "an opportunity to come together, let the light in, let the magic come on stage" and enjoy a weekend that celebrates sensuality, entertainment, and identity with a liberal dose of razzle-dazzle.
100 Crossroads Blvd., (210) 651-2328, sanantonioburlesquefest.com