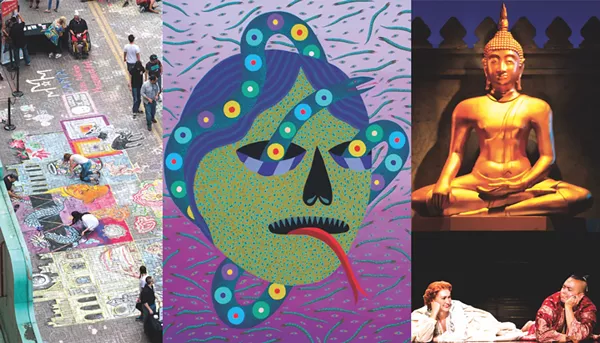 Thu 10/12-Sat 10/14
Forbidden Broadway
Since its premiere in 1982, Forbidden Broadway has enjoyed a multitude of productions up to the present day thanks to writer Gerard Alessandrini, who updates the revue to include each new batch of Broadway's hits, ensuring
that no show is safe, no matter how recent its appearance on the Great
White Way. Styled as a cabaret, the production spoofs Wicked, Pippin, The Book of Mormon, Les Miz and many more, as well as familiar faces from the Broadway scene via spot-on cast impressions. Longtime fans of musical theater
will find plenty to love, as the revue's roasts amply reward those with an encyclopedic knowledge of the oeuvres of Sondheim, Schwartz and Larson.
$39.50, 7:30pm Thu, 8pm Fri, 2pm & 8pm Sat, Tobin Center for the Performing Arts, 100 Auditorium Circle, (210) 223-8624, tobincenter.org.
— Kelly Merka Nelson
Fri 10/13
The Birds
Courtesy of Universal Pictures
It all starts in a San Francisco pet shop where Melanie (Tippi Hedren) is nipped by a bird in a cage. By the end, she'll be the one imprisoned as thousands of birds attack her bedroom. In between, the world goes to hell in a handbasket in Alfred Hitchcock's milestone of Mother Nature's revenge, based
on English novelist Daphne Du Maurier's ominous story The Birds. While you watch the catalogue of classic scenes that combine squawks and effects with chilling moments of human hysteria, all orchestrated with a master's command of visual storytelling, consider the ways in which the bird attacks might be brought on by Melanie's unconscious desires, and consider the intelligent conversations between women. While Rod Taylor stands around looking handsome, a lot of the best lines go to Hedren, Jessica Tandy, Suzanne Pleshette and Veronica Cartwright as characters who have the most direct contact with the birds. To wrap up its Starlight Movies in the Garden Series, the San Antonio Botanical Garden invites cinephiles to experience this nerve-wracking tale in the open air — likely surrounded by grackles — on Friday the 13th.
Free, gates at 6:30pm, film at dusk, San Antonio Botanical Garden, 555 Funston Pl., (210) 536-1400, sabot.org.
—
Michael Barrett
Fri 10/13-Sun 10/15
Little Shop of Horrors
This summer's lunar eclipse must have dropped a visitor in our midst, because the Woodlawn stage has a bad case of plants from outer space! In Little Shop of Horrors, poor misguided Seymour gets taken for a ride by his unique new Venus Flytrap, Audrey II, which he soon learns has quite the taste for human blood. Tempted by the fame that his fast-growing botanical oddity is generating as well as the opportunity to dispose of a rival FRI-SUN (who, frankly, has it coming), Seymour finds himself swept into a life of crime by Audrey 13-15 II's insatiable hunger. For fans of the movie, be forewarned — the musical has a much grimmer resolution in store for Seymour and Earth's other humans, but it's no less entertaining.
$18-$29, 7:30pm Fri-Sat, 3pm Sun (through Nov. 5), Woodlawn Theatre, 1920 Fredericksburg Road, (210) 267-8388, woodlawntheatre.org.
— KMN
Sat 10/14
'Heart of a Snake'
Continuing its reputation for showing some of the most exciting contemporary art by local artists of all stripes, Shek Vega's Gravelmouth Gallery will host a must-see Second Saturday exhibition of more than 20 new works by Angela Fox, entitled "Heart of a Snake." This marks the largest solo exhibit to date for Fox, whose colorful and thought-provoking paintings take place in a sparsely populated and highly symbolic imaginative space. Every piece seems to intimate all-out rebellion, in the most community-oriented, holistic and profound sense. The characters that inhabit Fox's work "congregate, wearing cocoon-like protective shells of layered garments that obscure identity while signifying membership." Forming gangs, these subjects "hang out and drink beer while gathering supplies, slaying serpents and establishing camps — embarking on adventures of survival, creation and destruction." In our unstable and iniquitous times, these works feel urgently important and seem to speak to the dispossessed of a potent, healing pathway through the banality, balderdash and barbarism of the moment.
Free, 7-10pm, Gravelmouth Gallery, 1906 S. Flores St., (210) 367-2528, gravelmouthgallery.com.
— James Courtney
Sat 10/14
'Re~membering Sacred Offerings for Abya Yala'
Long before Christopher Columbus arrived and fucked everything up, the Americas, then referred to by some indigenous groups as Abya Yala ("continent of life" or "land of vital blood"), were inhabited by millions of indigenous peoples divided into a host of distinct and thriving societies/cultures/tribes. By way of honoring and reconnecting to this ART history, the Peace and Dignity Journey (a kind of physical prayer) has been observed every four years since 1992 (interestingly, the same year NAFTA was passed). The journey is a "seven-month ceremonial run; 14,000-plus miles from Chickaloon, Alaska and Ushuaia, Argentina to meet at the bridge of the Americas in Panama to fulfill [a] prophecy to reconnect Abya Yala." Curated by Rebel Mariposa and sponsored by Sarah Castillo's Lady Base Gallery as part of Yanaguana Indigenous People's Week, AP Art Lab's "Re~membering Sacred Offerings for Abya Yala" takes shape in a photography exhibition documenting the journeys of runners (chaskis) Dr. Vanessa Quezada, Iriany Itzel Lopez-Hernandez and Adi Ejekayani Suarez Reyes.
Free, 7-10pm, AP Art Lab, 1906 S. Flores St., (210) 705-2332, ladybasegallery.com.
— JC

Sat 10/14
Una Noche en La Gloria
Courtesy of Contemporary Art and Literature Organization
Now in its ninth year, Una Noche en La Gloria is a vibrant celebration of Westside makers and doers, movers and shakers, creatives and entrepreneurs. The event, which sprawls across the Guadalupe Cultural Arts Center's campus, Plaza Guadalupe and beyond, is a perennial must for local lovers of visual art, fashion, music, poetry, dance and performance. Spearheaded by Gabriel Quintero Velasquez, presented by the Contemporary Art and Literature Organization (CALO) and sponsored by the Avenida Guadalupe Association, the whole shebang is designed to inject a shot of energy, visibility, and (hopefully) cash flow into the area surrounding the festival. Highlights from this year's festival include musical performances from Femina-X, Al Gomez and Machete Conspiracy, The Indigenauts and Los Flamencos de San Antonio, an "Auto-Arte" car show, a circus in Plaza Guadalupe and the perennial fan favorite Runway en la Calle — an alternative fashion show set to turn the street into a stage for presentations by designers Vanessa Morales, Jennifer Rosario Monrreal, Petricia Falcon, Angelin De Carlo and Agosto Cuellar.
Free, 4-11:30pm, corner of Brazos and Guadalupe streets, lagloriaarts.org.
— JC

Sat 10/14
Chalk It Up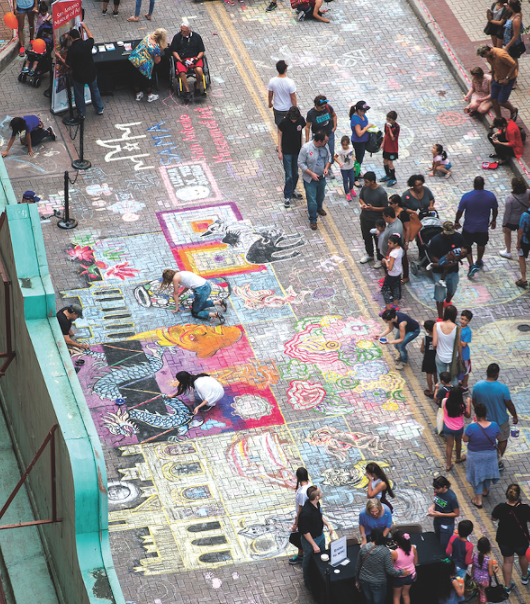 For the 14th annual Chalk it Up festival, wherein a segment of 14 downtown is turned into a giant, street-level art gallery of chalk works, Artpace has expanded its footprint beyond Houston Street to include Travis Park and a segment of Jefferson Street. All told, this year's event will transform seven downtown city blocks into a sprawling artistic collaboration. In addition to the Team Works competition, featuring 50 students groups vying for the title of Best Mural, and the new Corporate Competition, which gets local business sponsors involved in the creative fun, this year's featured artists, selected through an open call, include Bridge Projects (a collaboration between locals Stuart Allen and Cade Bradshaw), Kim Bishop, Eden Collins, Carol Cunningham, Xavier Gilmore, Jasmeet Kaur, Justin Korver, Barbara Minarro, Tim Olson, Dora Orajel, Andrei Renteria, Luis Valderas and Jason Willome. Attendees can get their own creative mojo rising in the freestyle area, while also enjoying music from local bands and DJs, and food from some of SA's finest food trucks.
Free, 10am-4pm, Downtown Houston Street between Flores and Presa streets, Travis Park, Jefferson Street, (210) 212-4900, artpace.org.
— JC
Sat 10/14-Sun 10/15
Cirque du Soleil:
Crystal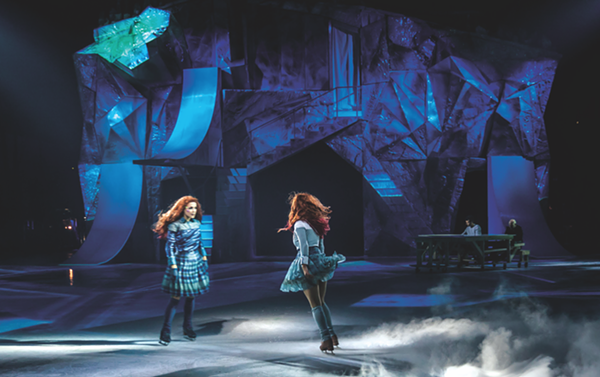 Cirque du Soleil's newest touring production will soon turn the AT&T Center into an icy wonderland. After conquering water in its long-running production O, the famed Canadian company is upping the ante yet again by changing its fundamental state in
Crystal
. The show follows a young woman whose life takes a sudden pivot into the surreal when "she pursues the life that has been glistening beneath" the surface, unfolding on ice as the performers weave together world-class ice skating with gravity-defying antics to create a tapestry of otherworldly artistry that's topped off by the troupe's gorgeously realized costumes and sets.
Crystal
is a must-see spectacle for Cirque fans as well as anyone ready to temporarily escape the Texan fall into a world chilled by winter.
$30-$155, 7:30pm Fri, 3:30pm & 7:30pm Sat, 1pm & 5pm Sun, AT&T Center, One AT&T Center Pkwy., (210) 444-5000, attcenter.com.
— KMN
Tue 10/17
The King and I
Courtesy of Margot Schulman
Shall we dance? We shall — especially since Bartlett Sher's rapturously reviewed production of The King and I will be landing for a week at the Majestic, starting October 17. San Antonio patrons with long-ish memories will recall Sher's breakout production of Rodgers and Hammerstein's South Pacific (2008), a Lincoln Center mounting that eventually made it to the Alamo City. Sher's version of that warhorse walked the fine line between tradition and innovation, especially with its surprisingly dark twist to the reprise of "Honey Bun," still one of the most affecting stage pictures I've seen in all my years of theater-going. The King and I tackles some of South Pacific's main themes — the collision of cultures, the persistence of racism, the goddamn imperfection of man — but weds it to a girl-meets-king tale, as British governess Anna travels to Siam to tutor the gaggle of (adorable) royal offspring. For this tour, Laura Michelle Kelly and Jose Llana take over the roles made famous by Deborah Kerr and Yul Brenner in the film. We don't often get tours of this caliber on the road: missing this production would be a ... puzzlement (heh).
$35-$130, 7:30pm (through Oct. 22), The Majestic Theatre, 224 E. Houston St., (210) 226-3333, majesticempire.com.
— Thomas Jenkins