The
San Antonio Current
brings you the best and most fun happenings in the city every week when our issue comes out on Wednesdays. But maybe you're looking for something else to do? Or want more of a heads up about cool stuff coming up later in the week? Or maybe you just want more options. Well whatever the reason, we just fixed your problem. Here are 10 MORE things to do in San Antonio this week.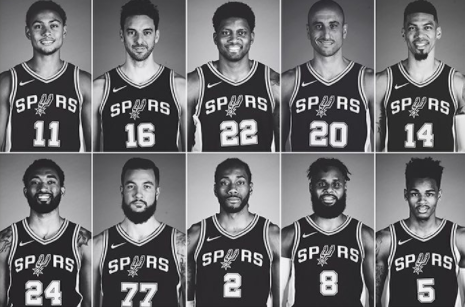 Photo via Instagram, spurs
Wed 10/18
Spurs Season Opener v. Timberwolves
The Friendly Spot Ice House and Slab Cinema are coming through yet again to bring Spurs fans the best (fight us) watch party for the Silver and Black. Celebrate the season opener against the Minnesota Timberwolves alongside friends and drinkers alike.
Free, 8:30-11pm, 943 S. Alamo St., (210) 224-2337.
Thu 10/19
Family Film Series: Ghostbusters
Make the most out of your #ThrowbackThursday with a free screening of the classic 1984
Ghostbusters
. Whether you're an old fan of the film or are watching it for the first time, we're sure you'll enjoy watching this flick in the former drive-in movie theater.
Free, 7-11pm, Mission Marquee Plaza, 3100 Roosevelt, (210) 207-8612.
Fri 10/20-Sat 10/21
All Hallow's Eve Dinner and Ghost Tour at the Haunted Menger Hotel
There's plenty of ghost tours in San Antonio to choose from, but Sisters Grimm is arguably the best one. After enjoying a literal feast (three courses and all) in the haunted Colonial Room Restaurant, you'll explore the hauntings within the historic Menger Hotel and downtown San Antonio.
$59-$79, 6:30-10pm, Menger Hotel, 204 Alamo Plaza, (210) 638-1338, sistersgrimmghosttour.com.
Fri 10/20-Sun 10/22
The Biggest Bounce House in the World
That's right. The biggest bounce house in the world is coming to San Antonio for three days, giving you the chance to get jumping. Get your tickets for a full day (or three) of jumping, games and music.
$5-$19, 8am-7:30pm, Wheatley Heights Sports Complex, 200 Noblewood Drive, (210) 714-0017, thebigbounceamerica.com.
Sa
t 10/21
San Antonio Beer Festival
Beer guzzlers of every expertise can't miss this festival - the largest of its kind in San Antonio. Take your pick from more than 400 premium and craft beers made at 125+ breweries all over the world. To compliment the beer, there's also live music, games, a wine garden, food trucks and booths as well as vendors.
$35-$75, 1:30-6:30pm, Dignowity Park, 701 Nolan, sanantoniobeerfestival.com.
Sat 10/21
Grand Opening of Social Spot
Social Spot, which has been open since late August, is finally celebrating its grand opening and it seems like this party won't disappoint. Bring your friends and be social with live music, drink specials, games and prizes.
Free, 6pm-2am, Social Spot, 930 Broadway, (210) 263-9009.
Sat 10/21
Los Lonely Boys
How far is heaven? We're not sure, but Los Lonely Boys will be in Boerne this Saturday. Grab some tickets for a night of smooth rock tunes.
$32-$37, 8-11pm, The Roundup Outdoor Music Venue, 531 FM 3351 N., Boerne, (830) 428-3231, theroundup.com.
Sun 10/22
The Psychic Faire
Unleash your mind and venture out to the other side at this fair. An interesting mix of psychics, tarot and rune readers, mediums, astrologers and numerologists will be onsite to offer up their expertise. Oh, and there will be plenty of performers, vendors, food and music to keep you entertained at this kid- and pet-friendly event. As long as their on a leash. The pets, not the kids.
Free (with $3 parking), Noon-5pm, Victoria's Black Swan Inn, 1006 Holbrook Road, (210) 323-8424, facebook.com.
Sun 10/22
West Side Oldies Dance Party
DJ Plata will mix up fresh tunes, though a live band will play classic Chicano soul and oldies music. The nostalgic night will be filled with dancing, art as well as food and drink specials, all while raising money for the city's youth arts programming.
$10, 6-9pm, Guadalupe Cultural Arts Center, 723 S. Brazos St., (210) 271-3151.
Sun 10/22
Walking Dead Premiere Watch Party
Reserve your front row seat to one of television's best zombie apocalypse shows. Southtown 101 will offer up drink and food specials in honor of the season eight premiere. Just try not to scream and get too scared, or else you'll spill your drink.
Free, 8-9 p.m., Southtown 101, 101 Pereida St., (210) 899-4667, facebook.com.