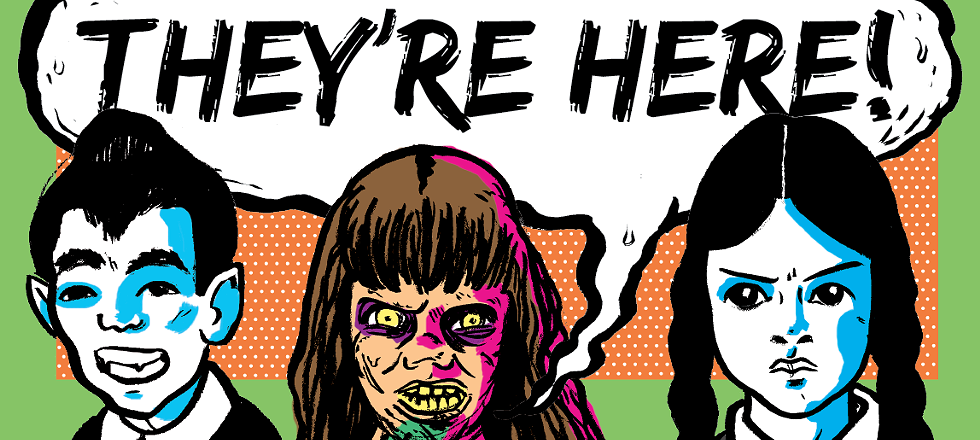 Illustrations by Carlos Aguilar
From 1943's monstrous melee in
Frankenstein Meets the Wolf Man
to 1962's classic Japanese clash with
King Kong vs. Godzilla
to horror icons Freddy Krueger and Jason Voorhees making mincemeat out of each other in 2003's
Freddy vs. Jason
, pitting movie monsters against one another has been an entertaining cinematic pastime for decades. While some of these films evolve into bizarre cult curiosities (
Billy the Kid
vs.
Dracula
) and others settle as cheap cash grabs by Hollywood studios (the
Alien vs. Predator
franchise), the geeky fascination behind two celebrated villains going mano a mano is likely to make most fanboys and fangirls take notice.
Horror genre enthusiasts in San Antonio are sure to be aware of the city's own colossal matchup happening this Halloween weekend. It might not be a rivalry of epic proportions just yet, but two local inaugural horror expos competing for the same audience are locked in a head-to-head battle October 27-29.
On one side:
Alamo City Comic Con-Halloween Edition
, an offshoot of the popular annual ACCC founded by Apple de la Fuente, is setting up shop at the Alamodome. On the other side:
Rockula
, a rock 'n' roll-inspired horror expo, is taking place at the Wyndham Riverwalk Hotel. Rockula is the brainchild of Angel Castorena, a former ACCC staff member.
Castorena, who is co-owner of the Korova, said he decided to splinter off and create his own convention when ACCC moved the date of their 2017 comic con from fall to spring after the group was unable to book a date in September or October at the Henry B. Gonzalez Convention Center. With a quick turnaround looming, Castorena, who prides himself as an event planner, said he did not think there was enough time to schedule things accordingly. He felt when ACCC did not get a date in the fall, they should have taken a step back and called it a "rebuilding year."
"With any event you do, you have to have a strategy," Castorena told the
Current
. "You have to have a full grasp of what you want to do going in. You can't just throw an event together and play it by ear. We reached a point where we just weren't seeing eye to eye."
Since de la Fuente was ready to go full throttle for the fifth annual ACCC on Memorial Day weekend, both men said their goodbyes to their working relationship, chalked up their split to "creative differences," and Castorena went on to start planning Rockula for Halloween weekend 2017. De la Fuente, however, still wanted to have a second ACCC show in the fall.
Here is where things get a bit werewolf fuzzy. Castorena "can't say he wasn't frustrated" when de la Fuente announced a few weeks after a Rockula date was set that a Halloween edition of ACCC would also take place Halloween weekend. De la Fuente said even if Rockula was announced first, creating a Halloween expo for ACCC was always in the works and that it wasn't announced sooner because he didn't want to take attention away from the spring convention.
"We already had plans to do a horror show, but I kept it between myself, the convention center and the Alamodome," de la Fuente told the
Current
. "We had already done Terror Expo [in 2016] and the first year of ACCC [in 2013] was Halloween-themed, so we always knew we were going to do something horror."
Despite their individual accounts of how things developed, both Castorena and de la Fuente swear there isn't bad blood because of the double booking.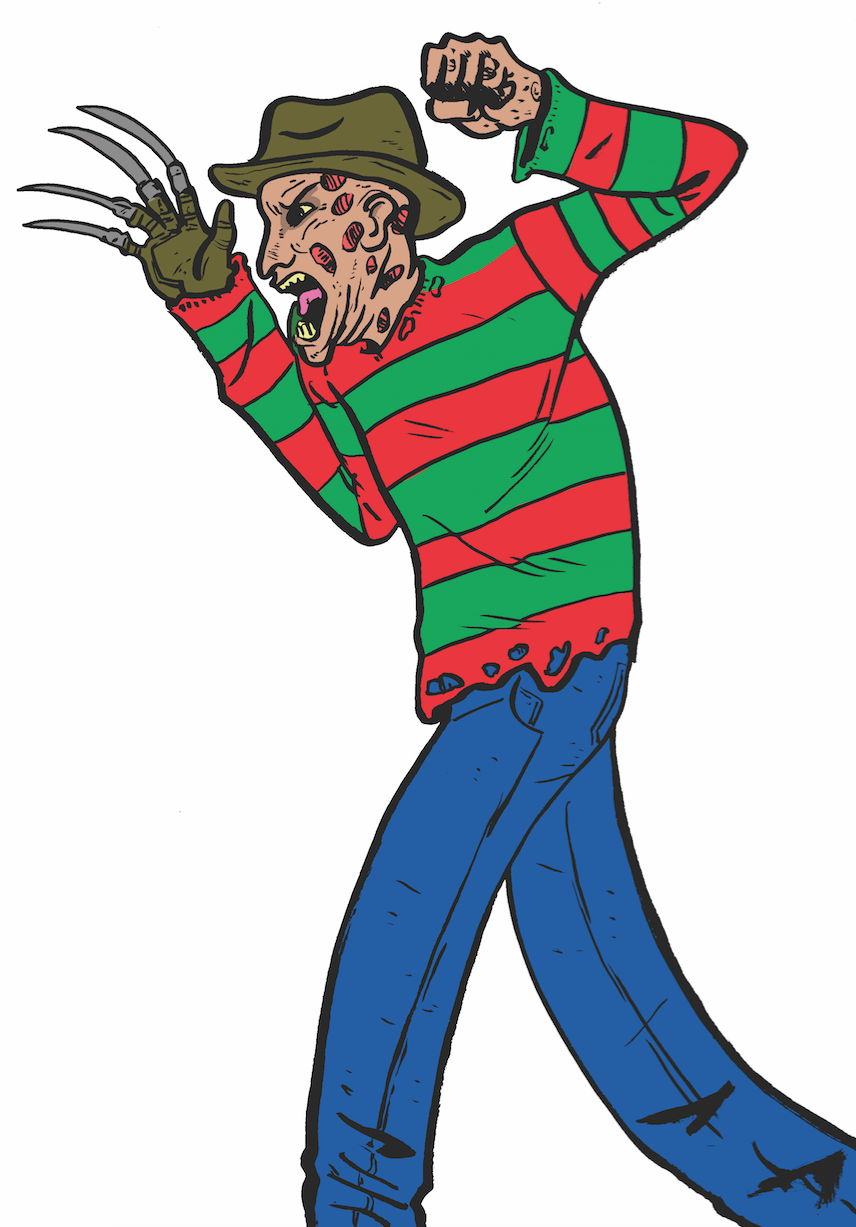 Illustrations by Carlos Aguilar
"I really don't have any ill will towards ACCC," Castorena said. "There's absolutely no reason you can't attend both events. We're not here to split a city."
De la Fuente agrees. San Antonio, he said, is big enough to support two Halloween conventions downtown.
"All we do is wish him luck," de la Fuente said. "I feel great that I was able to inspire him to do something on his own."
With Rockula, Castorena considers himself somewhat of a curator.
"We're not just putting on a Halloween show," he said. "This is going to be like a gallery of horror and music."
From his side, de la Fuente seems to fare well as a director. His focus is on making his Halloween show a family-friendly event and catering to attendees who already know and trust the ACCC brand.
"Whatever the people of San Antonio want, that's what we're going to give them," he said. "That's what it comes down to."
Illustrations by Carlos Aguilar
So, are Rockula and ACCC-Halloween Edition actually trying to attract the same audience?
Both expos have decent celebrity guest lineups. Rockula's main draws for the weekend are actor Tony Todd, who plays the title character in the Candyman franchise, and actress Shawnee Smith, best known for her role in the
Saw
series. Other standouts include
Addams Family
alumni Lisa Loring and Felix Silla (Wednesday Adams and Cousin Itt from the original '60s TV show), and Carel Struycken (Lurch from the '90s movies); original
Munsters
cast members Butch Patrick (Eddie Munster) and Pat Priest (Marilyn Munster); and 1975
Rocky Horror Picture Show
beauties Nell Campbell (Columbia) and Patricia Quinn (Magenta).
Then, of course, there's the music. The bill includes rock musician Sean Yseult (White Zombie), Dan Spitz and Greg D'Angelo (Anthrax) and Marky Ramone (The Ramones). On Saturday night, the afterparty at the Korova will feature Chicano rock band Tito & Tarantula (From Dusk Till Dawn).
"I feel rock 'n' roll and horror go hand in hand to an extent," Castorena said. "I wanted to make sure when we did an event like this, it wasn't just another horror show. I wanted to make sure that we would stand out across the nation."
Illustrations by Carlos Aguilar
ACCC-Halloween Edition's big-name stars include Freddy Krueger himself, Robert Englund (
A Nightmare on Elm Street
), Lance Henriksen (
Aliens
), Linda Blair (
The Exorcist
) and Chris Sarandon (
Fright Night
). There will also be a huge reunion with the cast of the 1979 cult classic
The Warriors
(James Remar, Michael Beck, Thomas Waites, Dorsey Wright, Deborah Van Valkenburgh, Terry Michos and David Harris), and appearances by Elm Street actresses Amanda Wyss (Elm Street 1), Ronee Blakley (Elm Street 1), Lisa Wilcox (Elm Street 4 and 5), JoAnn Willette (Elm Street 2), Toy Newkirk (Elm Street 4) and Brooke Bundy (Elm Street 3 and 4).
"There's going to be a lot to do in San Antonio Halloween weekend," de la Fuente said. "That's especially true for all the geeks and nerds."
Monster Squad Rivals Talk About Cementing Their Place in a Cult Favorite
Although there are two horror expos happening in San Antonio Halloween weekend— Rockula and Alamo City Comic Con-Halloween Edition—none of the cult content from either show crosses over into the other—with one exception.
This year, both conventions are celebrating the 30th anniversary of the 1987 horror comedy The Monster Squad, and both will have special guests from the movie.
Rockula has confirmed two of the actors who played kids in the classic: Andre Gower (Sean, the squad's leader) and Ryan Lambert (Rudy). ACCC-Halloween Edition will welcome three of the actors who played monsters: Duncan Regehr (Count Dracula), Carl Thibault (Wolfman) and Michael Reid MacKay (The Mummy). Monster Squad cast members Ashley Bank (Phoebe) and Stephen Macht (Del) will also join the villains at the show.
Both Gower and Thibault spoke to the Current recently about what they remember most about their time on The Monster Squad set 30 years ago, how they feel about being a part of its legacy and which convention fans of the movie should attend this weekend.
Does it feel like 30 years have passed?
Andre Gower:
It only feel like it's been 30 years when I get out of bed in the morning. (Laughs) But our great fan base, whenever they're around, they give off this energy. There's such a connection to this film that it never grows old. It has lasting power. That dynamic from the fans will never go away.
Carl Thibault:
Yeah, absolutely, it feels like 30 years. (Laughs) And then some.
When you think back to when you made the film, what is most memorable?
AG:
I think it's the scope and the scale of what they were doing with the movie. This was the first time these classic Universal [Studio] monsters were together all at once. Take the Little Rascals and have them fight the classic Universal monsters and you have The Monster Squad. Thirty years ago, you didn't really see that grand scale. The things that were going into making this movie happen back in the day when mostly everything was practical effects, so it was mind blowing. Trying to wrap your mind around everything was the fun part.
CT:
How young I was. I was extremely physical. I have a chronic back condition now. It's progressively gotten worse. It has kind of been my worst nightmare to have this happen to me because I was such a physical person. I was the Wolfman and I went to my first convention in a wheelchair. Life can be ironic in so many ways.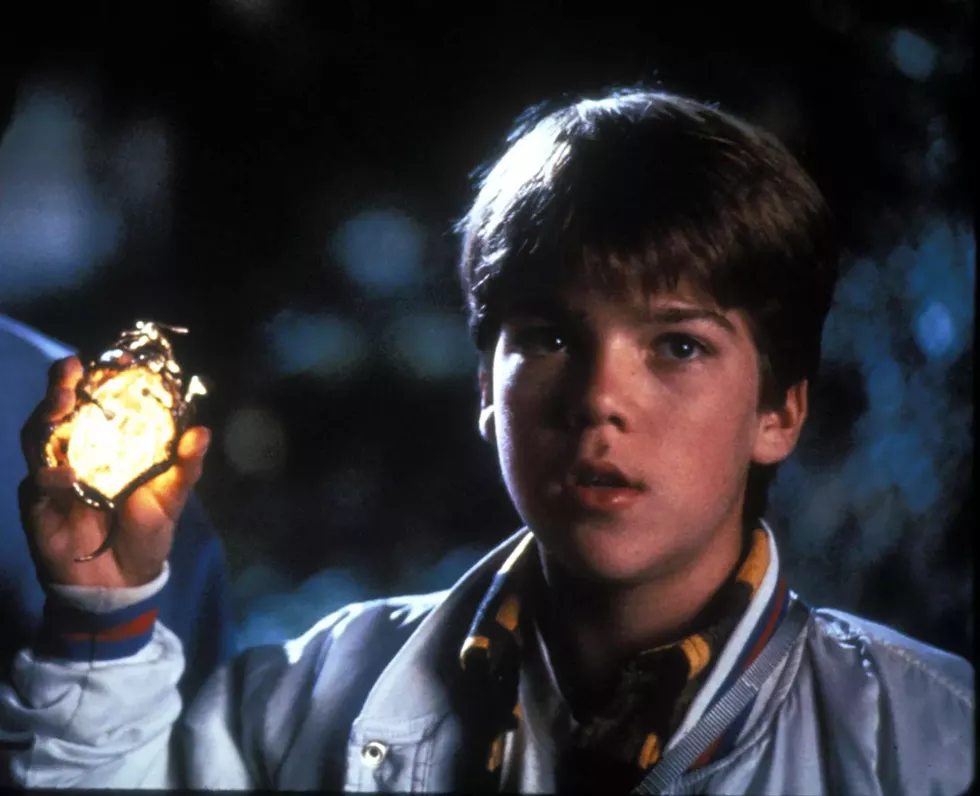 Is it surreal for you to think about how this one movie role has cemented your place in the genre?
AG:
There are very few people who get that opportunity. To be a part of something like that is amazing – hell, even if it only lasts 31 years. There's catchphrases and dialogue that is a part of everyone's lexicon now. Not every movie that gets made turns into that. I would rather be a part of something like that than be a part of a movie that was a smash hit when it came out, but that nobody remembers now.
CT:
I didn't start thinking about that until recently when I started going to these conventions. I just started going to them a few years ago. When the film came out, it didn't do that great [at the box office] and I didn't think about it too much after that. But then, some films just catch an audience at some point. Going to these kind of events has really shown me how much this movie means to fans. I guess that's why they call it a cult classic. I'm just glad to have been a part of it.
Do you hear the lines "Kick him in the nards" or "Wolfman's got nards" more than you'd like 30 years later?
AG:
You know, it's funny because you hear it all the time. I can walk down the street randomly and hear it. It doesn't have to be at a convention or a Monster Squad screening. I was at Trader Joe's the other day and a guy was wearing a "Stephen King Rules" t-shirt. I saw him from across the street. I was eating lunch and I thought that I should walk over and say, "Hey, nice shirt" at the Trader Joe's, so I did. When they're wearing your shirt or saying your lines from the movie, it's great. It happens all the time.
Carl, is it a bit different for you since you never seen your face in the movie?
CT:
That's the part I love, honestly. If they saw my face, people might look at you and say, "Man, he's really aged!" I was in that Wolfman costume and no one ever knew what I looked like, so they're not going to be disappointed. I'll catch "Wolfman's got nards" every once in a while, but only if someone knows who I am.
So, which of the two horror expos should Monster Squad fans go to this Halloween weekend?
AG:
I think both shows are going to be really good. We're kind of split, aren't we? It's kind of weird. Would we all like to be at the same show? Yes, it's always a great draw. But I'm going into this with a positive attitude. I'd love for everybody to go to both!
CT:
Go see the monsters! The monsters are cool! That's what Halloween is all about!