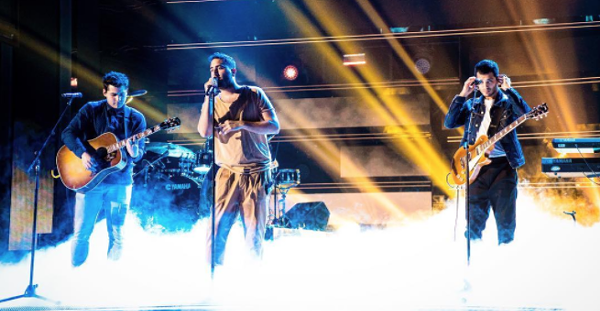 Thu 10/26
Reik
All you need to know about Mexican pop trio Reik is in one song: "Náufragos," masterfully interpreted by singer Jesús Alberto Navarro: we're talking Charlie Puth-caliber here, a piano-based romantic ballad full of colorful tones and disarming falsettos. He's a superb vocalist who has outgrown the group, and that's a shame: these cachanillas (from Mexicali, Baja California) settled for harmless syrupy, conventional hymns after insinuating an edgier, electro-pop side in previous albums. In spite of the Latin Grammy-winning group's predictability, acoustic guitarist/vocalist Julio Ramírez and electric guitarist Gilberto Marín keep things dignified through good execution. The reggae (and insufferable) reggaeton touches can't hide the sweetness of it all, but if you choose radio-friendliness you could do a lot worse than Reik. Their latest album, Des/Amor (2016), capably produced by Kiko Cibrián, is just one side of Reik. This show should prove Reik has more guts than it seems on record, and a singer you won't easily forget.
$43.75-$153.75, 8pm, The Majestic Theatre, 224 E. Houston St., (210) 226-3333, majesticempire.com.
— Enrique Lopetegui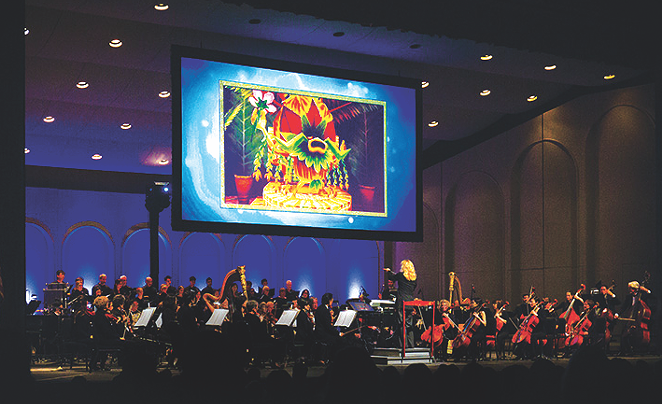 Fri 10/27
The Legend of Zelda: Symphony of the Goddesses
Before you roll your eyes about this symphony inspired by a video game, take a moment to consider why The Legend of Zelda: Symphony of the Goddesses even exists. Based on Japanese game designer Shigeru Miyamoto's childhood adventures in the Kyoto countryside, the franchise (which boils down to green-tunicked hero Link saving Princess Zelda and the kingdom of Hyrule from the evil wizard Ganon) plays out to fantasy-driven compositions by Nintendo's own Koji Kondo. Sparked five years ago by the release of the game's 25th anniversary CD and concert series, the touring Symphony of the Goddesses returns to the Majestic with a 66-piece orchestra and 24-person choir in tow. Staged in celebration of the game's 30th anniversary, the company's latest pays tribute to Zelda's past and present (from A Link to the Past to Breath of the Wild) with a melange of symphonic movements and video clips recalling "moments of Link conquering dungeons, running through forests, and struggling to decide what color tunic to wear."
$54.25-$104.25, 8pm, The Majestic Theatre, 224 E. Houston St., (210) 226-3333, majesticempire.com.
— Bryan Rindfuss
Fri 10/27 - Sun 10/29
Constellations
Through the ages, it's been a common trope that folks look to the stars when in search of answers about their love life. It's really the ultimate act of human hubris, assuming the cosmos are invested in our personal lives. Constellations, the hit play from British playwright Nick Payne, tinkers with this concept in ways that make for sophisticated yet heartwarming drama. The widely lauded play made its way from London to Broadway in 2015 and features only two characters. In an exploration of love and astrophysics, especially the concept of parallel universes, the play enlivens the mind and stirs the heart in equal measure. It turns out that we, and by extension our relationships, are as infinite (and complicated) as the universe itself. Molly Cox directs Jeff Jeffers and Kate Glasheen (pictured) in The Playhouse's production.
$20-$35, 7:30pm Fri-Sat, 2:30pm Sun, The Playhouse, 800 W. Ashby Pl., (210) 733-7258, theplayhousesa.org.
— James Courtney
Fri 10/27 - Tue 10/31
Halloween Week at SAMA
With so much good stuff happening at SAMA this week, we couldn't choose just one favorite option — heck, it was hard narrowing it down to two. For starters, on Friday night the museum will screen the movie Selena­­­ — the classic, locally worshipped 1997 flick in which J Lo does a surprisingly good impersonation of La Reina. Setting itself apart from several other places that have recently shown the movie (which we will never tire of anyway), SAMA will be giving special "Mujer Power" tours of its new photographic portrait exhibit "The Latino List" to coincide with the filmic celebration of Selena. On Halloween day, the museum will be open late and offering a special tour for the occasion. The All Hallows' Eve tour, which will start at 5 p.m., will visit the mummies, monsters, and spirits haunting the galleries. The tour is for all ages and costumes are encouraged, but please don't play yourself by going in there acting a fool — it's a classy institution.
Free, 6-9pm Fri, 5-5:45pm Tue, San Antonio Museum of Art, 200 W. Jones Ave., (210) 978-8100, samuseum.org.
— JC
Sat 10/28
Blood Moon: "Rise & Fall of the Witch"
Pulling double duty as a decidedly dark boutique and a collective comprised of fashion designers, makeup artists, models, photographers and entertainers, La Santa Luna has previously piqued our interest with events ranging from provocative (The Art of Fetish & Fashion) to slightly sinister ("Hex Your Ex" Singles Mixer). Teased out on social media through haunting videos, gorgeously gruesome photographs and historical tidbits about the Salem Witch Trials, La Santa Luna's October offering takes shape in Blood Moon: "Rise & Fall of the Witch." Making dramatic reference to the reddish hue of the moon during a full lunar eclipse (or possibly the tetrad of eclipses that's inspired everything from apocalyptic mythology to a book penned by megachurch pastor John Hagee) and perhaps that "death is only the beginning" for a witch, the evening promises tarot readings, crystal mystics, varied vendors, works on display from photographers Gina Sandoval-Garcia, Mary Rodriguez and Savannah Saunders, music by DJ Boi of Doom, a performance by special guest Livi Von Ghoul, appearances by La Santa Luna brand ambassadors (Lita Deadly, Nate the Boy Wonder and Madame Hellcat, to name a few), and runway presentations showcasing featured designers Erica Reyna, John David Ramirez-Garcia, Fabian Alejandro Diaz of Casa de Ojos and Fernando Solis of Diamond Dreams.
$10-$25, 7pm-midnight, Brick, 108 Blue Star, (210) 262-8653, facebook.com/lasantalunatx.
— BR
Sat 10/28
Cirque du Risqué
It's that time of year again, when folks are given license to let all their inner struggles out in the form of costumes that serve as thinly veiled references to deep-seated insecurities, desires and turmoil. As cynical as that may sound, psychology tells us it's healthy to role-play. Plus, it sure can be a lot of fun. If you're up for projecting your sexiest self this weekend, you'll probably want to make Paramour's Cirque du Risqué one of your stops. Meant to mimic a seedy old freak show kind of vibe, this special event will feature a contortionist, burlesque performances, a caricaturist, carnival-inspired snacks and themed drinks, and a Ringmaster who'll officiate the debauchery of this sensuous circus.
$35, 7-11pm, Paramour, 109 9th St., Suite 400, (210) 340-9880, paramourbar.com.
— JC
Courtesy of San Antonio Botanical Garden
Sat 10/28
BOOtanica
Fresh off a $22 million expansion that brought a 34-bed "culinary garden," the Goldsbury Foundation Pavilion and a nutrition-focused teaching kitchen to an already sprawling campus, the San Antonio Botanical Garden celebrates the season with the family-friendly BOOtanica. In addition to a costumed parade through the garden (noon), the fall favorite promises winning photo ops along the Scarecrow Trail, live music from Conjunto Heritage Taller, hands-on activities, marigold giveaways (while supplies last) and $2 off admission courtesy of H-E-B.
$8-$10 (free for kids under 3), 10am-2pm, San Antonio Botanical Garden, 555 Funston Pl., (210) 536-1400, sabot.org.
— BR
Sat 10/28
Halloween Costume Closing Party
To call local artist Jimmy James Canales a "wildcard" might distract from the conceptual depth and technical mastery of his work, but it accurately alludes to the fact that he's anything but predictable. Over the years he's had his knuckles tattooed in the McNay's Chiego Lecture Hall, moved into UTSA's Satellite Space for a period of three weeks, turned Artpace's Main Avenue windows into a stage for a "series of exploits, experiments and performances," and left memorable impressions with public appearances disguised as would-be urban legends covered in foliage (Monte Man) and raccoon tails (Mapache Man). Drawing creative inspiration from the likes of filmmaker and occultist Kenneth Anger, pioneering performance artist Joan Jonas, the sci-fi flick Elysium and points beyond, Canales' new body of work "Para Chrome" takes shape in "armor, exoskeletons and customized packs" artfully rendered in metal tubing, PVC pipe, parachute cords, low-rider bicycle parts and other odds and ends. While certain pieces are wearable and play into Canales' performative practice, others are presented as sculptural objects hung with chain from bakers' racks. To enhance the "Para Chrome" experience, artist/curator Rigoberto Luna concocted a music and video montage, and Canales worked with local filmmakers Mark and Angela Walley to create two short films (one of which features Canales wearing the show's key piece while gazing in a mirror and combing his hair and mustache as Roberta Flack's "The First Time Ever I Saw Your Face" plays in the background). Presented by Presa House Gallery as a pop-up at FL!GHT — which has been outfitted with an appropriately retro-futuristic grid rendered with black tape — the exhibition comes to a close with a costumed reception complete with live music from "psychedelic-country-punk-pop" outfit Snowbyrd.
$2 suggested donation, 6pm-midnight, FL!GHT Gallery, 134 Blue Star, (210) 872-2586, facebook.com/presahouse.
— BR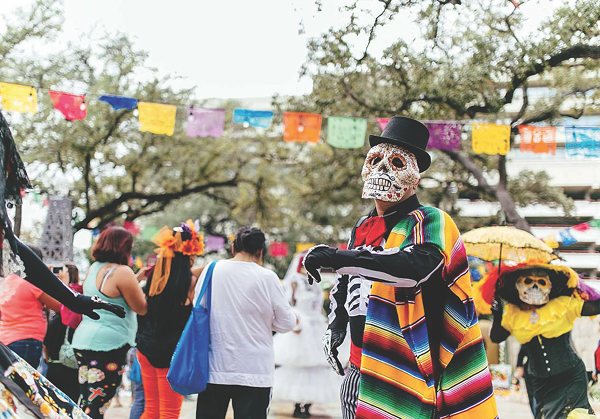 Sat 10/28 - Sun 10/29
Muertos Fest
A seasonal favorite that consistently brings all walks to the picturesque grounds of La Villita, Muertos Fest celebrates Día de los Muertos with near-unrivaled fanfare. In addition to what many consider the main event — a high-stakes competition between elaborate, artist-created ofrendas honoring family members, friends, pets, pop culture icons and plenty in between — Muertos Fest packs in an eclectic lineup of live music, poetry readings, artisan vendors, face painting, kid-friendly activities and a lively drum and puppet procession. Promising highlights from the sixth annual outing include performances by Kansas City-based Making Movies, Alamo City supergroup Las Tesoros de San Antonio, genre-blending singer-songwriter Azul Barrientos, the Guadalupe Dance Company and Mariachi Nuevo Jalisco.
Free, 10am-11pm Sat, noon-10pm Sun, La Villita, 418 Villita St., (210) 207-8614, muertosfest.com.
— JC