Fri 11/24
Black Friday at Brick
Organized by the ingenious makers behind the homegrown outfits BarbacoApparel (prints, T-shirts, stickers and totes emblazoned with such San Anto-specific characters as Selena and the Donkey Lady), Sweet Craft Jewelry (polymer clay accessories modeled after conchas, cupcakes, corndogs and other edible treats) and VeryThat (ceramic tiles, jewelry, mugs, stickers and T-shirts inspired by Frida Kahlo, lotería and familiar dichos), Black Friday at Brick has one simple request this holiday season: "Shop small y'all." Likely to offer something of a preview of the third annual Brickmas Holiday Market (December 22 and 23 at Brick), the one-day market brings 20 distinct vendors together under one roof (including Desert Flower Designers, In The Weeds Natural Skin Care, Asher and Gray Designs, Karma Candle Makers and Smokin' Beards) along with kid-friendly holiday movie screenings (complete with popcorn and hot cocoa) and a dedicated "Mothers' Room" for nursing and diaper changes.
Free, 10am-6pm, Brick at Blue Star, 108 Blue Star, (210) 262-8653, brickatbluestar.com
.
— Bryan Rindfuss
Courtesy of La Santa Luna
Fri 11/24
A Night at the Moulin Rouge
Having recently haunted the Alamo City with Blood Moon: "Rise & Fall of the Witch," the deliciously dark boutique La Santa Luna (which doubles as a multimedia arts collective comprised of fashion designers, makeup artists, models, photographers, entertainers and even runway-ready brand ambassadors) is orchestrating an evening inspired by the iconic Parisian cabaret Moulin Rouge. Although it's unlikely the "night full of wonderment and excitement" will resemble anything one might expect from Belle Époque France (when the Moulin Rouge brought can-can dances to the masses and inspired a worldwide cabaret revolution), cabaret attire is "strongly encouraged."
$5 (21 and up only), 10pm, La Botánica, 2911 N. St. Mary's St., (210) 716-0702, facebook.com/lasantalunatx
.
— BR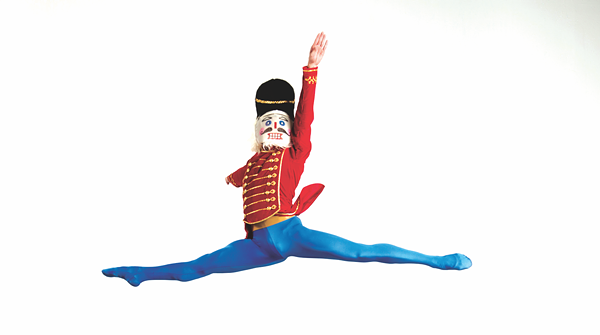 Alexander Devora Photography
Fri 11/24 - Sun 11/26
The Nutcracker
Ballet San Antonio once again brings the perennial holiday favorite The Nutcracker to the Tobin for 12 performances with live accompaniment of the Tchaikovsky score provided by the San Antonio Symphony. Inspired by the classic E.T.A. Hoffmann tale The Nutcracker and the Mouse King, reality and fantasy blend in a young girl's dreams of a handsome prince, frightening rodents at war and exotic characters from around the globe. This production debuted just last season, choreographed by artistic director Willy Shives. The sparkling production blends Shives' artistic vision with that of the legendary Gerald Arpino, utilizing the great maestro's choreography for The Land of Snow and Waltz of the Flowers variations. Arpino was the co-founder of Joffrey Ballet and a tremendous mentor to Shives during his many years with that company. In this family-friendly fare, more than 100 children from the community will join the dancers of the company along with local celebrities making surprise cameo appearances. Guest celebrities performing include KSAT on-air talent like Mike Osterhage and Ursula Pari as well as the San Antonio Spurs Coyote, and former Spur Matt Bonner.
$24.50-$129, 7:30pm Fri, 2pm & 7:30pm Sat, 2pm Sun (through Dec. 3), Tobin Center for the Performing Arts, (210) 223-8624, tobincenter.org
.
— Tami Kegley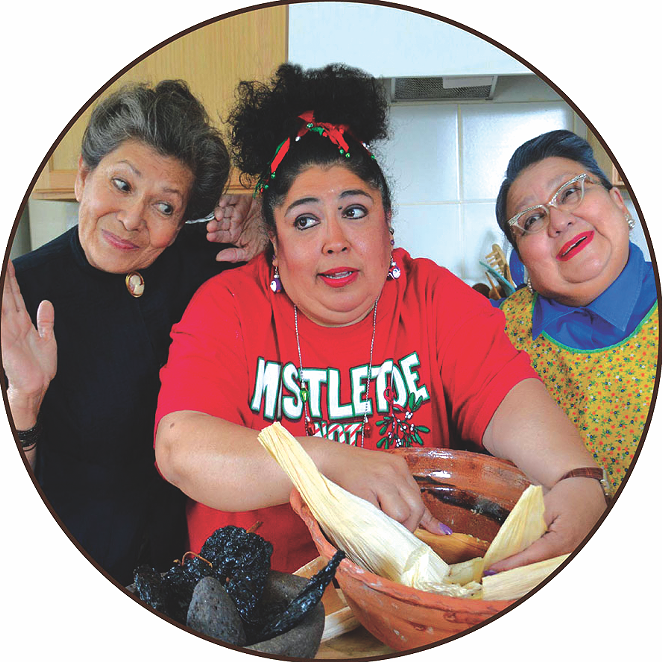 Fri 11/24 - Sun 11/26
Las Nuevas Tamaleras
After the passing of her mother, playwright and director Alicia Mena was moved to write Las Nuevas Tamaleras, a play that honors her mother's legacy and preserves her family's rich cultural traditions. Since its premiere in 1990 at Houston's Latino Playwright Festival, Las Nuevas Tamaleras has become a holiday favorite performed around the state. The one-act comedy centers on three Mexican-American women who try their hand at making tamales for the very first time. Things don't go as planned, however, when the ghosts of the legendary tamale experts Doña Juanita and Doña Mercedes decide to pay the three tamaleras a visit. This year's production, staged at Our Lady of the Lake University's Thiry Auditorium, will star Mena as Doña Mercedes and Ruby Nelda Perez as Doña Juanita. The tamaleras will be played by Patricia Zamora, Sonya M. Rodriguez and Kristina Keller.
$20-$25, 8pm Fri-Sat, 3pm Sun (through Dec. 10), Our Lady of the Lake University, Thiry Auditorium, 411 SW 24th St., (210) 223-2009, lastamaleras.com
.
— Marco Aquino
Fri 11/24 - Sun 11/26
All Is Calm: The Christmas Truce of 1914
As the country heals from one of the most divisive presidential elections in modern history, The Playhouse will present Peter Rothstein's musical All Is Calm: The Christmas Truce of 1914, in collaboration with local men's a cappella group The Marcsmen. Based on actual events that took place during World War I, All Is Calm tells the story of the English and German soldiers who emerged from their trenches into no man's land on December 24, 1914. There, the soldiers exchanged gifts, sang Christmas carols and buried their dead. It was an unofficial Christmas truce frowned upon by officers, but one in which thousands of soldiers partook. Although the war would resume the following day and continue until the general armistice of November 1918, for the surviving soldiers, the Christmas truce of 1914 would be remembered as nothing short of miraculous.
$20-$35, 7:30pm Fri-Sat, 2pm Sun, The Playhouse, 800 W. Ashby Pl., (210) 733-7258, theplayhousesa.org
.
— MA
Courtesy of Esperanza Justice Center
Fri 11/24 - Sun 11/26
Peace Market (Mercado de Paz)
The Esperanza Peace and Justice Center is once again presenting the truly splendid Mercado de Paz, now in its 28th year. A local mainstay for fans of all manner of arts and crafts, the Mercado de Paz is a whole lot more than just a weekend pop-up arts fair. As stated on the nonprofit's website, the Mercado de Paz combines the arts with considerations of "economic sustainability, international exchange and social consciousness." What else would you expect from the consistently active team at Esperanza? The indoor/outdoor event is family-friendly and, starting on Black Friday, provides a conscionable, community-centered alternative to the biggest corporate shopping days of the year. This year's mercado will feature dozens of international and local artists/artisans (offering jewelry from across Mexico, rugs, textiles and alebrijes from Oaxaca, apparel and embroidered cushions from Jalisco and much more), an eclectic lineup of music and performances (soul siren Alyson Alonzo, all-female DJ collective Chulita Vinyl Club, accordion master Santiago Jimenez Jr. y Su Conjunto, supergroup Las Tesoros de San Antonio and Zombie Bazaar Panza Fusion are all on the bill) and tons of food choices, including vegetarian and vegan options. In summary, the annual tradition is an ideal go-to, whether you're looking to bolster your art collection, score some points for the proletariat in the grand battle against our capitalist overlords, snag some one-of-a-kind gifts, catch some live music, occupy the kiddos for the day, or simply hang out and avoid the rest of your family.
Free, 10am-6pm Fri-Sat, noon-6pm Sun, Esperanza Peace and Justice Center, 922 San Pedro Ave., (210) 228-0201, esperanzacenter.org
.
— James Courtney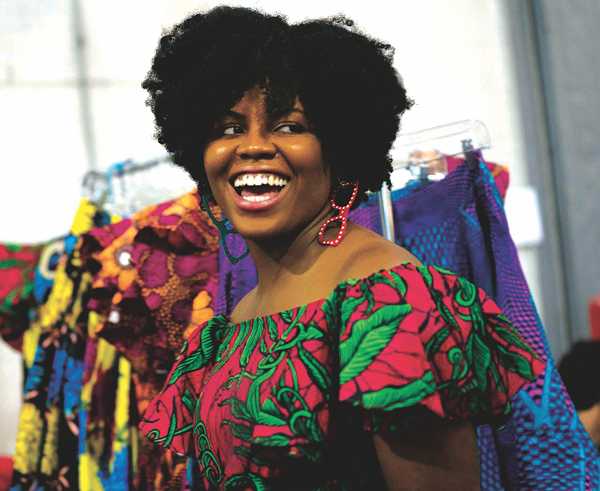 Courtesy of Pop Shop America
Sat 11/25
Pop Shop San Antonio
Billed as "a modern and stylish DIY world," Houston-based Pop Shop America combines a brick-and-mortar boutique specializing in handmade goods, an online shop and blog, crafty workshops, and seasonal markets that bring together like-minded vendors in a festive atmosphere. Founded by lifelong maker Brittany Bly, the multitasking operation makes its Alamo City debut via Pop Shop San Antonio — an indoor marketplace promising "Handmade. Vintage. Fair Trade. Good Vibes." Taking over the La Villita Assembly Hall on Small Business Saturday, the free, one-day-only affair features giftable wares from more than 50 vendors and businesses (including fashions from Retro Dynamite, "intoxicating bodycare" from Aromaholic, plus-size vintage styles from Massive Curves, cards, stickers and stationery from Tattoos&LoveLetters, natural skincare and aromatherapy from DarNaturals and imported kids' clothes and toys from French Carousel), plus goodie bags for the first 25 attendees, free coffee and lattes courtesy of Etsy (10am-2pm), complimentary "bling a nail" nail art by Cha Cha Covers (noon-4pm), a performance by married, multimedia duo Daisy & Buck (4pm), cocktails from Cowgirls Unlimited, a Bubble & Squeak Soapworks beauty bar, hands-on crafting activities and a "selfie station" with holiday props.
Free, 10am-6pm, La Villita Assembly Hall, 401 Villita St., (210) 481-1200, popshopamerica.com
.
— BR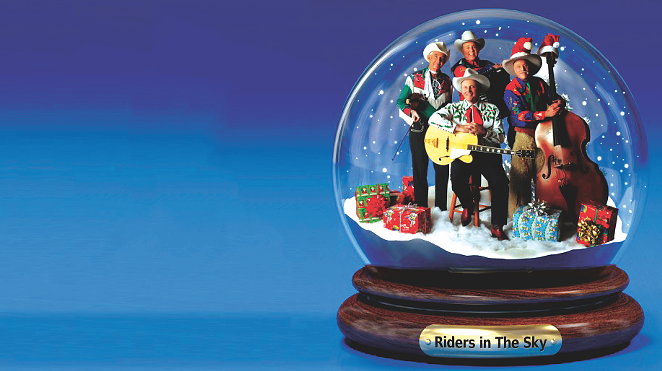 Sat 11/25
Riders in the Sky
Drawing inspiration from singing cowboy icon Roy Rogers and his yodeling band Sons of the Pioneers — a group that appeared in nearly 90 films and still remains active today — the witty Western quartet Riders in the Sky famously favors comedy over country in the old C&W equation. As one might guess by their names and roles alone — Ranger Doug ("Governor of the Great State of Rhythm"), Too Slim ("Upright Bunkhouse Bass"), Joey the CowPolka King ("Stomach Steinway Accordion") and Woody Paul ("King of the Cowboy Fiddlers") — the Nashville-based band boasts a particularly kid-friendly following. And despite an impressive catalog of nearly 30 nostalgia-fueled albums, the comedic cowboys might be known best by today's audiences for their Grammy-winning Toy Story 2 and Monsters, Inc. tie-ins — Woody's Roundup: A Rootin' Tootin' Collection of Woody's Favorite Songs (2000) and Scream Factory Favorites (2002). Armed with numerous awards and a resume that includes performances at the Hollywood Bowl, the Grand Ole Opry and the White House, the fun-loving outfit lands at the Tobin to celebrate "Christmas the Cowboy Way."
$45, 4pm & 8pm, Tobin Center for the Performing Arts, 100 Auditorium Circle, (210) 223-8624, tobincenter.org
.
— BR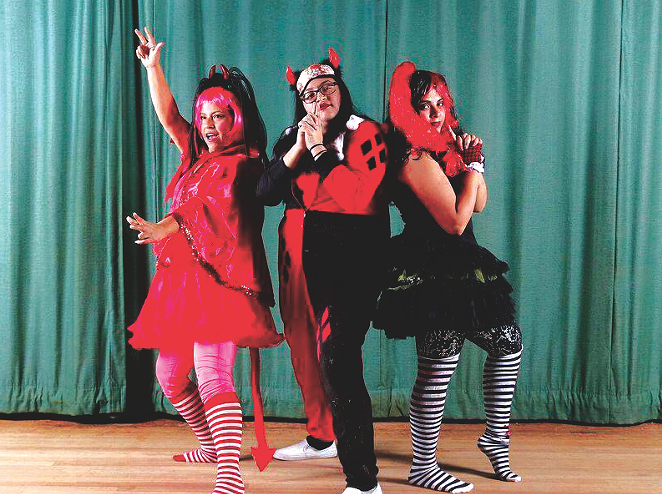 Sun 11/26
El Wiwicho Sí Existe
One of Mexico's most enduring traditions, pastorelas (shepard's plays), blend together elements of indigenous Mexican culture and Roman Catholicism. Originally staged by the Spanish missionaries, pastorelas followed the basic structure of morality plays common during Medieval times but were soon injected with the humor and festive attributes found in the arts of the native populations. On Sunday, the Houston-based Spanish-language theater company Happy Medyann will present the pastorela El Wiwicho Sí Existe at the Guadalupe. The plot centers on La Chona, an indigenous woman who learns the "true" meaning of Christmas when Don Herculano recounts for her the struggles of the shepherds who followed the Star of Bethlehem. In this version, the shepherd's struggles are personified by the evil Trumpcifer who is defeated by St. Michael the Archangel. A contemporary reimagining of the nativity tale, El Wiwicho Sí Existe highlights the plight of today's immigrants while proving that good always overcomes evil.
$10, 3pm, Guadalupe Theater, 1301 Guadalupe St., (210) 271-3151, guadalupeculturalarts.org
.
— MA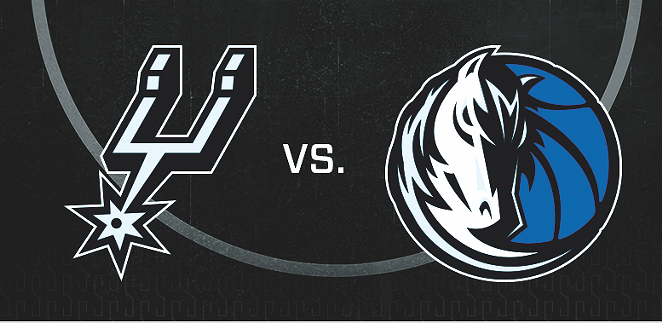 Spurs Sports Entertainment
Mon 11/27
Spurs vs. Mavericks
With Rookie of the Year frontrunners Ben Simmons and Jayson Tatum making noise in the Eastern Conference, Dallas Mavericks guard Dennis Smith Jr. has quietly put up solid numbers, garnering early comparisons to reigning league MVP Russell Westbrook. Smith's 14 points, four assists and four rebounds per game have been a revelation for the Mavericks, who have been stranded in the cellar when it comes to team standings. San Antonio has dominated Dallas in recent memory with the Spurs going 18-3 against the Mavs in the last five seasons. Injuries have been a recurring theme for San Antonio to start the season, with Coach Popovich's squad admirably holding their own against most opponents while shorthanded. Look for Danny Green to get an early jump on Smith and the Mavs at home.
$9-$1,000, 7:30pm, AT&T Center, One AT&T Center Pkwy., (210) 444-5000, attcenter.com
.
— M. Solis