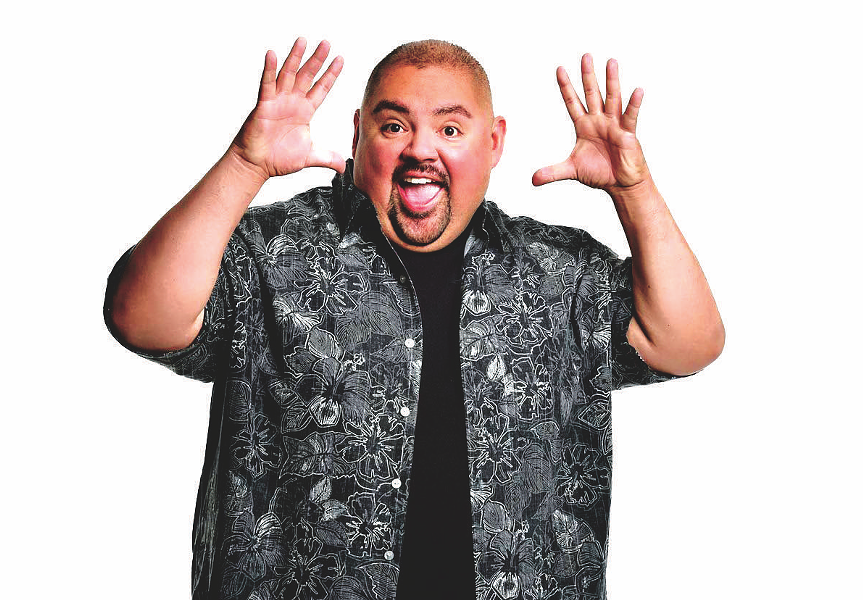 Thu 12/7
Gabriel Iglesias
After cancelling a chunk of his 2017 tour earlier this year to focus on some "health and emotional issues," stand-up comedian Gabriel "Fluffy" Iglesias, 41, is taking center stage again, this time at the AT&T Center for his FluffyMania World Tour to celebrate 20 years in comedy. Although he still considers stand-up his passion, Fluffy has also become one of the most sought-after voice actors in the animated film industry over the last few years. Back in 2013, when the
Current
interviewed him for his role in Disney's
Planes
, his first-ever voiceover gig for an animated feature, he said he was "not trying to chase a film career" and considered any opportunities he was offered aside from stand-up "frosting on the cake." To put his popularity in context, a week after his stop in San Antonio, Fluffy will have three animated movies playing in theaters at the same time (
Coco
,
The Star
and the upcoming
Ferdinand
where he voices a hedgehog named Cuatro). Fluffy might not be staking out a claim for an Oscar anytime soon, but that sure is a hell of a lot of buttercream on that Bundt.
$37-$77, 8pm, AT&T Center, One AT&T Center Pkwy., (210) 444-5000, attcenter.com.
— Kiko Martinez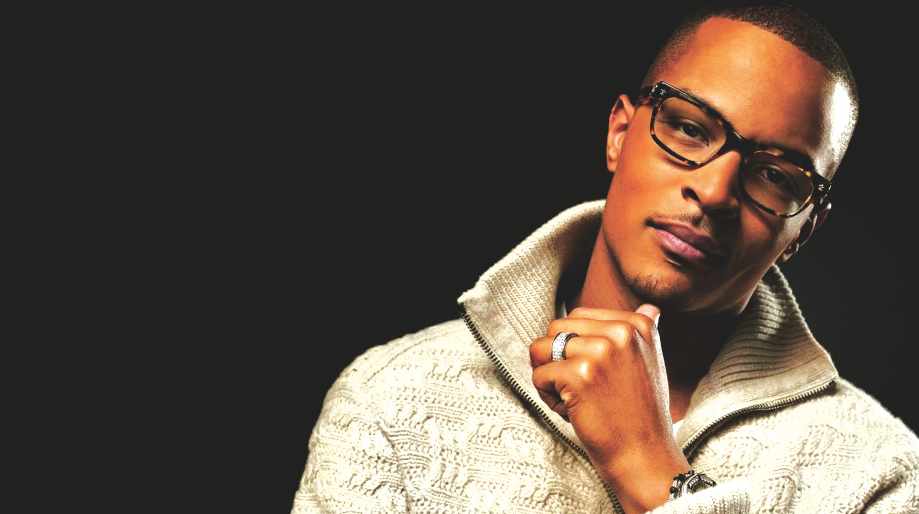 Thu 12/7
Icon Talks: T.I.
The self-proclaimed King of the South touches down at the Tobin Center on Thursday night when Icon Talks honors Tip "T.I." Harris and Spurs Sports and Entertainment Minority Owner Cassandra Carr with their Visionary Awards. Billed as "an upscale evening of empowerment, inspiration and entertainment," the event promises a candid conversation with the three-time Grammy Award winner, followed by a 45-minute set of his chart-topping hits. Boasting a nine-album catalog, including three consecutive No. 1 records, T.I.'s path from trap house to hip-hop elder statesman has traversed its fair share of peaks and valleys. Although his best days in the vocal booth are likely behind him, as an actor, artist and philanthropist, T.I. still radiates "the spirit of a hustler and the swagger of a college kid."
$44.50-$100, 7:30pm, Tobin Center, 100 Auditorium Circle, (210) 223-8624, tobincenter.org.
— M. Solis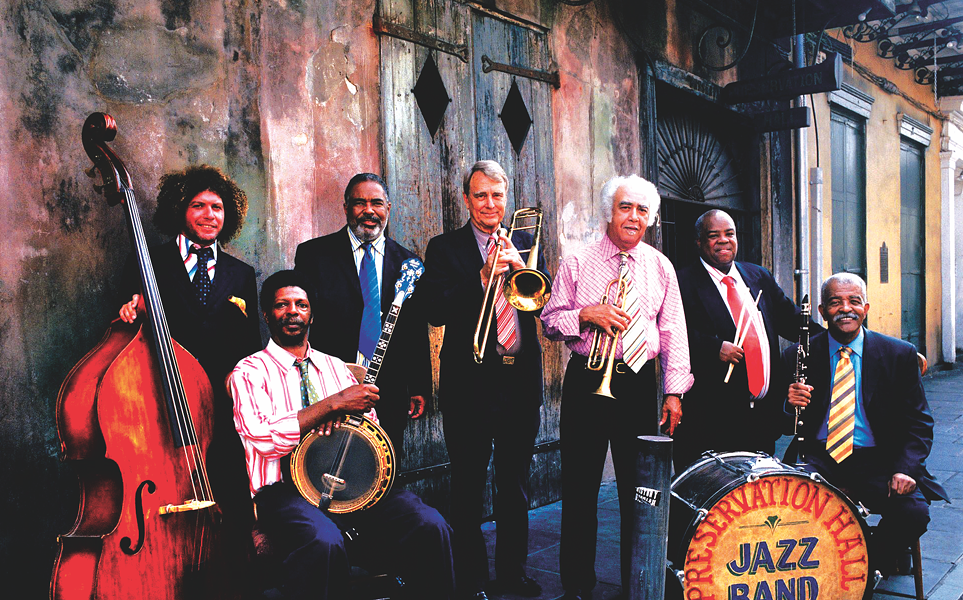 Preservation Hall Jazz Band
Fri 12/8
Creole Christmas
Preservation Hall Jazz Band is a New Orleans treasure. The Dixieland jazz group, which is currently a septet, has, like the city it reps and the aural artform it plies, undergone evolutions aplenty throughout its 50-year history, masterfully toeing the line between honoring the past and inventing the future. In the live setting, the inventive crew doesn't play a song the same way twice, always pushing themselves to make new connections to the music and the audience. This weekend, the band, a beacon of history and classic American song, presents its Creole Christmas, a special set bursting with all the magic of the holidays in the Crescent City. Featuring both faithful and updated takes on old favorites, as well as originals and rare treats, the show promises to be just the ticket to kickstart your holiday season.
$29-$99, 7:30pm, Charline McCombs Empire Theatre, 226 N. St. Mary's St., (210) 226-5700, artssa.org.
— James Courtney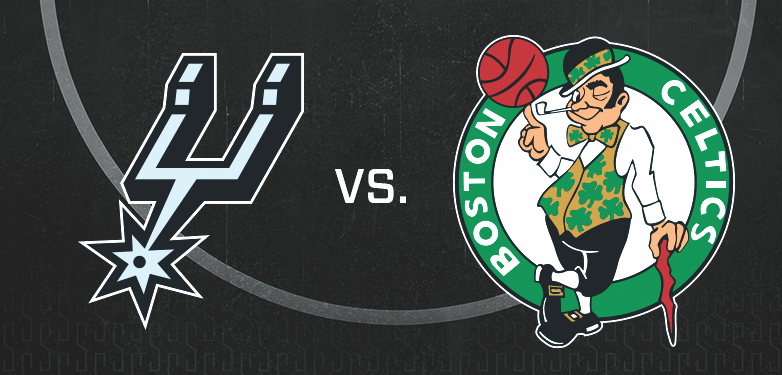 Spurs Sports and Entertainment
Fri 12/8
Spurs vs. Celtics
The longest winning streak of the young NBA season belongs to Kyrie Irving and the Boston Celtics, who recently reeled off an astounding 16 straight victories after starting their season with a pair of losses. With All-Star Gordon Hayward likely sidelined indefinitely due to injury, Irving has been masterful for the Celtics, toying with defenders and taking over crunch time in multiple come-from-behind wins. Dominican baller Al Horford has been key to Boston's early success, providing flow to the Celtics' offensive game with his underrated passing, while former Spur Aron Baynes has added formidable muscle on the boards. As six-time All-Star Tony Parker settles back into his starting role, San Antonio takes another step closer to the on-court continuity that has heralded the Spurs' success. Parker remarkably looks as spry as ever which, along with the addition of his "corporate knowledge," bodes well for the Spurs against the standout team in the East.
$51-$843, 8:30pm, AT&T Center, One AT&T Center Pkwy., (210) 444-5000, attcenter.com.
— MS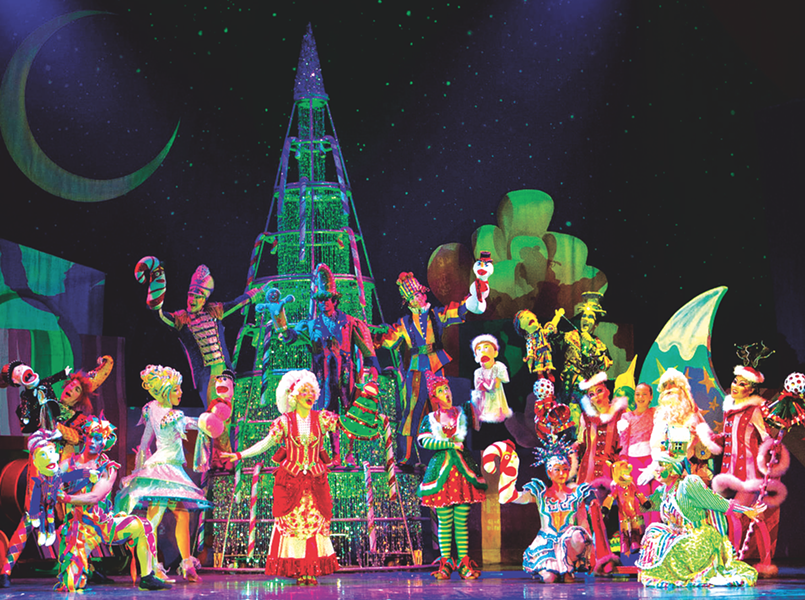 Fri 12/8 - Sat 12/9
Holidaze
Back in 2010, hard-to-please Current theater critic Thomas Jenkins surprised readers with a favorable review of the Cirque Dreams production Illumination, in which an international cast of tumblers, clowns and acrobats performed imaginative routines built around a downed power line on an urban street. Under the artistic direction of founder Neil Goldberg, the Florida-based troupe has reportedly performed in front of 50 million people since its inception in 1993 and now boasts 15 original shows, including the seasonal signature Holidaze. Hailed by the New York Daily News as a "delicious confection of charm, sparkle and talent by the sleighload," the two-hour spectacle packs in 300 costumes, original music and 20 acts brought to life on stage by "snowmen, penguins, angels, reindeer, toy soldiers, gingerbread men, ornaments and, of course, Santa."
$38.50-$89.50, 7:30pm Fri, 2pm & 7:30pm Sat, Tobin Center for the Performing Arts, 100 Auditorium Circle, (210) 223-8624, tobincenter.org.
— Bryan Rindfuss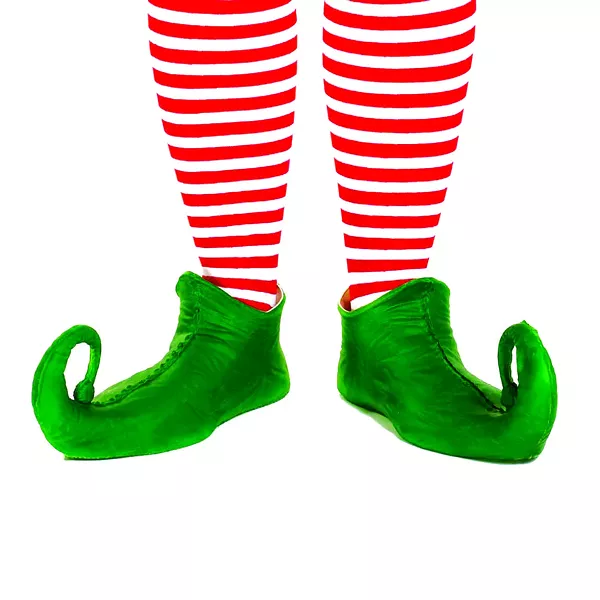 Classic Theatre of San Antonio
Fri 12/8 - Sun 12/10
The Santaland Diaries
Imagine working as an elf dressed in a green velvet outfit at Macy's department store. That's the idea behind The Santaland Diaries, a one-man show returning to the stage courtesy of The Classic Theater of San Antonio. Based on the essay by David Sedaris (originally read on NPR'S Morning Edition in 1992), The Santaland Diaries recounts Sedaris' real-life experiences as his alter ego, the disgruntled Crumpet the Elf, one unfortunate holiday season. Bart Roush directs John Stillwagon (as Crumpet the Elf) in The Classic's production.
$25, 8pm Fri-Sat, 3pm Sun (through Dec. 17), The Classic Theatre of San Antonio, 1924 Fredericksburg Road, (210) 468-3900, classictheatre.org.
— Marco Aquino
Sat 12/9
'Doing Werk'
"Werk. Hustle. Sleep. Repeat." That's the motto of artist Raul Gonzalez, whose drawings, prints and dance performances often center on the idea of work and physical labor. First exhibited at Austin's grayDUCK Gallery in November, Gonzalez's solo show "Doing Werk" comes to Freight Gallery for Second Saturday. In this latest series, Gonzalez draws from his experiences as a stay-at-home father as well as working constructions jobs with his own father. Included in this show are the artist's paintings on concrete fragments (taken from actual construction sites) depicting workers in action. In the accompanying exhibition catalog, Gonzalez explains, "No one walks up to these workers and says 'Thank you for the road,' or for the basic infrastructure that keeps the nation safe and mobile." Challenging preconceived notions about what it means to be an artist and the son of Mexican immigrants, Gonzalez's work is also an homage to the overworked and underpaid everyman.
Free, 7-11pm (performance at 8pm), Freight Gallery and Studios, 1913 S. Flores St., (210) 331-4382.
— MA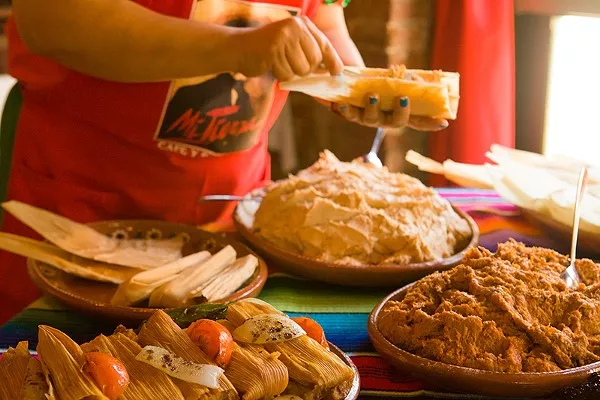 Sat 12/9 - Sun 12/10
Tamal-filled Weekend
Corn husks will line the streets of San Antonio this weekend as masa-fanatics take on three new tamal-centric events. Brooks kicks things off on the Southside with Feliz Tamalidad, which includes live music by Los Texamaniacs, Bombasta, and James Keith and the Moondogs and tamales from area vendors (
free, noon-6pm, Sat, Hangar 9, 8081 Inner Circle Drive
). You'll want to save room for Sunday's dueling tamaladas: La Gran Tamalada will relocate from its usual home at the Guadalupe Cultural Arts Center to Market Square, where La Familia Cortez will host hands-on workshops on tamal-making, children's activities and photos with Pancho Claus provided by the San Antonio Public Library (
free, 11am-4pm, Historic Market Square, 514 W. Commerce St.
). Over on the city's Eastside, EgCollaborations will host Sunday Masa: A Holiday Tamales Extravaganza with a "Pan Dulce Pavilion," Made in SA Holiday Market with local craft vendors such as BarbacoApparel, Grey Moon Vintage, and Garcia Art Glass, and a dozen (duh) tamal vendors including Celorio's Tortillas, Johnny Joe's, Toña's Tamales, Tommy's Barbacoa & Big Red, Carnitas Lonja and Chilito Express, among others (
free, 11am-6pm, Alamo Beer Co., 202 Lamar St.
). Bring your stretchy pants. — Jessica Elizarraras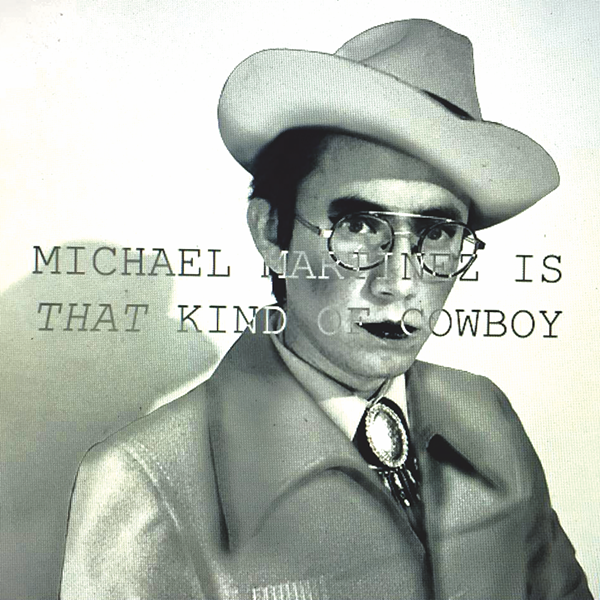 Sat 12/9
'Who the #@!? is Michael Martinez?'
After having made some righteous waves in Austin for his provocative contributions to Mexic-Arte's "YLA 22: ¡Ahora!" group exhibit, San Antonio conceptual artist and cultural worker Mark Anthony Martinez continues to make good stuff happen here at home. This Second Saturday at Flax, Martinez's curatorial talents will take center stage with an exhibition of works he's chosen from his brother (and fellow YLA alum) Michael Martinez. The exhibit — entitled "Who the #@!? is Michael Martinez?" — will find Martinez continuing his artistic excavation of his own identity as a gay person of color. Employing heavily connotative text, and textual juxtapositions, the exhibit "dissects gender expectations through the [lens of the] artist's own given name."
Free, 6-9pm, Flax Studio, 1906 S. Flores St., (909) 518-2245, flaxstudiosa.com.
— JC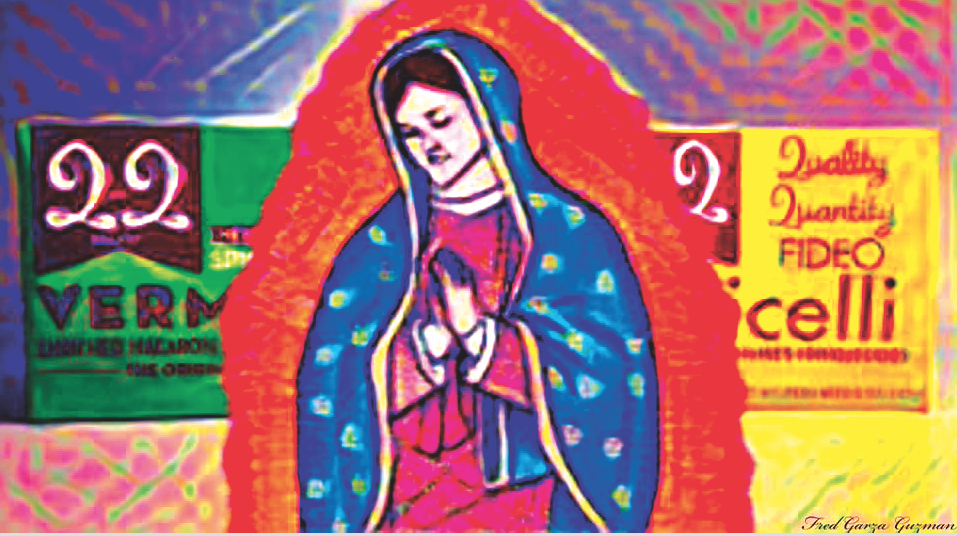 Sat 12/9
Virgen de Guadalupe Market & Fideo Cook Off
How many bowls of noodly soup can you consume in a few hours? If you're like us and you'd sincerely like to find out the answer to that question the hard way, you'll have a swell opportunity this weekend. The inaugural Virgen de Guadalupe Market & Fideo Cook Off will center on a fideo cook off (wherein the winner will receive a cash prize) and an artisan market. While the event is free to attend in general, and the market free to peruse, the fideo samplings will cost you $2 a pop. Alternately, you could take advantage of the $25 VIP pass, which will get you a taste of all the contestants' offerings.
Free, 7-9pm, Brick at Blue Star, 108 Blue Star, (210) 262-8653, brickatbluestar.com.
— JC