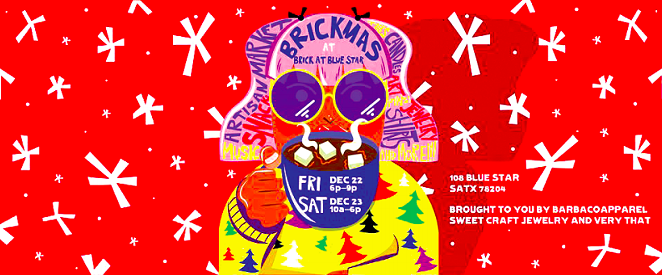 Organized by the distinctly San Antonio trio of BarbacoApparel (poppy, playful T-shirts, prints, cards and stickers), VeryThat (a beloved "one-stop Chicana shop" for jewelry, tiles and totes emblazoned with familiar dichos) and Sweet Craft Jewelry (adorable accessories and ornaments inspired by conchas, maranitos, tamales and other edible treats) with last-minute gift seekers in mind, Brickmas confidently bills itself as the "Best. Holiday. Market. Ever!"
And judging from the looks of this year's roster, the locally focused two-day market can likely back up that claim. Representing vendors curated from a record number of applicants, the third-annual affair promises hand-painted glassware from I.M. Creating, organic pet treats from Lucky Dog Bakery and Boutique, apparel and accessories from Red Cat and Co., sustainable bath products from The Soap Addicts, small-batch soy candles from Karma Candle Makers, vintage finds from The Mermaid Farm, succulents and moss terrariums from Micro Terra, mujer-centric zines from St. Sucia, prints, cards and T-shirts from Snake Hawk Press, huaraches, purses and blouses from Huellas Artisanal and handcrafted wares from more than 30 other small businesses.
Thoughtfully added to the mix with kids in mind, the Brickmas "movie lounge" will be screening an assortment of holiday flicks — complete with $1 popcorn, candy and drinks.
Free, 6-9pm Fri Dec 22, 10am-6pm Sat Dec 23, Brick at Blue Star, 108 Blue Star, (210) 262-8653, facebook.com/brickatbluestar
.