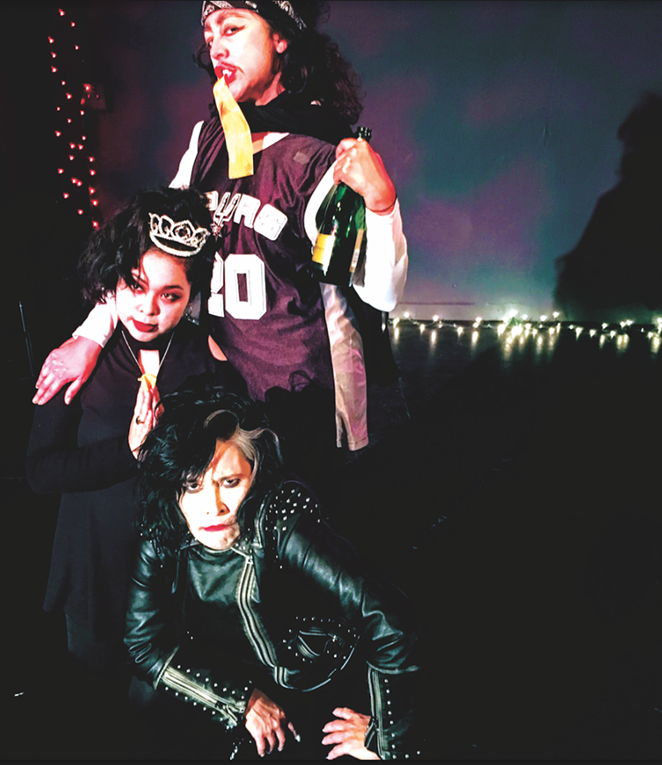 Experimental pioneers on a mission to "support of new ideas in the arts" and encourage "visionary thought and non-traditional approaches," Jump-Start Performance Co. has premiered upward of 500 original works since its formation back in 1985. With a fond look back at their roots in the era of "big hair and Purple Rain," the veteran troupe is set to roll out Performance Party 33: The Power of Three — a 33rd annual affair celebrating the spirit of collaboration and "the power of partnership."
Hosted by the enduring nonprofit Esperanza Peace and Justice Center, the festive fête serves up a pupu platter brimming with "San Anto-famous performance artists," including drag performer and costume designer John McBurney, actor Jade Esteban Estrada, AIDS "artivist" Anna De Luna, musician Nicolas Valdez of the Chicano soul outfit Los Nahuatlatos, drag king collective Los MENtirosos, Jump-Start's own Flaming Fire Eaters and more than 20 other acts.
Teasing out big things to come, the evening also features sneak previews of three productions debuting in 2018: Chuck Squier's Mothersecrets (a collaborative "collage" of motherly memories touching on "personal scents, fashion sense, styles and methods of discipline, sex education, sacrifice and affection"), Mellissa Marlowe's River City Stories (a heartfelt nostalgia trip set in bygone or altered haunts like Tacoland, Casbeer's, Los Padrinos and Earl Abel's), and Daniel Jackson's Basement Complex (a dark exploration of "monsters, ghosts, whispers, the limits of legibility and intelligibility, edges and their absence, and human beings' place in the universe."
$10, Saturday January 6, 7-11pm, Esperanza Peace and Justice Center, 922 San Pedro Ave., (210) 227-5867, jump-start.org.