Thu 2/1 - Fri 2/2
"Manifest"
In "Manifest," photographer Wendel White gathers nearly 100 remnants from the past documenting the African-American experience in the U.S. Delving as far back as the transatlantic slave trade, the portfolio includes photographic representations of items gathered from private and public collections including slave collars, a drum, a slave bill of sale and, perhaps most strikingly, a preserved lock of Frederick Douglass' hair. In an artist statement, White explains, "'Manifest' is an effort to seek out the artifacts and material evidence of the American construct and representation of race." Shot against stark, black backgrounds, the images bring to life the ghosts of America's dark past. A Distinguished Professor of Art at Stockton University, White first exhibited "Manifest" at the California Institute of Integral Studies in San Francisco and has since taken the work throughout the country.
Free, 6-9pm Thu, noon-9pm Fri, Blue Star Contemporary, 116 Blue Star, (210) 227-6960, bluestarcontemporary.org.
Thu 2/1 - Fri 2/2
"Common Currents"
Organized in celebration of San Antonio's Tricentennial, "Common Currents" is a diverse, encyclopedic showcase of San Antonio's history as told and rewritten by more than 300 visual and performing artists, invited to participate by their peers, and presented at six venues. Blue Star Contemporary's portion highlights the years 1768-1817 via works by David Zamora Casas, Ken Little, Pink Leche, Josh Huskin, Tamara Adira, Ruth Buentello, Daniela Cavazos Madrigal, Julia Barbosa Landois, Sarah Fox and more than 40 others.
Free, 6-9pm Thu, noon-9pm Fri, Blue Star Contemporary, 116 Blue Star, (210) 227-6960, bluestarcontemporary.org.
Thu 2/1 - Fri 2/2
"Terra Chartam"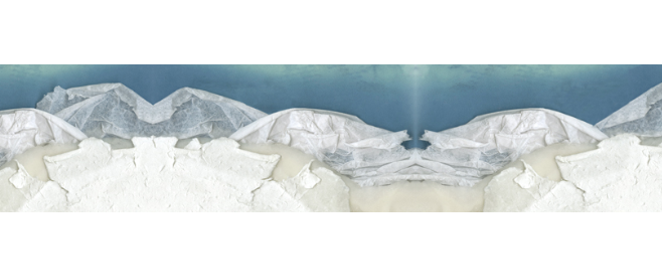 Working in paper, Austin-based artist Katy Schmader creates meticulous, abstract landscape collages exploring the connection between the tactile traces of a physical environment, an art-historic tradition of landscape aesthetics and the potential for cultivating a new system of eco-semiotics.
Free, 6-9pm Thu-Fri, FL!GHT Gallery, 134 Blue Star, (210) 872-2586, facebook.com/flightsa.
Thu 2/1 - Fri 2/2
"Doesn't Have a Clue"
A widely exhibited artist who holds degrees from Texas State University and the Edinburgh College of Art in Scotland, Jonathan McFadden creates prins and object-based installations that "interacts with, interprets, and processes fragments of personal narratives of the people we have loose associations with while finding ourselves as voyeurs in these personal moments."
Free, 6-9pm Thu-Fri, Terminal 136, 136 Blue Star, (210) 458-4391, art.utsa.edu.
Fri 2/2
"Our Turn 3: 58" on Center"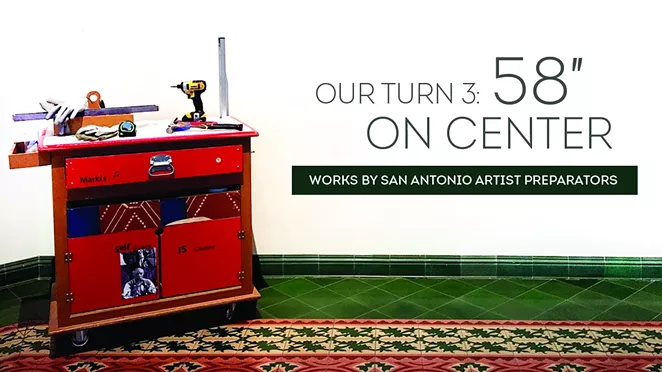 Presa House Gallery's latest celebrates the "unsung blue-collar individuals" who work behind the scenes as art handlers at Artpace, Blue Star Contemporary, Centro de Artes, the McNay Art Museum, the San Antonio Museum of Art and the Southwest School of Art. Devised in 2002 in an effort to bring their creative talents to the forefront, the group show features mixed-media works, drawings, paintings, woodwork, sculpture, video and performance pieces created by 25 preparators — including Anthony Rundblade, Allison Ward, Keeton Foreman, Shane Heinemeier, Ana Hernandez Burwell, Matt Kubo, Jeremiah Teutsch, Raygun Johns and Ed Saavedra.
Free, 6-11pm Fri, Presa House Gallery, 725 S. Presa St., (210) 913-5842, presahouse.com.
Fri 2/2
"The Broken Hearts Club"
Striking an amusingly melancholy chord, recent Blue Star arrival Creative Creatures celebrates Valentine's Day early with a music-minded showcase uniting 50 artists (Alejandra Reyes, Cecilia Arce, Erika Ordoñez, Israel Rico, Marlene Mejia, Nik Soupe, Regina Morales and Zane Thomas, to name a few) who drew creative inspiration from a song they identify with heartbreak.
Free, 6-11pm Fri, Creative Creatures, 1420 S. Alamo St., Suite 106B, (210) 441-8491, facebook.com/creativecreaturessatx.