Thu 3/1
"Common Currents"
We're already 150 years deep in "Common Currents," the far-flung Tricentennial exhibition series that unites nearly 300 artists and six cultural institutions (Artpace, Blue Star Contemporary, Southwest School of Art, Guadalupe Cultural Arts Center, Carver Community Cultural Center and the Mexican Cultural Institute). Assembled in a "chain letter-inspired" format, the sprawling project invited each participating venue to enlist two artists; that initial group of 12 followed suit, with each artist inviting two peers — and so on until 300 creatives were on board. With each of these exhibition chapters encompassing 50 years of San Antonio history, there's already an abundance of truly creative interpretations that range from fascinating to fearful to funny. Fourth up to bat in the series, the Guadalupe is set to unveil a wide-ranging group show focused on years falling between 1868 and 1917. Gathering more than a few familiar names — Anita Valencia, Louis Vega Treviño, Ansen Seale, Mark and Angela Walley, Kristel Orta-Puente and Soomin Jung among them — "Common Currents" chapter four encompasses painting, mixed-media, drawing, ceramics and installation … not to mention unexpected references to everything from Dante to 20th Century Fox.
Free, 6-9pm Thu, Progreso Building, 1300 Guadalupe St., (210) 271-3151, guadalupeculturalarts.org.

Thu 3/1
Catalina Sour Vasquez: "Projets Dissolvants"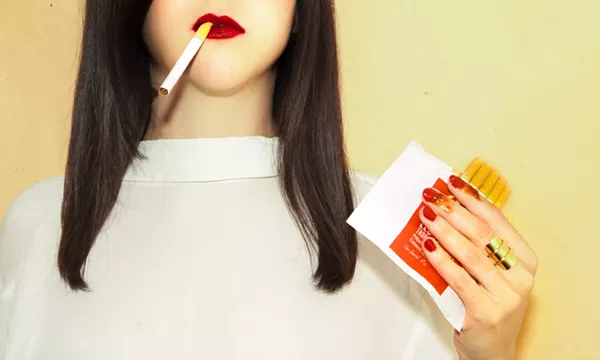 Featuring the stunning (sometimes startling) photographic abstractions of French/Chilean photographer Catalina Sour Vasquez, this exhibit curated by Hillarey Jones melds the surreal and fantastic with the mundane, the joyful with the tragic, and the whimsical with the poignantly critical. In her smart critiques of our culture of mass consumption, Vasquez masterfully captures the viewer with her meticulously beautiful
mise en scène
work, only to confront them with deeper, darker truths.
Free, 7:30-9:30pm Thu, The Gallery at MBS, 1115 S. Alamo St., (210) 412-0398, mbsfitness.net.
Thu 3/1
Jeremiah Teutsch: "Two Heads Are Better Than One"
In "Two Heads Are Better Than One," illustrator, sculptor and occasional Current contributor Jeremiah Teutsch presents a collection of striking, three-dimensional works inspired by traditional death masks. Teutsch's statement about these large-scale sculptures sets the somber, reverent tone of the exhibit as a whole: "The idea of this show came about after my father passed away. I started drawing enormous Big Giant Heads sinking into the ground, as mountainous monuments of grief. These are scaled-down monuments of grief. They're similar in form and function to death masks. The day before my father died, he asked me to make a death mask of him. He was cremated before I got to see him. So, now I'm making these big giant heads as recompense for not being able to make his."
Free, 7-10pm Thu, Hello Studio, 1420 S. Alamo St., Building B #203, (210) 291-8640,
hellostudiosa.com
.
Thu 3/1
"Kitty Fisher & The Arañitas"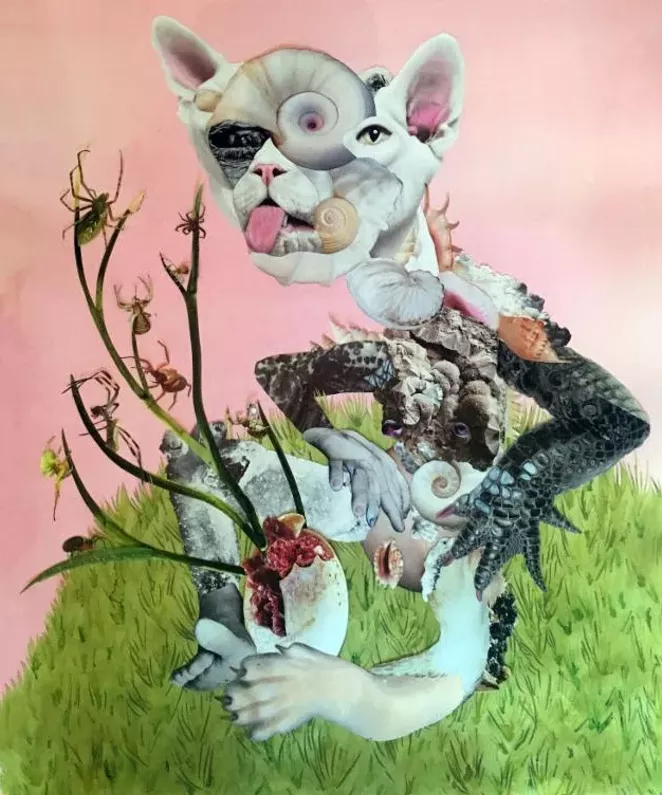 Cinnabar hosts a solo show for local artist Sarah Fox, whose latest body of work employs images of women hybrids to explore "the idea of female sexuality and the struggle for control."
Free, 6-9pm Thu, Cinnabar Art Gallery, 1420 S. Alamo St., Suite #147, (210) 557-6073,
cinnabarart.com
.
Thu 3/1 - Fri 3/2
"Unheimlich"
Elizabeth McDonald Schwaiger and Seth Orion Schwaiger
Taking its name from the German word for "uncanny," Unheimlich explores dichotomies between the home and the taboo, the normal and the unspeakable via collaborative and individual works by Elizabeth McDonald Schwaiger and Seth Orion Schwaiger.
Free, 6-9pm Thu-Fri, Anthem Gallery, 1420 S. Alamo St., facebook.com/anthemgallery.
Thu 3/1
"Oh, What A Night!"
In celebration of Contemporary Art Month, Choice Goods Gallery unveils Birds of a Feather, an 89-foot mural created by Robert Tatum in collaboration with Scotch!, Andy Benavides, Zane Thomas and more than 20 other artists. Following the mural viewing, Brick hosts an after party featuring work by contributing mural artists and music by Dolphin Dilemma and Verisimilitude.
Free, 6pm-midnight Thu, Choice Goods Gallery, 1420 S. Alamo St., #103, (210) 441-8491, tatumoriginals.com.
Thu 3/1 - Fri 3/2
"Versus"
Focused on "the violence of visual systems," Houston Fryer's MFA thesis exhibition takes shape in an extremely graphic installation of paintings, props, green-screen technology, and interactive digital projections that transforms the gallery into equal parts theater and playground (viewer discretion is advised). Visitors are invited to play with the exhibition's interactive features.
Free, 6-9pm Thu-Fri, Terminal 136, 136 Blue Star, (210) 758-6246, art.utsa.edu.
Fri 3/2
CAM Kickoff Party
Contemporary Art Month (CAM), the beloved, monthlong art bonanza that lends visibility to local artists and promotes the San Antonio art scene to the world, will mark its 33rd run this March, as San Antonio continues its Tricentennial celebrations. CAM began in 1986 as a means to bring the art-loving/art-buying community together with a large and diverse pool of local artists and their work. Over the years, it has evolved into a citywide art buffet. CAM, the name of the event and the nonprofit organization that puts on several special events and hosts a calendar compiling a bevy of March exhibitions, became an independent entity in 2003 and has continued to expand its scope ever since. CAM's biggest areas of focus are organizing, facilitating and promoting, not event planning. Nevertheless, the organization hosts a few choice events and educational initiatives of its own during local art's big month. Coinciding with First Friday, this year's official CAM Kickoff Party takes shape at Blue Star Contemporary (where the Tricentennial exhibition "Common Currents" is currently on view) and features music by DJ Novasoul (Labkids) and grub for purchase from Ay Papi's Puerto Rican food truck.
Free, 6-9pm Fri, Blue Star Contemporary, 116 Blue Star, (210) 227-6960, contemporaryartmonth.com.
Fri 3/2
"Artflix: A Netflix Originals-Inspired Group Show"
Karen Rios (​Nouveau Nostalgic​)​ and Eddy Rios (Taco Boy Designs), the married duo behind the Creative Creatures Gallery and Shop at Blue Star, draw inspiration from the Netflix Originals universe (films, series, etc.) for a group show featuring works by more than 40 artists — including ​Ant Lopez, Catherine Collier, Claudia Peña-Martinez, Connie Chapa, Israel Rico, Regina Morales and Zane Thomas.
Free, 6-11pm Fri, Creative Creatures, 1420 S. Alamo St., #106B, (210) 441-8491, facebook.com/creativecreaturessatx.
Fri 3/2
Folksonomy:#Art#Science#Evolution#Reverse#Sex#Universe#DarkMatter#Chaos
FL!GHT unveils a new series of work by Montreal-based artist and educator Patrick Visentin at a Contemporary Art Month reception with beer f from Freetail.
Free, 6-10pm Fri, FL!GHT Gallery, 134 Blue Star,
(210) 872-2586, facebook.com/flightsa.
Fri 3/2
"Not So Invisible 7%: San Antonio's Peoples of African Descent"
Presented by S.M.A.R.T. in partnership with San Antonio Ethnic Art Society, this exhibit seeks to "honor some of the moments, people, and places in San Antonio's African-American community in photography, paintings, and sculpture." The exhibit's title, which alludes to Ralph Ellison's seminal book The Invisible Man, refers to the problem that the show itself combats: "African American people feeling that they [are] visible only when it [suits] the interests of the majority."
Free, 6-9pm Fri, Cevallos Lofts, 301 E. Cevallos St., (844) 310-9758, smartsa.org.
Fri 3/2
"K Space in the House"
In an effort to "promote one another, build relationships, create new exhibition opportunities, share ideas, gain new insights, and bridge communities through the arts," Presa House Gallery welcomes 30 Corpus Christi-based artists, including current and former K Space Studio and K Space Contemporary members and friends, many of whom are exhibiting in San Antonio for the first time. The First Friday opening reception features music by Ernest Leonard, aka DJ Lenyrd Spinyard.
Free, 6-11pm Fri, Presa House Gallery, 725 S. Presa St., (210) 913-5842, presahouse.com.
Fri 3/2
"Photography of Linda Rogers Vivenza"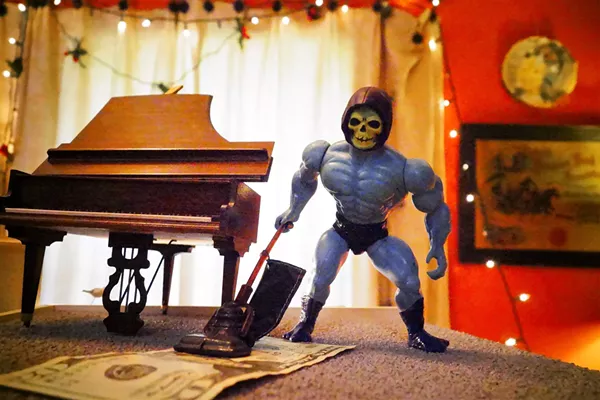 Local artist Linda Rogers Vivenza presents a series of whimsical, staged still-life photographs in observance of Contemporary Art Month.
Free, 6-10pm Fri, Art Matters, 1420 S. Alamo St., contemporaryartmonth.com.
Fri 3/2
"Tell Me What It Feels Like"
Flax Studio showcases female-focused photography and a video installation by Texas artist India Treat.
Free, 6-9pm Fri, Flax Studio, 1906 S. Flores St., (909) 518-2245, flaxstudiosa.com.
Fri 3/2
Pop-Up Happy Hour Cinema
The Tobin celebrates CAM with weekly screenings of short films by and about San Antonio artists.
Free, 5:30-6:30pm Fri, Tobin Center for the Performing Arts, Will Naylor Smith Plaza, 100 Auditorium Circle, (210) 223-8624, contemporaryartmonth.com.
Fri 3/2 - Sun 3/4
"Shrinking Island"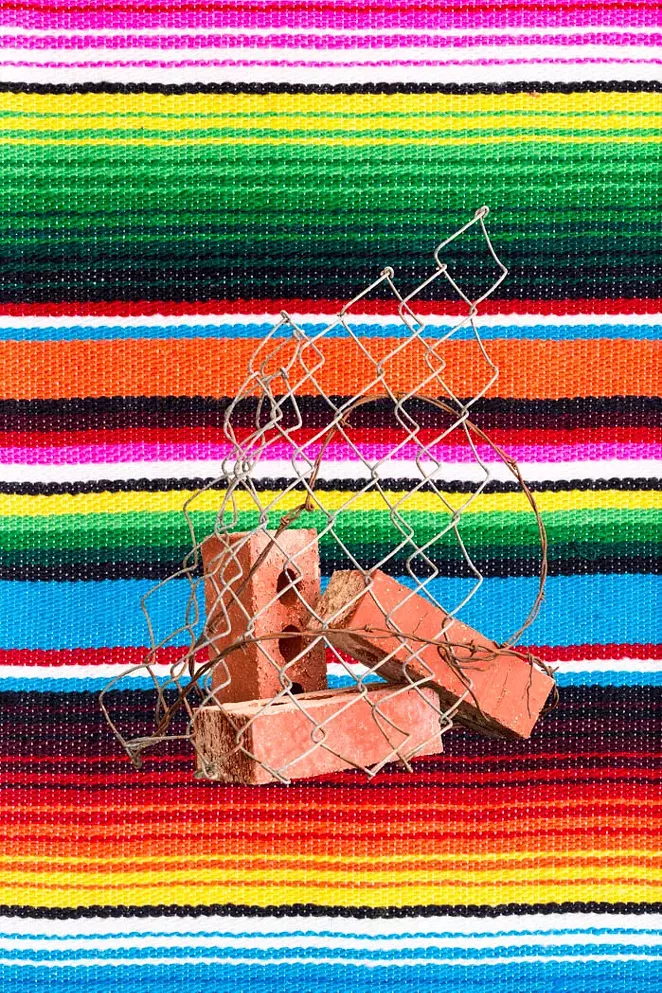 A traveling exhibition space showcasing wee works of art (viewable through a magnifying glass), the Mini Art Museum pops up at Choice Goods Gallery with "Shrinking Island." Curated by Jason Reed, the group show features four artists (Lucia Carbajal, Benjamin Powell, Sarah Sheafe and Claudia Salinas) who "use photography to probe at the social, cultural, and political constructs of our contemporary landscape, indexing and translating the symbols, places, and people of a changing world."
Free, noon-6pm Fri-Sun, Choice Goods Gallery, 1420 S. Alamo St., #103, (210) 441-8491, contemporaryartmonth.com.
Sat 3/3
Jeffery Dell: "Future Castles"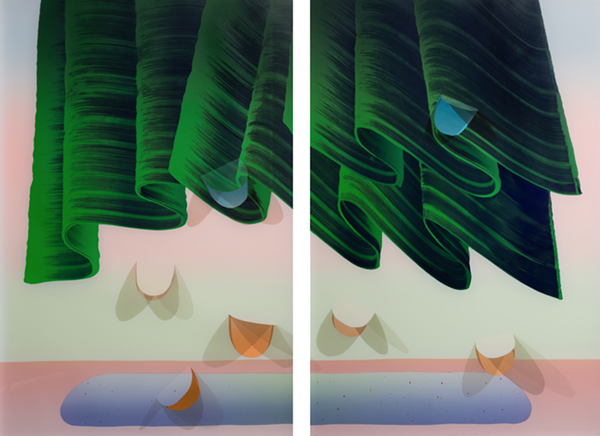 Hosted by Three Walls, artist Michele Monseau's consistently solid pop-up gallery, this new exhibition from artist/educator Jeffery Dell takes aim at the tricky relationship between human perception and desire. Throughout his often surreal works, Dell draws on "pre-digital populist art histories ranging from ukiyo-e prints to U.S. national park posters and sci-fi novel cover art." The resulting graphic screenprints are striking in imagery and alive with thought-provoking symbolism.
Free, 7-10 pm Sat, Three Walls Gallery, 1160 E. Commerce St., facebook.com/threewallsgallery.
Sat 3/3
"New Works"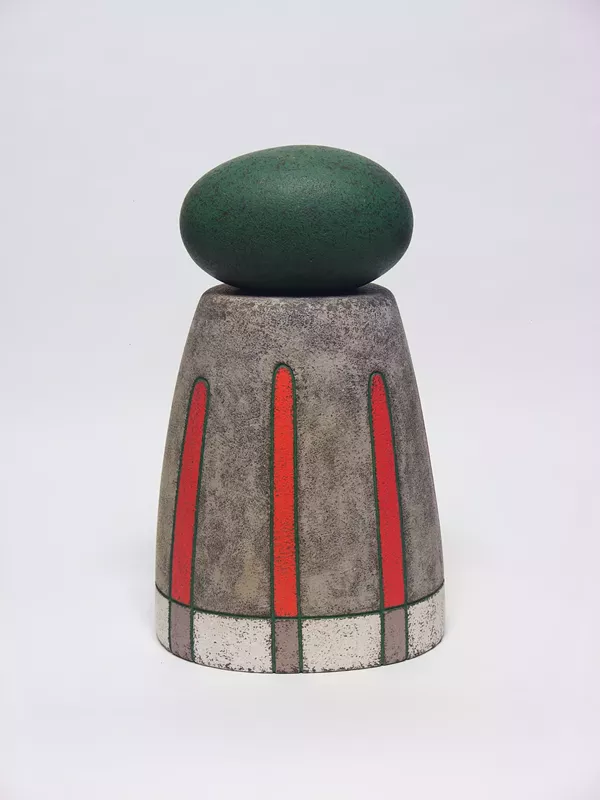 Revered local sculptor Danville Chadbourne's latest body of work comprises "simple organic forms in suggestive conjunctions that elaborate metaphorical issues of ambiguity, morality, accident/intention, contradiction, or existence itself."
Free, 6-9pm Sat, REM Gallery, 219 E. Park Ave., (210) 224-1227, remgallery.com.
Sun 3/4
Empty Bowls
San Antonio Potters Guild
An example of a charitable idea that truly caught on, Empty Bowls brings together potters, educators, caterers and chefs in an effort to combat hunger. Devised in a Michigan high school in 1990 and now under the umbrella of the North Carolina nonprofit Imagine Render Group, the "international grassroots effort" follows a similar format in events across the nation: members of the community are invited to purchase a an artist-made ceramic bowl and enjoy a simple meal of soup and bread, with proceeds benefiting organizations working to end hunger and food insecurity. Launched in 2000 by the San Antonio Potters Guild, the local chapter has raised more than $500,000 benefiting SAMMinistries. The 18th annual event brings an array of handcrafted ceramic bowls, silent-auction items and soups from area eateries to the grounds of the Southwest School of Art.
$25 (includes bowl, soup and bread), 11am-2pm Sun, Southwest School of Art, 300 Augusta St., (210) 200-8200, sanantoniopottersguild.com.