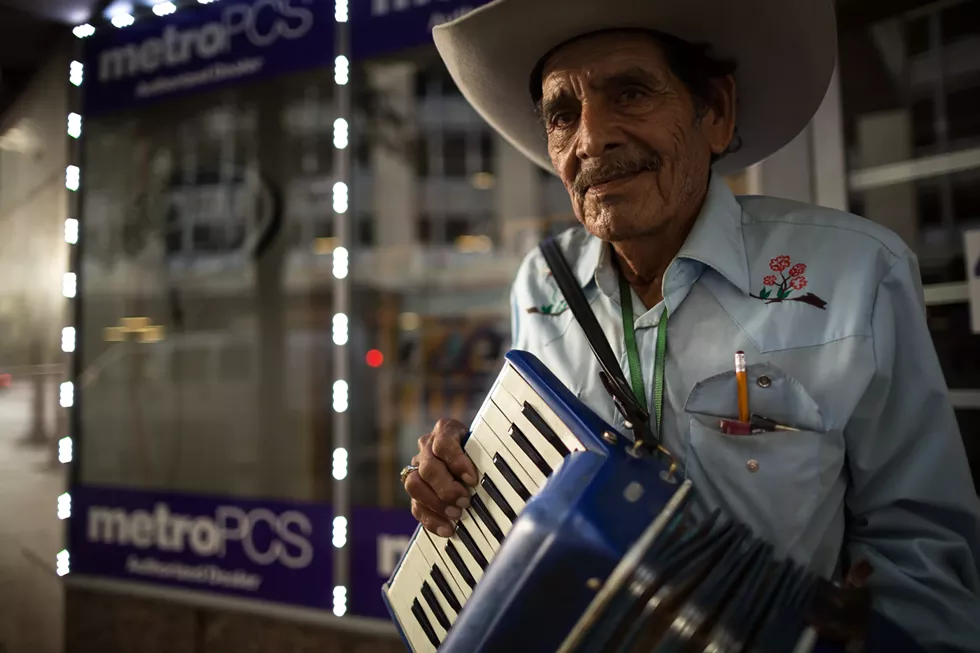 Michael Cirlos for Humans of San Antonio
Think for a moment: When was the last time you stopped what you were doing to talk with a stranger on the street? Did you give them a dollar or maybe a cigarette? Did you humor a rant, or truly lend an ear? For too many of us, strangers on the street — the homeless, the crusty punks, the lost tourists, even the chipper crews with clipboards — are little more than obstacles unworthy of our time, unknowns that might harsh the dull buzz of a familiar reality.
In 2012, Michael Cirlos purchased his first DSLR camera, dove into the social fabric of downtown San Antonio and essentially became one of those strangers one might dodge on the street. Rather than bumming smokes or spare change, he asked passersby for something decidedly more personal: a snapshot and a soundbite about their lives. Although he admittedly "had no idea what [he] was doing with the camera," Cirlos said he had a high success rate — nearly every person he stopped agreed to be photographed and interviewed. The fact that he almost immediately started getting what he was after could be attributed in part to his disarming personality. Thoughtful, well-spoken and unpretentious, he's not just unthreatening, he's got the demeanor of someone you can trust.
That sense of trust comes across in many of the images and stories he collected for what developed into Humans of San Antonio, a four-year project directly inspired by Brandon Stanton's widely known and often appropriated street photography blog and
New York Times
bestseller Humans of New York.
Born at the Nix Hospital in the center of downtown, Cirlos grew up in San Antonio but became dissatisfied with his hometown during his teenage years. In search of a city with "more art and urbanism," he moved to Hua Hin, Thailand, in 2005 to attend Webster University. While studying psychology and international relations there, he began carrying a pocket camera and shooting photos and videos of his experiences. Two years later, his studies abroad continued with a move to the Netherlands, where he'd take street photos on his mile-long walk to the university. After four years away, he returned home in 2009 to complete his psychology degree at UTSA.
Although San Antonio had changed while he was abroad, Cirlos still felt it lacking in certain aspects, including mass transit and the art community. One day while chatting with his friend Stella about "general city design differences between San Antonio and cities that have higher density in their respected downtowns, like New York City and Berlin," she showed him the Humans of New York blog and suggested it might be a good way for him to start a conversation about the urban core of San Antonio.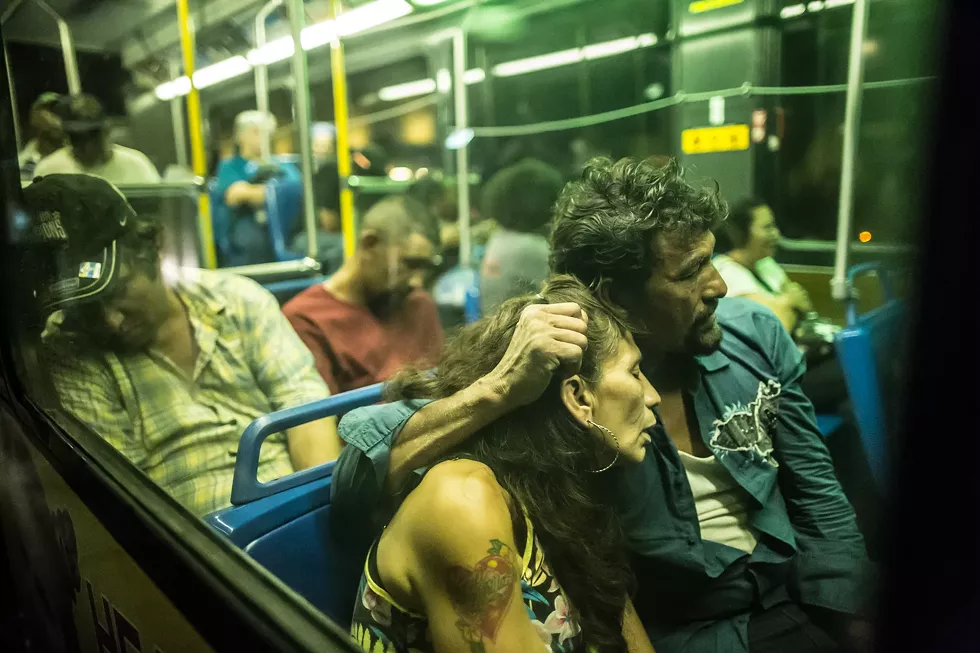 Michael Cirlos for Humans of San Antonio
One year in, Humans of San Antonio started gaining traction as a Facebook page and Cirlos invited photographer Scott Ball to collaborate with him on the project. "It was great bouncing ideas off each other and challenging ourselves to become better photographers," Cirlos said of their year working together. By 2016, the project encompassed the photographs and stories of 1,000 individuals. That same year, Cirlos approached Trinity University Press about potentially turning the project into a book. According to publisher/director Tom Payton, TUP was already aware of Humans of San Antonio through social media and they "enthusiastically said 'yes.'"
What followed entailed narrowing down the selection of images with a focus on diversity as well as research to ensure publishing a book of street photography was within their legal rights. When asked about this process, Payton explained that "There are some nuances, but generally speaking, photography of people in the public realm, open settings, does not require further permission for publication. In this case, Michael took the additional steps of discussing the project with everyone he photographed, letting them know he would be including them in a variety of media. Of course, as publishers, we're keenly aware of context and editorial perception, so we take great care in selecting photographs for inclusion in the book and how we organize them therein."
Hitting shelves and online retailers this week, the 161-page book offers brief, easily digested encounters with emo kids, costumed crusaders, a lesbian activist, taco enthusiasts, Spurs fanatics, an ex-gangster, a crying River Walk waitress, lovers and drifters. While certain photographs look a bit too staged to pass for traditional street photography (including a Lolita-style cosplayer, a Spiderman imposter and a belly dancer on the Hays Street Bridge) and a few people are oddly pictured more than once (specifically a contemplative young couple and a tattooed polyamorist), the majority of the images feel authentic and honest. Another aspect that might take readers aback is that none of the people pictured in the book are identified by name — and some aren't even accompanied by quotes or stories. Over coffee at the Pearl, Cirlos confessed that he knew some of the images and stories might not be strong enough to stand on their own, but that, as a whole, he feels they all work together to tell a story. And that they do: Taken all at once, his Humans of San Antonio mesh to build a downtown portrait that's funny, strange, sad and hopeful all at once.
After an introductory conversation in May, we followed up with Cirlos to dig a little deeper into the project, what he learned from it and what's next.
Michael Cirlos for Humans of San Antonio
Is Micah your given name or a nickname?
So, I have two first names. My mom and dad had a fight over what they wanted to name me when I was born at the Nix Hospital. The agreement was that my name would be Michael on the birth certificate, but I would be called Micah. I [went by] Micah until college. Once I started working professionally, I started introducing myself as Michael since it was just easier.
Why do you think Stella brought up Humans of New York in response to your discontent with "the absence of a larger art community and San Antonio's poor after-hours mass transit"?
I think Stella brought up Humans of New York ... because it looked like a great way to have the conversations online. Part of the idea was, if you were to promote San Antonio's downtown story like Brandon Stanton does with Humans of New York, and if the Humans of San Antonio project [became] popular enough, then maybe it could help bring more civic discussion and engagement about all kinds of subjects. Perhaps the project could remind ourselves more often of downtown's awesomeness — and its shortcomings. Was it wishful thinking in 2012 that a Humans of San Antonio project would provoke discussions that could encourage people to see downtown as the heart and soul of San Antonio? When I look at this project, I think it achieved that goal while promoting what is unique about our urban core: our diversity, history, art and personality.
You've said that the earliest images from HOSA made the biggest impression on you. What can you tell us about those photographs and stories from the first week?
The early images and stories leave the biggest impression on me because they reminded me of the excitement I had when I was first starting this project. I had no idea what I was doing with the camera, and I was a bit nervous approaching random people for stories. The whole process was super thrilling, and I became hooked on the adventurous feelings it gave me. I realized the power of storytelling, and just about anyone was ready to share something meaningful about their lives.
You've had a lot of good luck in terms of earning the trust of strangers. What have some of the people said who've declined to be photographed or interviewed?
Not much. Most said, "Thanks for asking, but I'm not interested." I did take someone's photo without asking on a public street, and he got really pissed off and followed me around downtown for a good hour after he cussed me out.
Michael Cirlos for Humans of San Antonio
I'm surprised that none of your subjects in the book are identified by name. Was there a particular point behind making everyone anonymous?
Only a handful of people identified themselves on the Facebook page and also, for legal privacy, we decided to not include names in the book.
The book's introduction mentions San Antonio evolving from a place to exist versus a place to truly live. What specific changes have you noticed in San Antonio that have made this city more of a "place to live"?
Two people who identify as the same sex can now get married in San Antonio. I believe another good example is SWell Cycle. It's important for an urban core to have alternative transportation options. We have also seen more music festivals in the downtown area, and I think that enhances quality of life.
Given that the project is directly inspired by Humans of New York, I'm curious how you'd respond to critics who might dismiss HOSA as derivative or unoriginal.
I attended [Western Kentucky University's] Mountain Workshops for photojournalism in 2015 and one of the photography lessons that was shared was by
New York Times
photojournalist Leslye Davis. She said one way to develop a photographic style or vision is to seek out your favorite projects or photographers and copy what they do and try to make it better. There is very little in the world that is entirely original. What is great about this project is that it's made up of street stories and photos from the downtown area of San Antonio through the lens of someone who fell in love with downtown. San Antonio has a beautiful, rich, vibrant and authentic culture — especially in the downtown area. I'm glad I was able to showcase this authenticity through the Humans of New York concept.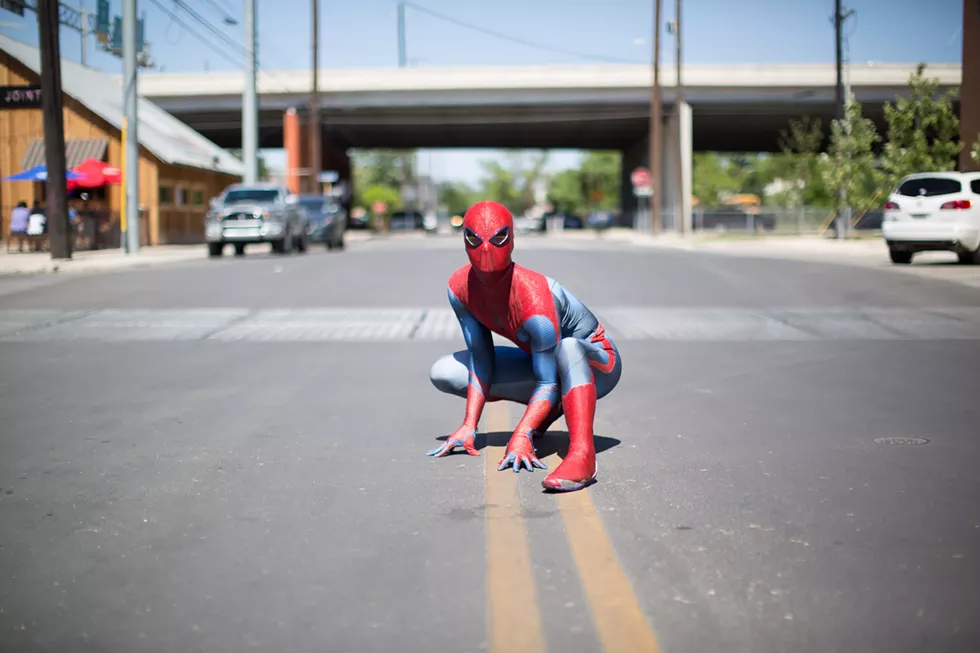 Michael Cirlos for Humans of San Antonio
Now that the HOSA project is finished and published, has your focus on street photography changed? Do you have any future projects in mind?
When I'm not photographing for work [at Centro San Antonio], I'm thinking about street photography or looking at other street photo or journalism work. I'm obsessed with photography, and I'm constantly trying to improve. When I have some free time, I shoot downtown on the streets because downtown is where I learned how to photograph. Now I want to capture moments of people, as candid as possible, without disturbing the environment around me. I feel like there's nothing more satisfying than to capture a decisive moment where the image can tell a complete story on its own. As for projects, I've been working with my friend Rose on and off for the past two years. Rose owns a small ranch south of San Antonio and provides an after-school program for young women in the community who are interested in learning how to take care of horses or become escaramuza riders. I also spent two weeks in 2015 documenting a family who illegally migrated from Honduras [and are] residing in a small colonia near Laredo. I'd like to revisit them again this year.
To steal a play from your book: What is one memory you never want to forget?
I love this question! The first memory that comes to mind right now was when I was living in Thailand [and] heading to the park on my motorbike. When we stopped to admire some elephants that were leaving the jungle to cross the road, one of the largest elephants I have ever seen suddenly came out from the jungle and starting charging right at us. I had to quickly turn my motorbike around and haul ass in the opposite direction. The funny thing is, we caught the whole thing on camera. The video is posted on my Facebook page.
Humans of San Antonio Book Launch Party
Free, 6-9pm Thu, June 14, Rosella Coffee Co., 203 E. Jones Ave., Suite 101, (210) 277-8574
facebook.com/humansofsa
.
Stay on top of San Antonio news and views. Sign up for our Weekly Headlines Newsletter.