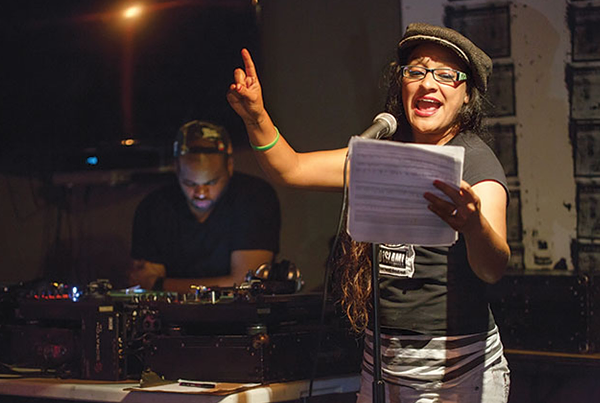 Every June for the past quarter of a century, in various cities throughout the Southeast, Southern Fried Poetry Festival has hosted some of the finest poets and spoken word artists from the region for workshops, community outreach, and fierce slam poetry competition. The roving festival/competition, which was hosted in Louisville last year, added Texas to its official region in 2012, but has yet to host the Festival in the Lone Star State. Until Now.
This year, San Antonio has the honor of being the first Texas city to host Southern Fried. Poet and educator Eddie Vega, who is among the group of SA slam competitors who helped bring Southern Fried to town and organize it, told the
Current
that "for a spectator, [Southern Fried] is an opportunity to see an amazing group of artists all at once." Continuing, he said "As a poet, it's more like a family reunion. Poets have been coming to Southern Fried for years, treating each other like family, hanging out before and after bouts, cheering on their teammates along with all their fellow competitors. We do much more to hold each other up, than tear each other down."
When asked what it means to our city's poetry community to host this special event, Vega said "it's a true recognition of our scene."
"At last year's National Poetry Slam, Puro Slam [SA's National Slam chapter] brought home a trophy for the first time since 1999. Hosting an event of this magnitude shows how deep the talent pool is here in San Antonio," he explained.
He is not kidding about the magnitude. In total, about 180 competitors, some part of teams and some competing as individuals, from all over the region will showcase their skills in this competition. Over the course of four days, outside the scope of the core competition, there are workshops, community service efforts, quirky side competitions, and more. Now, San Antonio, we've just gotta get out there and experience it.
Various events will take place at a veritable boatload of locales, including Bonds 007 Rock Bar, Gemini Ink, the San Antonio Public Library, The Brooklynite, and The Carver Theater (which will host the competition's finals on Saturday). Visit the website listed below for more information on locations as well as a complete listing of events.
Free for most events ($26-$36 for finals), Wed Jun 13-Sat Jun 16, various times and locations (see website), southernfriedpoetryslam.com.
Get our top picks for the best events in San Antonio every Thursday morning. Sign up for our Events Newsletter.