Summertime is always better when it's spent with friends and family. Luckily, San Antonio is home to some of the best attractions for groups of all kinds, making it the place to be this summer.
Traveling with a group can be the most difficult part of your trip as you try to make sure everyone stays organized and on-time in the most efficient and
cost-effective way
, especially if your group reaches over 15 or more members.
If your group relies solely on public transportation, rideshare apps, or car rentals, you'll spend more time stressing over making sure everyone is accounted for and keeping within budget than having the best time on your trip. Who wants to be the designated driver, search for parking, navigate unfamiliar roads, and try to keep everyone together while the rest of the group is having a blast?
Companies like
San Antonio Charter Bus Company
strive to make your trip-planning a breeze with streamlined and hands-free group transportation. From
compact minibuses
for smaller groups to full-sized
charter buses
that can easily fit an entire group of 56 people, they can find you the perfect transportation solution for you unique San Antonio trip.
Because San Antonio Charter Bus Company works with
all types of groups
, from
wedding parties
to
sports teams
and more, they know exactly how to help you plan an unforgettable trip. Looking for some ideas on summertime fun for your group? They've compiled a list of their past clients' favorite summertime activities that the whole group will be sure to enjoy.
Dive into SeaWorld Antonio
Deep dive into an underwater world with SeaWorld Antonio's numerous summer events, the perfect scene for bonding with your group. Load everyone comfortably into your private bus rental, and sit back and relax while your professional driver handles the rest. Because San Antonio Charter Bus Company only works with local, experienced drivers, you won't have to worry about planning routes or dealing with traffic— your driver will know the most efficient routes to give more time to explore.
If your group includes children, they'll love the chance to mingle with their favorite Sesame Street characters at the Sesame Parade. The parade features 10 floats and two show-stopping performances for a magical day out. For adults, SeaWorld's new Electric Ocean event will be sure to leave you feeling electrified. Enjoy an exhilarating dance club atmosphere underneath the stars with a drink in hand— and with your private bus rental, you won't have to worry about designating someone as the driver for the night.
Find Thrills at Six Flags Fiesta Texas

Skip the parking lot fees and get straight to the action, Texas-style, at Six Flags Fiesta. We all know how frustrating and expensive finding a parking spot at a popular theme park can be, and with a large group, the task can be even more difficult and pricey.
Your personal charter bus rental can drop your group off directly in front of or in close proximity to Six Flags Fiesta, giving you almost-instant access to the theme park. With a variety of events for summertime fun, such as their Celebrate! Summer Night Spectacular and multiple Bring a Friend Free specials, you'll be thankful to have someone else handle the transportation while you focus on sliding down water slides, hurtling down roller coaster loops, and riding white water rapids.
Because San Antonio Charter Bus Company gives you complete control over your trip, you won't have to worry about staying after hours for their National Sour Candy Day— your bus will operate on your time and will be completely ready to take you back home when you're done for the day.
Learn at The Alamo Plaza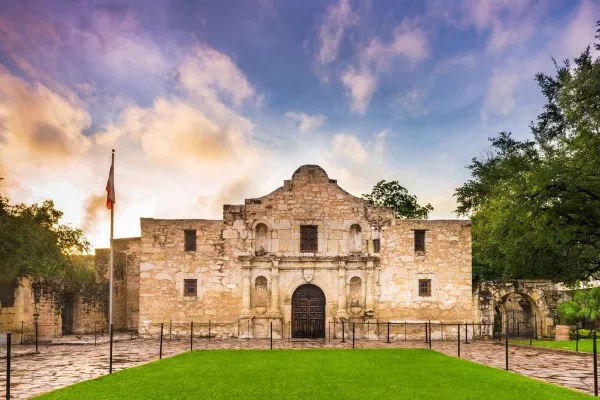 A popular destination for
school field trips
, the Alamo sits in the heart of San Antonio— and has for over 300 years. This landmark is not only an important part of Texas history, but a must-see for any local or tourist who passes through. The former Spanish mission and fortress hybrid was built in the 18th century and was the site of the 1836 Battle of Alamo. Now, your group can experience live demonstrations and special events to "remember the Alamo" and see an important part of history that shaped what Texas is today.
Ride in complete comfort to your destination with reclining seats in an air-conditioned cabin to relieve the Texas heat, something you won't find on other forms of transportation. After you experience the Alamo, head to the gift shop for some souvenirs. You can store all your goodies safely in your bus's luggage bays and overhead bins while you continue your adventure.
Ready to learn more about San Antonio charter bus rentals? Any questions can be easily answered by San Antonio Charter Bus Company's 24/7 team when you call them at 210-686-1207.