Mari Hernandez is a multidisciplinary artist whose recent Southwest School of Art photography installation "What Remains" was a knockout exploration of identity and construction of the self. A San Antonio native, Hernandez received a BA in English Literature from UTSA, but began to use art as a means of exploring her Chicana aesthetic. She and several women artists founded the art collective Más Rudas, which challenged the lack of representation of women of color in the local art community. Inspired by appearance-altering photographers and early Mexican-American artists, she began experimenting with self-portraiture to address questions about identity. Hernandez's work is currently featured in "The Other Side of the Alamo: Art Against the Myth," a group exhibition on view at the Guadalupe Cultural Arts Center through September 29.
Do you remember your first experience with art?
I consider my first experience with art my exposure to the murals made by San Anto Cultural Arts on the West Side. Sure, I looked at art before then, but to experience and realize a piece of art is different from simply looking.
Was there one particular artwork or artist that inspired you to become an artist?
There was no one artist or artwork but the communities I was involved in that inspired me to become an artist. At the same time, I was learning about muralismo through San Anto Cultural Arts, I was also being introduced to contemporary art via Artpace. It was the clashing and meshing of these two seemingly contrasting worlds that informed my artistic path.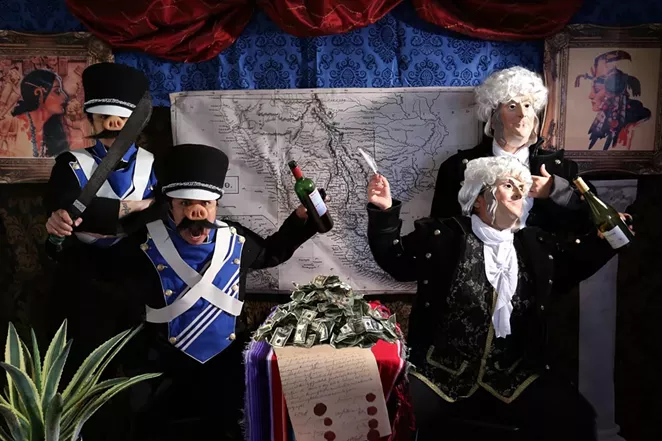 How did your early art collaboration Más Rudas come about?
The first time Más Rudas worked together was in the fall of 2009. We came together to have a DIY all-female art exhibition out of a friend's house called "Our Debut." We each created new work by responding to the quinceañera as a theme. After that show, we decided to form a collective and continued to work together and create installations from 2009 to 2016.
Did you ever have a mentor?
I have many mentors. Some of them may not even know I consider them as such. I have had many people, mostly women, guide me throughout my creative path. The most significant piece of advice a mentor has given me was to take my seat at the table, and to insert myself into spaces that lacked representation of women of color.
How would you describe your artwork to someone who has never seen it?
I make photographic self-portraits that explore issues of identity. Using costumes, wigs, facial prosthetics and makeup, I alter my appearance and construct characters. These characters are subjects and collectively create narratives. My work is rooted in representation.
Do you struggle with the creative process, or does it flow out of you easily?
My creative process is always evolving but there are elements within my process that are constant. I spend the majority of my time researching. I've realized the steps it takes to harness energy and transform that into making. Once that occurs, the process seems to flow. I've also learned to trust my creative intuition. I know if I hit a wall that my intention will eventually manifest if I stick to the static steps of my process.
Do you feel that San Antonio is more receptive to Latinx artists than other places?
I feel that the arts community in San Antonio has made some effort to consider representation of Latinx artists, but concrete institutional change is slow. In my experience, representation is an issue that artists of color are challenged with all across the nation. The majority of our city is brown — Latino, Latinx, Mexican American, or however you prefer to identify. Do our artistic spaces reflect that? If you take into consideration the artists being shown, and given opportunities, are those artists an equitable reflection of the city's artistic producers? The real action and response is being done in DIY communities and artist-run spaces. There is a lot of work to be done around these issues still.
If you could change the gallery system, what would you do?
Make diversity and equity training mandatory for all staff. I would also work at identifying barriers for audiences and artists and break them down. Some people see art as an exclusive luxury or entertainment. I see art as a necessity for healthy development that should be inclusive.
Tell me something that would surprise your friends to know.
I started going to clubs at a really young age and danced to freestyle. Back in the day, what is now Paper Tiger used to be a freestyle club called Club Spice. It was dark and hot, and I saw many questionable things there. I had a VIP pass and would go every weekend. My mom would drop me off and sometimes when I wasn't outside at the end of the night she would have me paged over the intercom — embarrassing. That club was wild. I'm not sure if my 13-year-old self should have been there or not, but I can still get down to some freestyle. Shout-out to my cousin Debbie who got me into freestyle! Puro DJ Laz.
Tell me about the photos you showed at the Southwest School of Art. How did you discover your materials?
Primarily, the work I make is heavy in context and addresses serious issues. So my goal was to present the work in a way that eased the viewer into the real meaning. The photographs are printed on a lightweight fabric. It flows and has an organic movement that brings the photographs to life. The lightness of the fabric creates a calm atmosphere, although the work is heavy in circumstance. They also mimic flags in their presentation and in terms of symbolism.
If you could own any piece of art, what would it be?
Any work by María Izquierdo.
Name three of your favorite things.
Large bodies of water. Opening up all the detergent bottles at the grocery store and taking a big whiff of each one! Holiday horror films.
Stay on top of San Antonio news and views. Sign up for our Weekly Headlines Newsletter.