"Agua Viva"
Named after the Spanish term for a type of jellyfish — which translates as "living water" — Argentinian abstractionist Cecilia Biagini's new exhibition "Agua Viva" comprises recent paintings and sculptures inspired by "the movement of the body's rhythmic contractions while underwater."
Free, 11am-4pm Wednesday-Saturday through March 16, Ruiz-Healy Art, 201-A E. Olmos Dr., (210) 804-2219, ruizhealyart.com.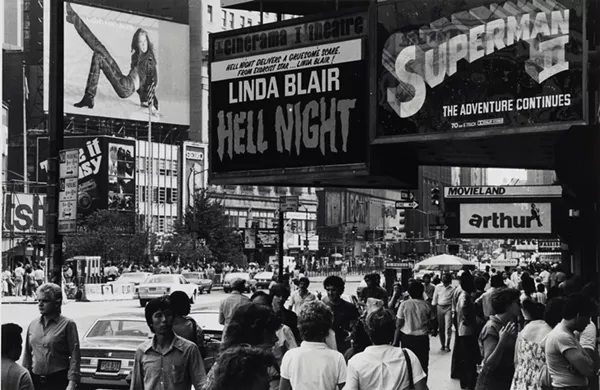 Louis Clyde Stoumen, Hell Night, Times Square
"Capturing the Moment"
Organized into three thematic chapters — Landscapes & Cityscapes, People & Portraits and War & Conflict — the San Antonio Museum of Art's new exhibition "Capturing the Moment" brings together 77 images created by 23 photographers working between the 1920s and the 1970s.
$12-$20, 10am-5pm Wed-Thu, 10am-9pm Fri, 10am-5pm Sat-Sun, 10am-9pm Tue through May 12, San Antonio Museum of Art, 200 W. Jones Ave., (210) 978-8100, samuseum.org.
Isaac Julien, Film-Noir Angels
Looking for Langston
In 1989, filmmaker and installation artist Isaac Julien rose to prominence with
Looking for Langston
, a black-and-white film billed as "a lyrical exploration — and recreation — of the private world of poet, social activist, novelist, playwright and columnist Langston Hughes (1902-1967) and his fellow black artists and writers who formed the Harlem Renaissance during the 1920s." In celebration of
Looking for Langston
's 30th anniversary, the Linda Pace Foundation's gallery Studio at Ruby City showcases the 45-minute film as the anchor of a new exhibition of two recently acquired photographs Julien shot during production —
Film-Noir Angels
and
Masquerade No. 3
.
Free, 6:30-8:30pm Thu Feb. 28, Studio at Ruby City, 111 Camp St., (210) 227-8400, rubycity.org.
Lauren Riojas-Fitzpatrick
"Mending Wall: A Relic of Truth"
Multi-disciplinary artist Lauren Riojas-Fitzpatrick's MFA thesis exhibition draws creative inspiration from a gabion wall — a cage-like barrier filled with stones.
Free, 6-9pm Thu, Feb. 28, 6-9pm Fri, Mar. 1, Terminal 136, 136 Blue Star, (210) 758-6246, art.utsa.edu.
"Form + Function"
Billed as "a visual discussion," this two-woman exhibition sees sculptors Linda Perez and Audrey LeGalley addressing "the idea of worth" and sparking conversation about "why we value what we value."
Free, 6-10pm Thu, Feb. 28, DAMAS Gallery (Upstairs Studios at Blue Star), 1420 S. Alamo St., (207) 653-7608, contemporaryartmonth.com.

Contemporary Art Month Kick-Off
Contemporary Art Month celebrates another year of bringing the San Antonio art scene together with a party in the Blue Star Arts Complex, the location that birthed CAM back in 1986.
Free, 6-9pm Friday, Blue Star Arts Complex, 1420 S. Alamo St., (210) 354-3775, contemporaryartmonth.com.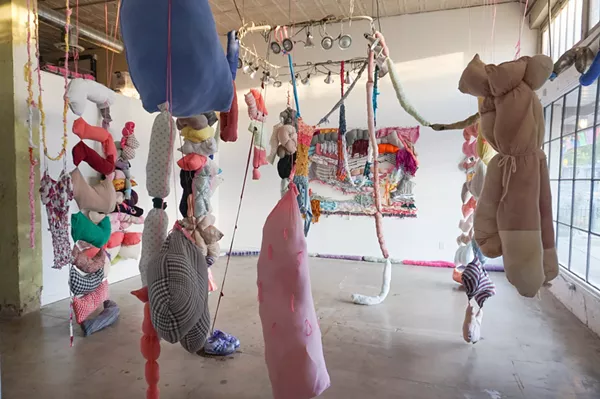 CAM Perennial: "Ghostly Demarcations"
An Education and Curatorial Associate at the El Paso Museum of Art, Kevin Burns curates prints, collages, photographs, drawings, ceramics, installations, textiles by hometown artists Amada Miller, Barbara Miñaro, Audrey LeGalley and Katie Pell, and El Paso-Juarez-based Terri Bauer, Kim Bauer, Ingrid Leyva and the two-man collective Animales de Poder (Oscar Gardea Duarte and Guillermo Ramirez Garcia).
Free, 6-9pm Fri, Mar. 1, Blue Star Contemporary, 116 Blue Star, (210) 227-6960, bluestarcontemporary.org.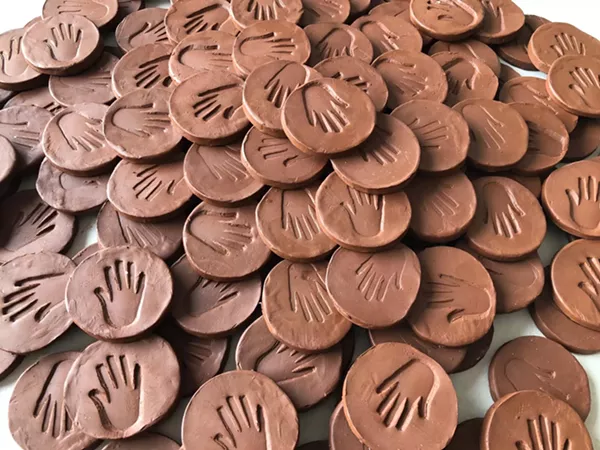 A"Demos Schmemos" and "Hands Down"
Among the more conceptual fare being served up during this year's CAM, this esoteric meeting of the minds pairs new solo shows by married artists Nicholas Frank and Amada Claire Miller. In addition to the personal connection, "Demos Schmemos" and "Hands Downs" both explore the concept of "trust exchange" but also, from their own distinct angles, celebrate the not-so-arty topic of booze.
Free, 6-10pm Fri, Mar. 1, FL!GHT Gallery, 134 Blue Star, (210) 872, facebook.com/flightsa.
Jose Villalobos photographed by Marc Arevalo
"Cicatrices"
In what's likely to be one of the highlights of this year's Contemporary Art Month, Jose Villalobos takes over Presa House Gallery with "Cicatrices (Scars)," a solo show that sees the award-winning mixed-media artist "dismantling traditional modes of masculine identity" and protesting "the toxicity of machismo."
Free, 6-11pm Fri, Mar. 1, Presa House Gallery, 725 S. Presa St., (210) 913-5842, presahouse.com.
"Invisible Threads"
Creative youth development program SAY Sí celebrates its 25th anniversary with a group exhibition uniting alumni, staff, artists in residence, and artist participants from throughout the organization's history.
Free, 6-9pm Fri, Mar. 1, SAY Sí, 1518 S. Alamo St., (210) 212-8666, saysi.org.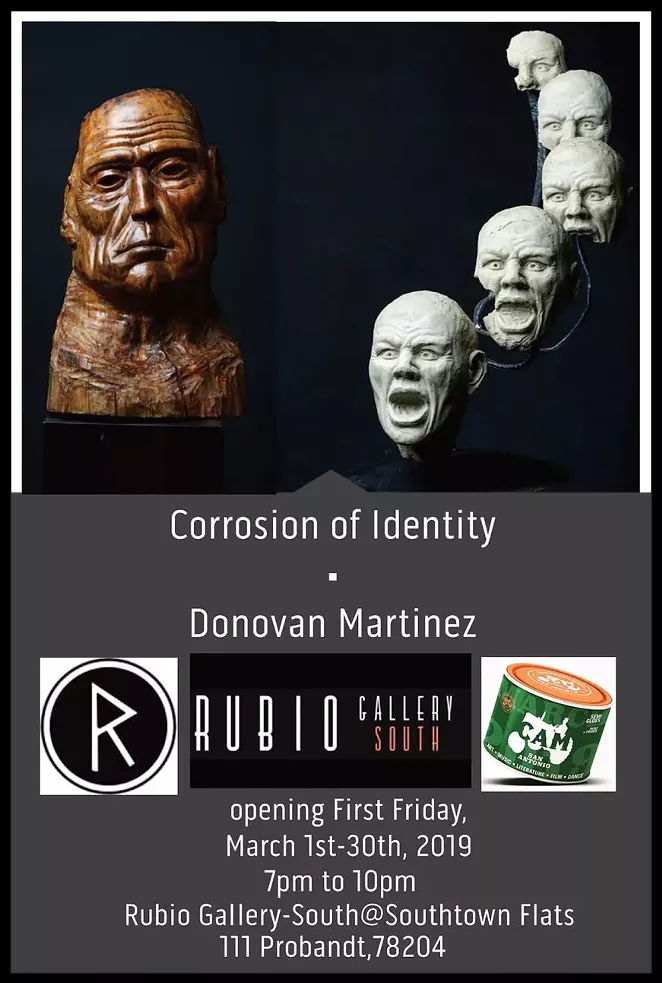 "Corrosion of Identity"
Rubio Gallery at Southtown Flats showcases a new body of work from Donovan Martinez, a mixed-media sculptor versed in wood carving, blacksmithing, casting, concrete and resins.
Free, 7-10pm Fri, Mar. 1, Rubio Gallery-South, 111 Probandt St., (210) 793-8899, facebook.com/rubiogallerysouth.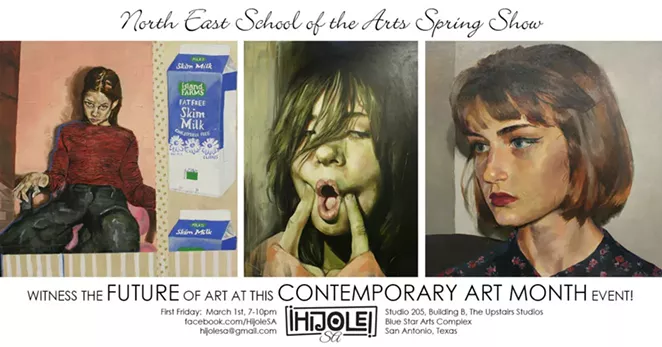 "North East School of the Arts Spring Show"
Híjole SA showcases the talents of young artists attending North East School of the Arts (NESA).
Free, 7-10pm Fri, Mar. 1, Híjole SA, (Upstairs Studios at Blue Star), 1420 S. Alamo St., (210) 833-5483, facebook.com/hijolesa.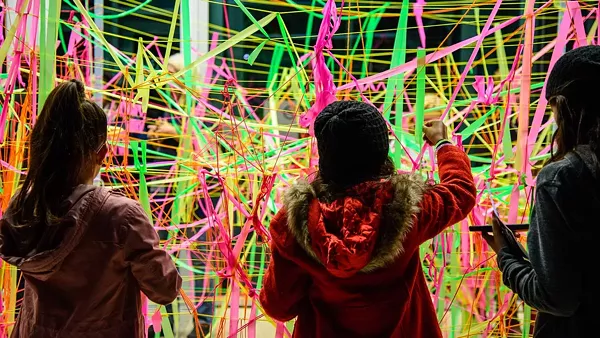 Luminaria Call for Artists Information Session
Luminaria Administrative Manager Kat Cadena offers interested artists practical information about the forthcoming festival's application and curatorial process.
Free, 11am-noon Sat, Mar. 2, Hemisfair Park, Schultze House, 434 S. Alamo St., (210) 721-1670, luminariasa.org.
Spare Parts Mini Art Museum
"Color Concentrate: Chroma and Critical Consciousness"
For this collaboration between Cruz Ortiz's Snake Hawk Press and the roving wonder that is the Spare Parts Mini Art Museum, curator Josh T. Franco invited four artists — Carlos Rosales-Silva, Joshua Saunders, Kaeyln D. Rodriguez and Mark Anthony Martinez — to create two very specific pieces each: one piece focused on prioritizing the use of color in physical terms and the other piece focused on exploring the social implications/connotations of color.
Free, 6-8pm Sat, Mar. 2, Snakehawk Press, 144 Zapata St., snakehawkpress.com.
"Walk in the Woods"
Accomplished artist Meredith Dean explores "the order and turbulence of nature and time on the well-worn earth" through a series of drawings inspired by treks in the woods, mountains and valleys of the Casentino region of central Italy.
Free, 6-9pm Sat, Mar. 2, REM Gallery, 219 E. Park Ave., (210) 224-1227, remgallery.com.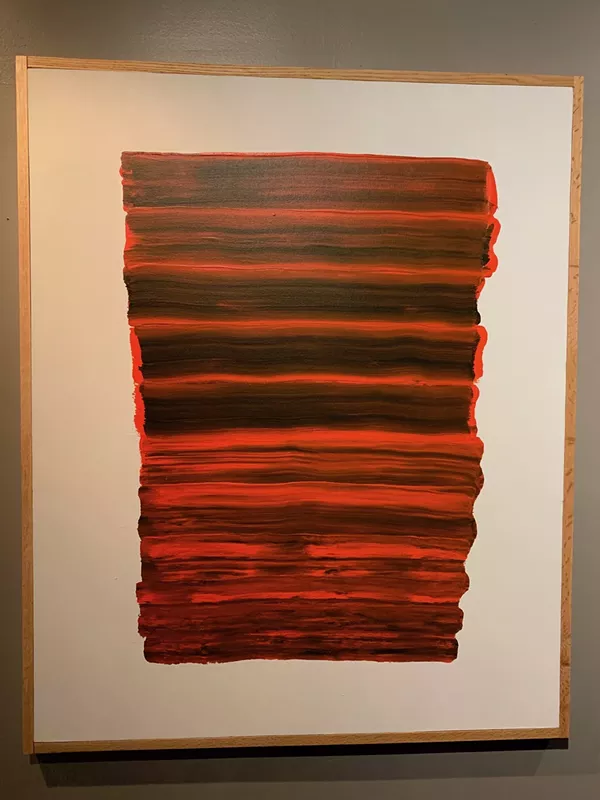 "New Works by Michael Stoltz"
Dorcol hosts a closing reception for San Antonio artist Michael Stoltz's exhibition of "minimalist compositions that are drawn or painted with intentional repetitious gestures as a form of meditation."
Free, 7-10pm Sat, Mar. 2, Dorcol Distilling Company, 1902 S. Flores St., (210) 630-0235, contemporaryartmonth.com.
"Manifesto Xitana"
The "alternative art hive bungalow" Galeria Xitana celebrates CAM with an exhibition featuring visual art, readings, performances and live music by inaugural Xitana-in-Residence Xelena González, Laurie Ann Guerrero, Rachel Christilles, Lee Ortiz, Katlyn Powell, Allison Maldonado, Andi Garcia-Linn, Rose Mary Kennedy, La Adelita Chingona and Maya Guirao.
Free, 6-10pm Sat, Mar. 2, Galeria Xitana, 730 W. Gramercy Pl., (210) 542-0936, kgarzacampbell3.wixsite.com/galeriaxitana.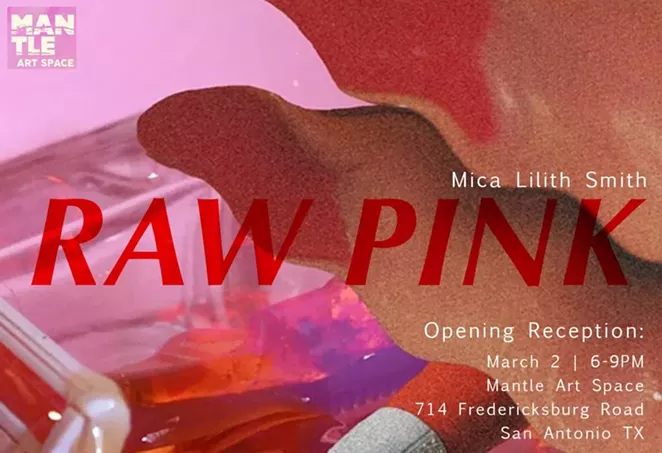 "Raw Pink"
Huntsville-based artist and educator Mica Lilith Smith presents a collection of works that focuses on "the power of femme aesthetics — specifically those connected to trans female self-preservation and survival."
Free, 6-9pm Sat., Mar. 2, Mantle Art Space, 714 Fredericksburg Rd., (210) 971-4740, facebook.com/mantleartspace.
Maggot House Video Release Party
An organization dedicated to raising awareness about sexual violence against women and sex trafficking, Maggot House takes over Brick at Blue Star with an evening featuring the premiere of a new video directed by Eric López, assorted vendors, and live music by Wayne Holtz, Merry Jane and the Fondas and Lloronas.
$5, 7pm-midnight Sat, Mar. 2, Brick at Blue Star, (210) 262-8653, contemporaryartmonth.com.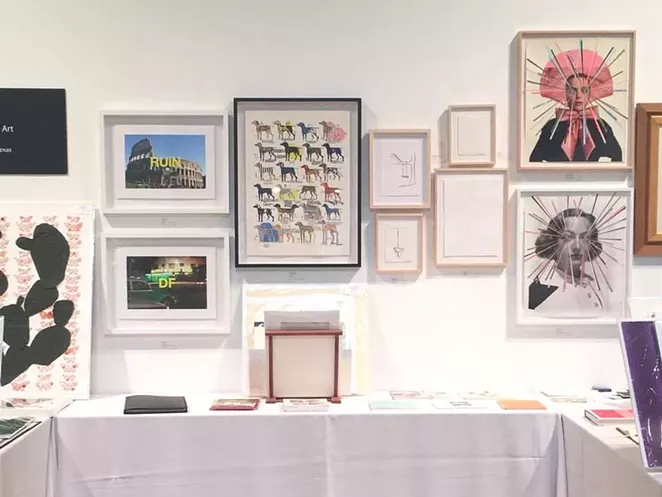 McNay Print Fair
Billed as "the largest event of its kind in the Southwest," the McNay's 23rd annual Print Fair brings together 13 dealers from across the U.S. for a weekend sale catering to "every taste and budget, from old master prints to contemporary drawings and photographs."
$15-$20, 10am-5pm Sat, Mar. 2, noon-5pm Sun, Mar. 3, McNay Art Museum, 6000 N. New Braunfels Ave., (210) 824-5368, mcnayart.org.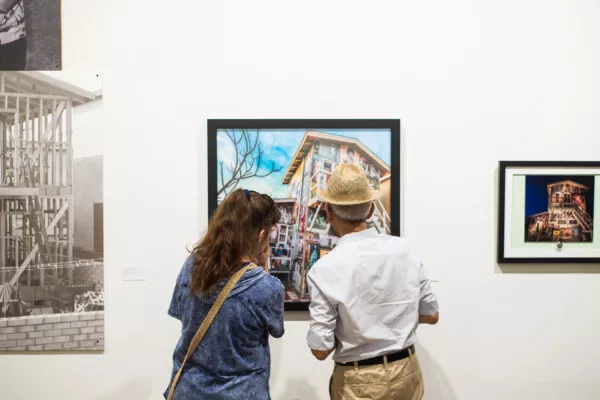 Contemporary Art 101 Panel Discussion
This panel discussion illuminates the processes and motivations behind the making, understanding, presenting and collecting of contemporary art. Bringing together individuals of various art experiences and backgrounds this conversation aims to demystify trends and topics of contemporary art.
Free, 6-8pm Thu, Mar. 7, Blue Star Contemporary, 116 Blue Star, (210) 227-6960, bluestarcontemporary.org.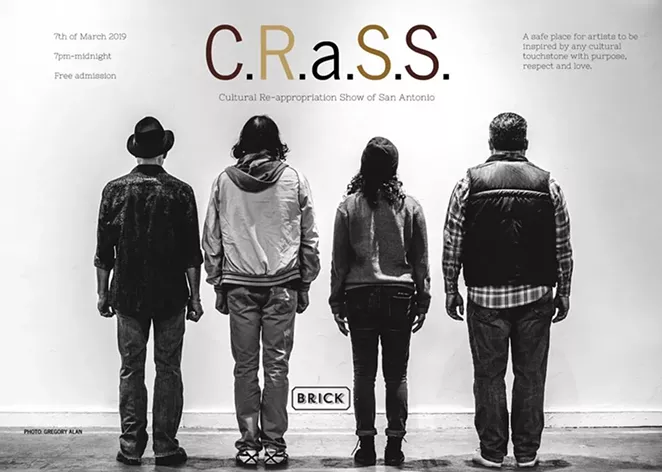 "CRaSS: Cultural Re-appropriation Show of San Antonio"
More than 20 established and up-and-coming local artists comment on the theme of cultural appropriation through painting, sculpture, photography and performance.
Free, 7-11:30pm Thu, Mar. 7, Brick at Blue Star, 108 Blue Star, (210) 262-8653, contemporaryartmonth.com.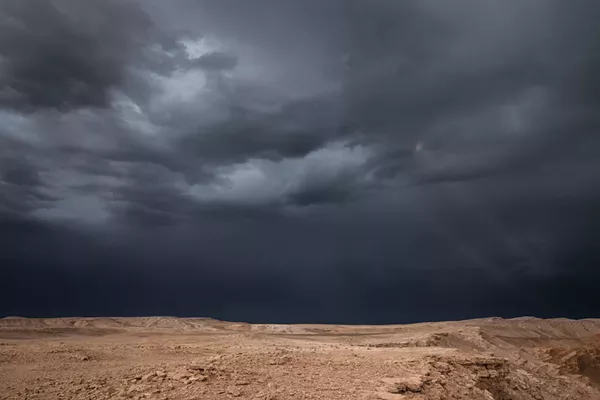 "The End of All Roads"
Created in the Atacama desert, esteemed San Antonio photographer Scott Martin's solo exhibition "The End of All Roads" explore endless variations of both landscape and sky.
Free, 6-10pm Thu, Mar. 7, Mercury Project, 538 Roosevelt, (520) 395-6605, mercuryproject.net.
"Outdoor Sculptures by Danville Chadbourne"
Deemed "the only site of the National Trust for Historic Preservation in Texas," King William treasure Villa Finale unveils an exhibition of recently completed high-fire ceramic, stone, and bronze works by revered San Antonio sculptor Danville Chadbourne.
Free, 4:30-7:30pm Thu, Mar. 7, Villa Finale, 401 King William St., (210) 461-5447, villafinale.org.
Manhattan Mouse Museum
In conjunction with the exhibition "Harald Szeeman: Documenta 5," the Southwest School of Art hosts a free screening of director Tacita Dean's 2011 film offering a glimpse into the life and work of Claes Oldenburg, an iconic pop artist and lifelong collector of small objects.
Free, 6-7:30pm Thu, Mar. 7, Southwest School of Art, Russell Hill Rogers Lecture Hall, 1201 Navarro St., (210) 200-8228, swschool.org.


Get our top picks for the best events in San Antonio every Thursday morning. Sign up for our Events Newsletter.