7 Green Thanksgiving Side Dishes
We're scouring the internet so you don't have to. Here are seven drool-worthy sides with fibrous green goodies.
1. For the Kale Nuts
via
Saveur
Raw Kale Salad with Lemon Pecorino and Currants
via Saveur
2. For Ham Fans
via Bon Appetit
Brussels Sprouts with Shallots and Salt Pork
via Bon Appetit
3. For the Traditionalists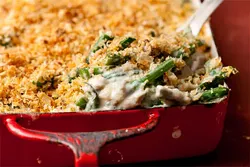 via Chow
Updated Green Bean Casserole via Chow.com
4. For the Martha Stewart Wannabes
via MarthaStewart.com
Green Beans with Caramelized Onions and Tarragon
via Martha Stewart
 5. For the Health Nut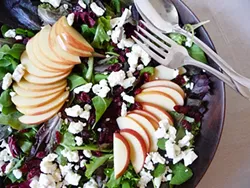 Via Makezine.com
 Mixed Greens with Apples and Cranberries via Make
6. For Cheese Lovers
Via My Recipes
Green Beans and Goat Cheese Gratin
via My Recipes
 7. For the Ina Garten Fans
Via Food Network
 Spinach Gratin
via Food Network
San Antonio Current works for you, and your support is essential.

Our small but mighty local team works tirelessly to bring you high-quality, uncensored news and cultural coverage of San Antonio and beyond.

Unlike many newspapers, ours is free – and we'd like to keep it that way, because we believe, now more than ever, everyone deserves access to accurate, independent coverage of their community.

Whether it's a one-time acknowledgement of this article or an ongoing pledge, your support helps keep San Antonio's true free press free.


Euclid Media Group, LLC
Read Our Sister Publications