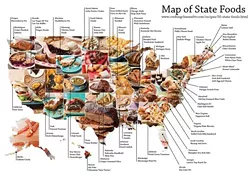 (via)
Sometimes you run across something on the internet that reassures you that all is right with the world and that everything will be OK. This week that comforting online tidbit is a map of each state's most iconic dish, and when it comes to our great state, this map is 100 percent correct. Yes, the sky is blue; the sun rises in the east, and brisket—delicious, juicy, smoked brisket—is the most quintessentially Texas dish.
The map, which was posted on on the MapPorn subreddit and appeared on Mental Floss is a beautiful, sweet and savory display that spreads from sea to shining sea. (Click here to see it in all its tasty glory.) The Cooking Channel did the leg work of assigning each state a signature food, and their results are a wonderful example of the artery-clogging melting pot that is the United States of America. Oregan has the marionberry pie—named after the berry and not the infamous crack-smoking former D.C. mayor, we assume. Louisiana has shrimp gumbo, naturally. Illinois has Chicago-style deep dish pizza, and Alaska has salmon candy, whatever that is. (Hey, they can't all be winners.)
But it's Texas, glorious Texas, with the most succulent signature dish: brisket, the thick, flavorful cut of beef that is the go-to for every Texan with a barbecue craving. This map is reason enough to inspire every citizen of this state to self-induce themselves into a meat coma. And in San Antonio, there is no lack of brisket options. You can try Smoke Shack BBQ (3714 Broadway, (210) 957-1430), Augie's Barbed Wire Smokehouse (3709 N St Mary's, (210) 735-0088) or The Granary 'Cue & Brew (602 Avenue A, (210) 228-0124). There's also B&B Smokehouse (2627 Pleasanton, (210) 921-2745) and Texas Pride BBQ on the Southeast Side (2980 Texas 1604 Loop, (210) 649-3730). You're welcome, now go forth and enjoy your celebratory meat frenzy.