Courtesy of Bakery Lorraine
Delicate rose petals top these rose cream and raspberry-filled macarons from Bakery Lorraine.
Don't have time to make anything special on Valentine's Day? That's okay, we've got you covered. There are plenty of local bakeries that are cooking up a special V-Day treats for your friends family, and your significant other, from simple truffle faves, to a chocolatey cupcakes and flavorful macarons. Don't worry if you get overwhelmed — you're sure not to disappoint. Any of the options listed will be sure to make those you give them to feel so loved.
Bakery Lorraine
Choose from the raspberry rose japonaise, which is a yummy macaron filled with rose cream, and fresh raspberries, or the fun chocolate-dipped macaron tuxedos. For the other options stop by at 306 Pearl Parkway #110, or check their V-day menu on
BakeryLorraine.com
.
Courtesy of Lily's Cookies
Decorated V-Day sugar cookies from Lily's.

Lily's Cookies
Right now, you can head over to Lily's for a little extra sugar for that someone sweet in your life. Lily's offers the goodness of their classic, yet beautifully decorated sugar cookies. Not only are the details on the cookies sure to be a huge hit, but there will be nothing like giving your loved ones a cookie saying how much you love them. Have a special someone allergic to strawberries? They have you covered. They're offering a strawberry-shaped cookie decorated just like a real chocolate-covered strawberry would be. They are located at 2716 McCullough.
Courtesy of Nadlers
Chocolate-drizzled strawberries from Nadler's.
Nadler's
Located at 1621 Babcock, they are offering a variety of cakes, candies, chocolate-covered strawberries, and even cake pops. If you're looking for something more personal for just you and you're S.O. then the heart shaped mini cakes would be a perfect fit for two. You have a choice of a vanilla cake with raspberry champagne mousse covered in white chocolate, or chocolate cake with chocolate mousse covered in dark chocolate.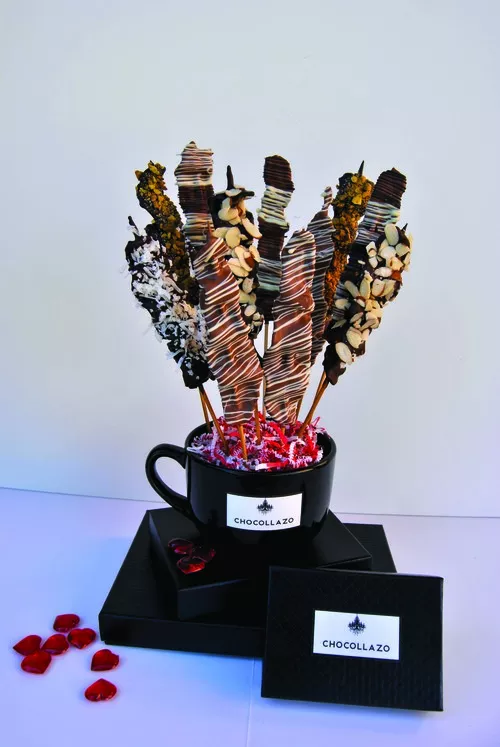 Courtesy of Chocollazo
CHOCOLATE. COVERED. BACON.
Chocollazo
Need a pick-me-up for your special man?
Chocollazo
is the perfect place for his special V-Day indulgence. A chocolate-covered bacon bouquet for the manliest man in your life. This bouquet of thick-cut hickory-smoked bacon is coated in their luxurious Belgian chocolate, topped with an assortment of coconut, almonds and more chocolate. This will be sure to be a Valentine's he will remember with all his favorite: Bacon and you!
Courtesy of Kate's Frosting
Lovely heart-shaped cookies and more at Kate's.
Kate's Frosting
Kate's offers a cupcake named The Boyfriend: Vanilla cake with caramel cream filling, cream cheese frosting & salted caramel topping. YUM! Needing something to set the mood? Try picking up one of their pink champagne cupcakes, a longtime favorite for customers. You can now pre-order any of these amazing cupcakes and even some festive, gooey butter cookies. Check them out at 7701 Broadway, or call (210) 248-9809.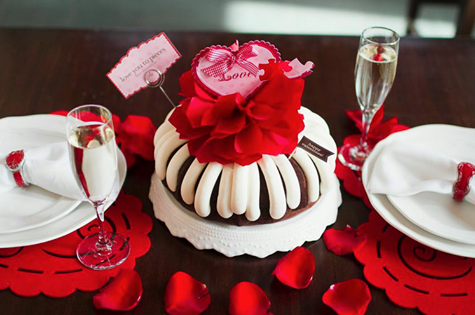 Courtesy of Nothing Bundt Cakes
These tiny things are called bundtinis, for some reason.

Nothing Bundt Cakes

Stop by Nothing Bundt Cakes for their beautifully decorated cakes for just about any occasion. Check out their Love You To Pieces, and Nothing Bundt Hugs and Kisses cakes made especially for those needing a fun spin on your normal dessert. Visit them at 700 E. Sonterra.
Courtesy of Gigi's Cupcakes
Order a Flirt Box from Gigi's
Gigi's Cupcakes

You can never have to many options when it comes to a cupcake. Gigi's offers special cupcakes and packages just for those looking for a last minute pick me up. From the Hot Kiss, to Midnight Magic, or even Scarlett's Red Velvet cupcakes. They're also offering a mini smooch box, and flirt box for purchase, which comes with one 8-ounce Gigi's scented candle, two conversation heart sugar cookies, one Ghiradelli chocolate bar, Gigi's lip balm, a heart cookie cutter, and a stylish gift card. Go to
Gigiscupackes.com
to find a location near you and pick these goodies up February 13-15.
Bird Bakery
Only a few more days till Valentine's day and Bird Bakery is ready to take your V-Day orders. You can email them at
bird@birdbakery.com
for future orders, or other inquires on what they are offering for this sweet day. From baked goods to breakfast or lunch time treats, they will have a variety for you and you're loved one.