Whataburger Rightly Named Best Burger In America
In an age where Donald "They're All Rapists" Trump is leading in national polls, it's reassuring to know that democracy still works sometimes.
How do we know? Because Whataburger was named the best burger in America in a bracket-style
poll issued by Fast Company
.
We can talk about how the bracket picked eight chains each from the East and West Coast, South and Midwest, or question why in the hell Wendy's and McDonalds were on the bracket to begin with, but the poll's conclusion is correct. Whataburger is the best fast food burger (
until you bring Freddy's into the mix
.)
Here's the bracket.
Read more about the contest with the correct winner here.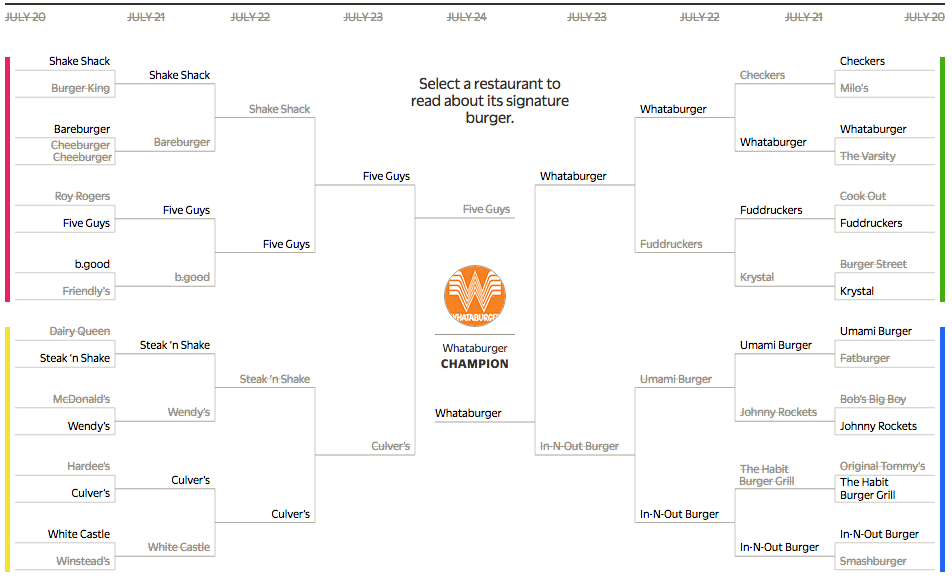 [h/t Fast Company]
We're keeping you informed…
...and it's what we love to do. From local politics and culture to national news that hits close to home, San Antonio Current has been keeping San Antonio informed for years.
It's never been more important to support local news sources. A free press means accountability and a well-informed public, and we want to keep our unique and independent reporting available for many, many years to come.
If quality journalism is important to you, please consider a donation to San Antonio Current. Every reader contribution is valuable and so appreciated, and goes directly to support our coverage of critical issues and neighborhood culture. Thank you.