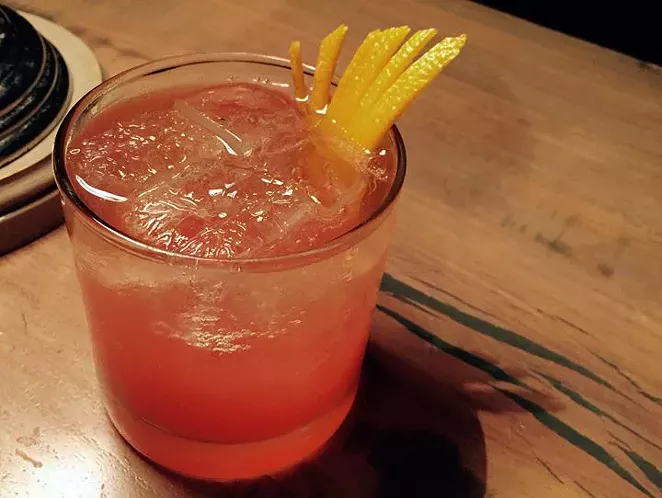 The Last Word
The "Pecha Punch," official cocktail of PechaKucha San Antonio.
If you can't make it to PechaKucha Vol. 19 tonight at the Empire Theatre, do what the cool people do and just attend the after party.
The Last Word (229 Houston, 210-314-1285,
thelastwordsa.com
) is hosting the official PechaKucha after party tonight at 10:15 p.m. Bartenders will be serving the official PechaKucha cocktail, the "Pecha Punch," a little concoction with Tullamore Dew Irish Whiskey, Campari, Smith and Cross Overproof Rum, lemon, honey, and champagne.
PechaKucha, if you're not familiar, is a quarterly gathering in San Antonio in which anyone can share about their work, passions and hobbies with a slideshow presentation. Each participant is limited to 20 slides lasting 20 seconds each. The result is concise, compelling insights to the people of San Antonio.
Tonight's participants include Brian Chasnoff, opinion columnist for the
San Antonio Express-News
, Chef Diego Galicia of Mixtli Progressive Mexican Culinaria and Mezcalería Mixtli, Mary Heathcott, executive director of Blue Star Contemporary Art Museum, and Paula Owen, president of the Southwest School of Art.
Go for thought-provoking insight from some of the SA's most compelling citizens stay for the booze. Here are details on tonight's event and festivities. Don't forget it's Downtown Tuesday, so parking at city garages and lots are free these evening.
PechaKucha San Antonio Vol. 19.
$5, 6:30pm Tue., Charline McCombs Empire Theatre, 226 N. St. Mary's St., facebook.com


PechaKucha San Antonio Vol. 19. Official After Party
No cover, 10:15pm-2am Tue., The Last Word, E. 229 Houston, (210) 314-1285,
thelastwordsa.com