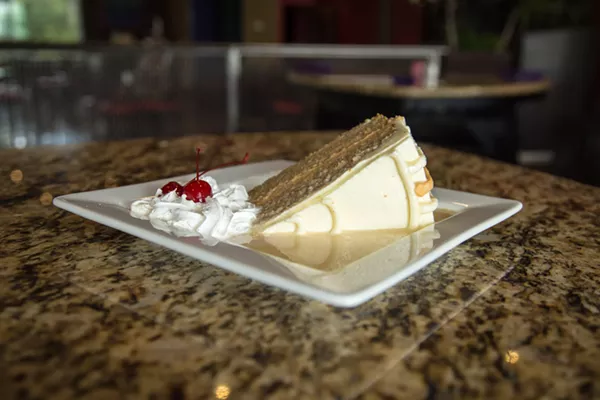 Jacqueline Fierro
Aldaco's pumpkin tres leches. Get it while you can.
'Tis the season to overindulge in all that is pumpkin. We may laugh a bit at the basicness of pumpkin spice (thanks to Starbucks' infamous and overly Instagrammed latte), but what about all the local pumpkin goodness? We traveled around San Antonio in search of some of the best pumpkin treats and found that pumpkin in the Alamo City is anything but basic.
A good man once said one should not go to bed without dessert. We say the same about tres leches. When our search landed us in front of a most, delicious, pumpkin tres leches at Aldaco's, we ate it for lunch and before bed. The pumpkin tres leches cake is $7.99 a slice and worth every cent. I must say, this is the best tres leches I have ever eaten. It is packed with flavor in every bite and the cream cheese icing adds a very rich twist on a classic tres leches. Aldaco's has two locations in
Stone Oak
and the
Dominion
.
Brandy Rae Perez
Three words? Cream cheese center.
Vegetarians can definitely join in on the pumpkin festivities.
Green Vegetarian at Pearl
offers a creamy, pumpkin spice and cream cheese cupcake. You mustn't take a tiny bite from the pumpkin cupcake or you will miss the cream cheese center. After licking off most of the bright orange frosting and finishing the rest in four to five very large bites, Jacqueline and I were more than content walking out into the world of Pearl.
Jacqueline Fierro
Goofy name. Serious flavors.
Jumping to the other side of town, we find
Cuppencake
, located at 22211 W IH-10. Cuppencake features a pumpkin muffin for $3.50 this season that pairs perfectly with one of its signature lattes. Make sure to ask for the muffin to be warmed up so it will melt in your mouth. The topping has pecans, which adds the perfect amount of crunch. Cuppencake's muffin is far less sweet than the cupcake at Green and is composed of the just the right amount of pumpkin-y flavor.
Jacqueline Fierro
Can't give up Pumpkin Spice Lattes but want to support local? Try CommonWealth Coffee & Bakery's.
We couldn't possibly do a pumpkin tour without featuring a hot beverage. No, we didn't sneak into the closet Starbucks, instead we ventured over to
Commonwealth Coffee House
, located across the street from the University of the Incarnate Word, and tasted its version of a pumpkin latte. For $4.75, Jacqueline and I each ordered the seasonal latte and sat outside on Commonwealth's gorgeous patio. The first sip of the pumpkin spice latte was pure joy. Well, so was the second, third and last.
Pumpkin spice, we love you. Maybe not in commercials, but in San Antonio, we know how to do it right. What's your go-to pumpkin treat this season?