Dan Payton
From left to right: Kevin Hobbins, Seth Weatherly, Rebecca Rivera, Hannah Gomez and Bryan Merriman
In the lull weekend between the Great American Beer Festival and the San Antonio Beer Festival, I met up with a clutch of brewers, drinkers and craft beer evangelists to grip some brews and shoot the breeze. This round-table (or, as it turned out, picnic-table) summit convened at the recently made-over Hills And Dales, where conversation ranged from the reverent to the raunchy, fueled by numerous pints of Freetail's Soul Doubt IPA. Ranging from a 12-year brewing veteran to a recent craft-beer convert, each of these people embodied the passion, exuberance and hometown pride they repeatedly ascribed to our city's ascending beer scene. What follows is a digest of that conversation (and, thanks to some faulty recording tech, some subsequent phone calls), featuring the following participants: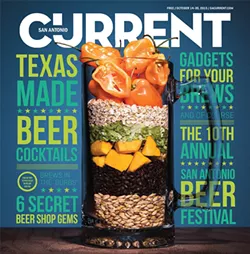 Hannah Gomez: co-president, Girls' Pint Out
Kevin Hobbins: San Antonio sales representative, Ranger Creek Brewery and Distillery
Bryan Merriman: bartender and assistant brewer, Southerleigh Fine Food and Brewery
Rebecca Rivera: member-at-large, Girls' Pint Out
Seth Weatherly: brewer and owner, 5 Stones Artisan Brewery
On the Growth in SA's Craft Community
KH: When I moved back here from the Pacific Northwest [around 2011], there were two or three breweries. There was really nothing down here. I'm not trying to push my own brand, but trying [Ranger Creek's] OPA for the first time really made me excited. It's such a well-made, great-drinking beer and I knew that SA was going to start bringing that to the table.
HG: Girls' Pint Out originally started in San Antonio under Lara Pearson, who is a good friend of mine. She's from Colorado, and so when a natural-born San Antonian heard about this lady from Colorado starting a San Antonio chapter about beer, it kind of pissed me off [laughs]! How did she think of it first? Eventually, Lara decided that she wanted to focus more on her personal life, and I was like "this is too awesome to let die!" So Tracy [Hungate, GPO's other co-president] and I met up with her at Big Hops one day and she turned over the books. We took over in January 2015 and have been going balls to the wall [so to speak] ever since.
RR: I started out just drinking ciders and wine. Quite frankly, I hated beer. About a year and a half ago, my husband and I went out to [Pflugerville brewery] Rogness' tap room. They had a pineapple sour on tap, and I loved it. From then on out, I was just sticking to sours — there wasn't anything else I was finding a taste for. A little over a year ago now, I was invited to a GPO event that paired beer with Girl Scout Cookies. That really changed things for me. I was able to taste those notes that beer drinkers would talk about. Slowly I started with the darker stuff and little by little I tried more things, and here I am today.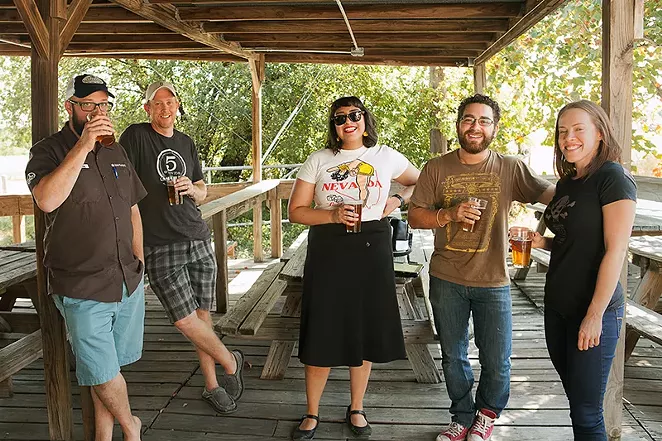 On SA's Craft Beer Personality
KH: San Antonio is a laid-back city, and we like it that way. Some say we are a couple years behind on things, but because of that, we do it right. The craft beer scene has been growing for quite some time and now that San Antonio is up above five breweries [Editor's Note: the total tally of breweries is closer to 10 at this point.] the support is amazing to see. This is obviously a light beer town, so each brewery does have a lighter beer that fits this need. Ours is the Love Struck Hefe, which ties into the German heritage here in South Texas very well. That being said, a good amount of local beer enthusiasts have really taken to the eclectic beers that each brewery puts out. Between oyster stouts, pumpkin porters and [Ranger Creek's] own Small Batch series, we do have more experimental beers we produce.
BM: We have a love not just for our city but what we do inside of it. It's kind of why I think SA has always been behind the times — we don't want to rush into big gaudy things and skyscrapers that could quite possibly fail. We want everything we do to strive — to thrive, I should say.
RR: There's a really good sense of community in the beer scene here. You don't get that sharing in other cities — that idea that if I do well, we all do well. As a consumer, I'm trying to take that stigma away from craft beer as snobbish — that if you're a craft beer drinker, you drink with your pinky up.
HG: A willingness to grow is what sets us apart. Here, every year, all the local breweries make beer together during San Antonio Beer Week. You can't say that [happens] a lot in other big cities. People drive hours to come taste San Antonio beer, which to me is like "WHAT?" I guess I'm spoiled, because it's right down the street at my local pub. But I think that says a lot about the work that Kevin and Mark [McDavid] at Ranger Creek and Paul [Ford] at Branchline and the guys at Busted Sandal and everybody are putting in. Their attitude is what really sets us apart — like I said before, being a lady in the beer industry, one would think "Oh, beer. This is a man's world." But now, because of their openness and willingness to teach and not be judgmental, it's awesome.
SW: For the people that I've been involved with, and I would think any young craft brewery town, it's this brotherhood. Let's beat the street and preach the same message. We see a lot of the same craft beer drinkers at each of our events. It's become, I don't know, just more of a family. Everybody's rooting for each other to get San Antonio on the map. We're right on the edge of some pretty cool things.
On the Relationship Between Beer and Culture
RR: I've definitely met people that, as [a] naturally introverted person, I wouldn't have otherwise, just going [to] different events — made some connections, made some friends. I wouldn't have met Hannah otherwise. This last week I went to an event at Brick for a figure drawing class. I don't know how to draw, but I was there to support some friends [and they have a bar full of craft beer].
BM: Our culture is so eclectic down here. You've got Les [Locke, of Southerleigh Fine Food & Brewery] blasting reggae while we're making a Russian Imperial Stout, brown ales with roasted poblanos, cantaloupe saisons — just trying to have fun with it but make great beers at the same time.
BM: We do pepper beers so well. It's a huge part of our culture. You have the Pinata Protest from Freetail. I enjoyed the heck out of that beer. You've got Seth's Aloha Pina. San Antonio might pioneer that, like Northern California did with all the pale ales and IPAs that we all know and love. Stouts were real awesome in the Midwest and East Coast. I think we're going to be putting out lighter body beers that have a nice little kick like the type of things we enjoy eating.
SW: The expression through creativity will be a constant thread through 5 Stones. It started with the beer and the labels that Haley [Householder, 5 Stone's long-term label designer] does, but as we move forward, our whole vision is to have artisans be involved at the brewery, whether that's artwork, music, food, woodworking, whatever the case may be. We want to provide another avenue for it. Some of what we want to do with 5 Stones is even beyond beer — maybe taking some of those flavors we do in beer and creating something additional with them.
HG: Girls' Pint Out's three main pillars are women, craft beer and education, by any means — and when we say any means, we mean any means. One of the most fun events we did was at the Sexology Institute and Boutique down in Southtown. That obviously was ladies only — we had a bottle share, a sex talk/masturbation class, and it was the greatest thing ever. There were saddle things and strappy things and at one point the whole table was vibrating ... it was a fun night [laughs].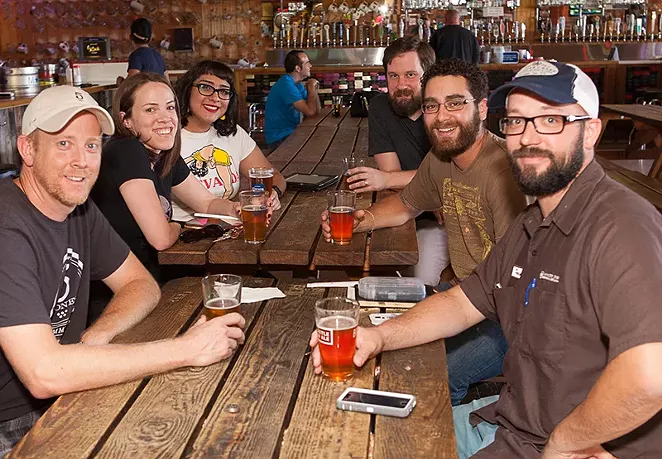 On the Present Promises, Challenges and Opportunities of SA Beer
BM: A lot of [SA] brewers are going to conferences, reading books, keeping up with the beer magazines. 5 Stones just celebrated their second anniversary — you're telling me he got Silver at GABF in his first year ever? Every one of our [Southerleigh] beers placed in the top 10 of their categories in our first year. If we're doing that, we're on the right track. We're starting about five or six years behind the curve, but I can guarantee that in the next five years SA is going to be one of those cities that people go to for good beers. We want people visiting here saying, "Yeah, you've got the Alamo, you've got the River Walk, but the beer scene is amazing."
KH: Long lines at each event make us feel like we are really reaching out to the community to let them know we are here. Although running out of product stinks, it means the demand is there, and we work hard to try and not let that happen! Here at Ranger Creek we are always pushing education as much as we can. The more you know, the more you really appreciate what this town has to offer.
SW: Of all the major Texas markets, we're probably the one with the most work to do — but with the most opportunity. I think there's still plenty of room for more growth and more unique breweries that can bring their gifts to our community, but I think we're off to a good start. It's just getting the beer across [people]'s lips — when they get a taste of the local craftsmen, they're going to land on something they like.
HB: I'm part of GPO because I want women to be educated about what they like to drink and what they don't like to drink and why. We're hoping to bridge that gap, one random female at a time [laughs].