Jessica Elizarraras
We had a bit of a wing party...
Since opening its doors on March 23,
Tiger Wings
(8210 Broadway, 210-829-5000) has amassed a small following of wing lovers for good reason.
A friend and I stopped in on a sleepy Tuesday evening to check out the digs, and after almost missing the location (it's tucked away north of Beto's Alt Mex on Broadway). Not that it's demure by any means — the building has a half-black-half tiger print exterior. And yes, the big cat theme persists inside the sparse interiors — there are about six or so tables — with more stencil work of jaguars, panthers and tigers. Meow, indeed.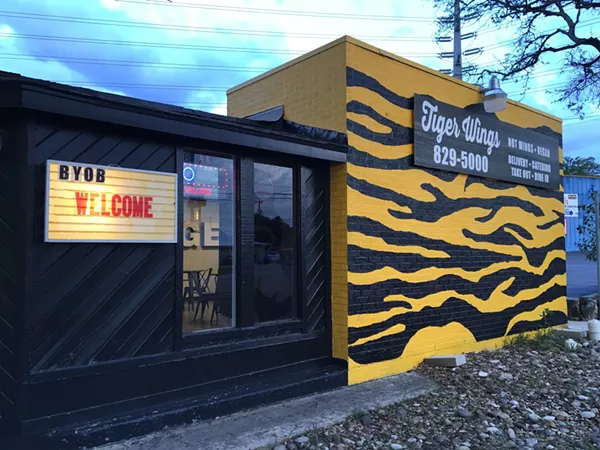 Jessica Elizarraras
Tiger Wings' Shere Khan-esque exteriors.
And if you're in search of anything other than a drumette or wingette, you're going to be straight out of luck at Tiger Wings. Instead wing fans can choose from 17 wing flavors available in bone-in wings or chicken tenders ($7.59 for 8), fish ($4.99 for a catfish filet and $12.99 for a whole tilapia) and tofu ($5.99 for 8 pieces).
If there's one immediate critique on flavors is we wanted more heat. That's not to say the sauces that went on the evenly fried drummies weren't nuanced. The THAI-ger was a suitable mild, the Tom Yum had layers of flavors, both savory and sweet, and the Gochujang was adequately smoky. We also sampled the lemon pepper (what I often measure other wing places against) and Louisiana flavors (this one packed a kick), which perfectly coated the the crisp tofu rectangles.
If you're into chomping down on chicken wings, Tiger Wings (open 10 a.m. to 11 p.m. daily) should be on your list.
P.S. The joint is BYOB, so don't forget to pack a bomber or sixer.