Facebook/Deep Ellum Brewing Co.
On Tuesday evening Paper Tiger's normally hangeresque interior was transformed into a softly lit, denim-hued dining room for 80-plus diners. With Garrett T. Capps crooning on the main stage, a feast in five parts orchestrated by local chef Jason Dady unfolded amidst the buzz of tipsy conversation. In order, diners were treated to a five-course meal of family style chips and bro dips; a market salad with burrata, peach and smoked walnuts; ribs, pulled pork and smoked chicken sourced from Two Bros BBQ Market; a beef smoked Angus brisket hot dog; and banana "crack" pudding.
Along with every course came a beer pairing provided by Deep Ellum Brewery, each of which matched pitch and tone to the food served. Starting with the Neato Bandito Imperial Lager, the Dallas brewery then served their Easy Peasy IPA, followed by a Rye Pilsner, Deep Ellum IPA and Four Swords Barrel Aged Quadruple.
While the food was fantastic — comforting, as barbecue typically is, though treated with an attention to detail that elevated the dishes from down-home proteins to sophisticated entrees — the beer shone. Outside of the Four Swords denouement, Dady chose two IPAs, a lager and a rye pilsner, each offering a tart, crisp, hoppy foil to the rich barbecue, hot dogs, meaty salads and heavy dips.
Whether you're a Deep Ellum fan or not, the brewery proved they know their way around a warm-weather beer. As Texas summers typically bring a deluge of backyard barbecues and poolside grills, having an arsenal of alcoholic tang in your back pocket will give you the perfect tool for cutting through the toothsomeness of Southern summer dishes. Including the Quadruple should you decide to serve dessert, here is a breakdown of each beer served at Jason Dady's Pints and Plates.
Neato Bandito Imperial Style Mexican Lager
As drink pairings should play the ying to the entrée's yang, Dady's heavy dips needed only a light, bright wheaty accompaniment, and that's what they received with DE's Bandito. A flaxen brew with notes of oak so fresh it reminds of splintered timber, the Bandito is a piccolo to the lager's deep bassoon. Light, on the tip of the tongue and barely astringent, the Bandito is a perfect pairing for any full-bodied meal.
Easy Peasy IPA
For an IPA, the Easy Peasy is sparse with the ABV, clocking in at an coquettish 5.2 percent. What the brew lacks in bite though, in makes up in bark. Floral, green and tart, the tangerine and lemon peel-laden ale is puckering made simple, playing at a nearly even decibel as the subtle salad. Without the heft of a traditional IPA, the Easy Peasy pairs well with bracing organics, like berries, citrus or earthy grains, than with proteins. In concert with a strong-willed, bright flavor though, the combination sings.
Facebook/Deep Ellum Brewing Co.
Deep Ellum Rye Pilsner
The Pilsner, like Schilling in the 2004 ALCS or Lebron recouping a three-game deficit, came from nowhere to hand the meatiest dish of the evening a better luck next time card. Despite a face-off against succulent ribs, aromatic pulled pork and herbaceous smoked chicken, the Pilsner held its ground. Assertive in mouthfeel, the rye is sanded off but still calling roll, and while heady hops bring verve to the amber draught, the bite is subtle while the grounded, stolid footing of the beer balances the pairing.
Deep Ellum IPA
Paired with fatty brisket and unctuous hot dogs, Dady needed a tart, piney beer to cut through the richest course of the meal. The DE IPA did the trick, causing me to write in my notes, "Tart like cranberry but no cranberry." The beer nearly stings with bitterness, but in the masochistic way that Texans can appreciate. No matter how high the mercury, meaty the meal or rich the course — Deep Ellum scythes clean through the fat.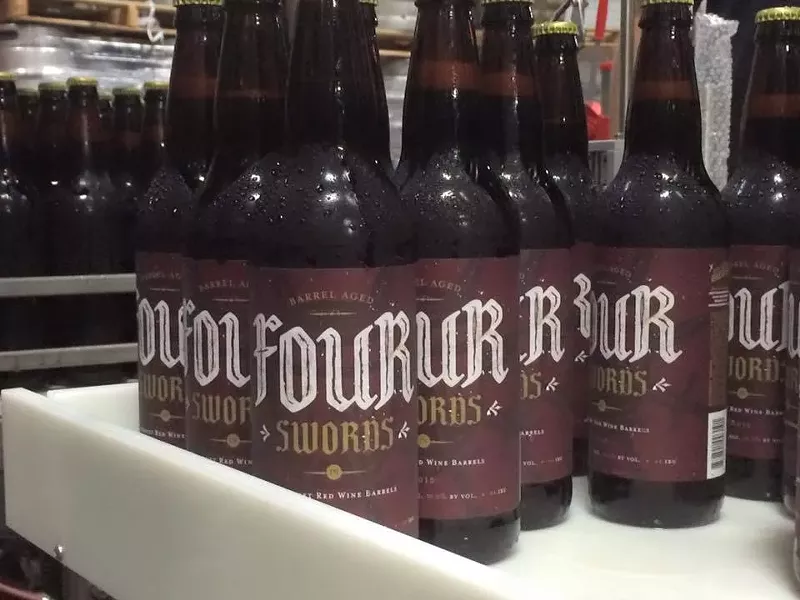 Facebook/Deep Ellum Brewing Co.
Four Swords Barrel-Aged Belgium Style Quadruple
Aged in Cabernet barrels for more than a year, the Four Swords Quadruple brings not only deep, dark notes of chocolate to the palate,but also the tannins and soft spice of red wine. Though admittedly still a mite heavy for summer, the rich beer redolent of cherry and cinnamon would be a great dessert pairing any other time of the year.