Illustration by Ralph Johnston
Though landlocked, San Antonio has found a way to keep that island fantasy afloat by capitalizing on the once forgotten tiki movement (some tiki scholars posit the U.S. involvement during the Vietnam War and its tropical shores along with the unfair treatment of indigenous people caused the style to fizzle out).
Our taste for everything pineapple began in 2012 with Tiki Tuesdays at The Brooklynite, but with several personnel changes since then, the trend has spread, first with the opening of Concrete Jungle off South Presa and later with tiki nights at Park Social, Mezcalería Mixtli and even Faust Tavern, which recently hosted its first Shrunken Head Sunday and will do so every first Sunday of the month. And not to be outdone, Esquire Tavern and Hotel Emma's Sternewirth have rum-filled menus this season.
It could be our love of laid-back temperate climes that have helped spur this boozy trend. Perhaps it's our love of nostalgia and themed parties. For Hillary Woodhouse, one of SA's tiki priestesses who rocked Tiki Tuesday at The Brooklynite before moving over to The Esquire, the style's retro feel and the surf vibes are most appealing.
"I saw Dick Dale, the King of the Surf Guitar when I was 14 and I've loved him ever since," she said. "It's just a big party every time."
But one can't just make a single tiki drink to enjoy while listening to Jack Johnson. No, tiki requires that you commit to the whole experience. We tapped a trio of bartenders from Park Social to Sternewirth for recipes on throwing your own tiki shindig, and we're sharing a few bites for you to soak up that rum .
Crank up the surf rock, scour estate sales for tiki glassware, pull that old Hawaiian shirt out of your dad's closet, buy a bunch of mini umbrellas and squeeze your own citruses (we'll allow store-bought fresh-squeeze pineapple juice from Central Market) and don't forget the citronella for your torches — it's party time.


The Basics:
Words to know to get you
started in on your tiki adventure.

Donn Beach

Native Texan, smuggler, and founder of Don the Beachcomber restaurants in California, a chain of "Polynesian"-tinged eateries and bars. Real name: Ernest Raymond Beaumont Gantt.
Trader Vic
Born Victor Jules Bergeron Jr., who founded a similar chain to Don the Beachcomber named Trader Vic's. Both lay claim to creating the Mai Tai.
Mai Tai
You bet your ass Don Draper drank these.
Ingredients:
1½ ounce white rum

½ ounce lime juice

½ ounce orange Curaçao

½ orgeat syrup (fancy word for almond syrup)

¾ ounce dark rum
Directions:

Shake all ingredients, except for the dark rum, with ice. Strain into glass and float dark rum on top.


The Painkiller
A twist on the piña colada
Ingredients:

2 ounces Pusser's rum

4 ounces pineapple juice

1 ounce orange juice

1 ounce cream of coconut


Directions:

Add ingredients to a Hurricane glass or large snifter and fill with ice. Stir to combine and garnish with orange wedge, cheery and freshly grated nutmeg.
Island Bites:


Courtesy of Katrina Callao
White Ceviche Makes 4 servings
Make friends with your local fishmonger for the freshest ingredients.

Ingredients:
1 pound scallops, redfish, or shrimp, cubed
6 ounces fresh squeezed lime juice
Salt, to taste
Peppere, to taste
½ small Serrano pepper or 1 Thai chili, chopped and crushed
1 raw garlic clove, crushed and chopped
1 teaspoon chopped ginger, crushed
4 ounces raw red onion, diced small
4 ounces chopped cilantro
4 ounces diced tomato
4 ounces coconut milk

Directions:
1. Marinate seafood in lime juice for 2 hours, or until fish turns bright white. Season with salt and pepper, to taste.
2. Add vegetables, herbs and aromatics. Finish with coconut milk.
3. Serve with tortillas, tostones or cucumber or all of the above!
Helpful hint: Using a mortar and pestle to crush up the ginger, garlic and onion extracts more flavor. – Katrina Cailao of Kalye food truck


Spam Musubi
Makes 10 servings

The most labor intensive, but likely the most addictive, this Spam-centric dish is a must. Make it yourself of pick up a platter from L&L Hawaiian Grill on Austin Highway.
Ingredients:
2 cups uncooked short-grain white rice
2 cups water
6 tablespoons rice vinegar
¼ cup soy sauce
¼ cup oyster sauce
½ cup white sugar
1 (12 ounce) container fully cooked luncheon meat (e.g. Spam)
5 sheets sushi nori (dry seaweed)
2 tablespoons vegetable oil

Directions:
1. Soak uncooked rice for 4 hours; drain and rinse.
2. In a saucepan bring 2 cups water to a boil. Add rice and stir. Reduce heat, cover, and simmer for 20 minutes. Stir in rice vinegar, and set aside to cool.
3. In a separate bowl, stir together soy sauce, oyster sauce, and sugar until sugar is completely dissolved. Slice luncheon meat lengthwise into 10 slices, or to desired thickness, and marinate in sauce for 5 minutes.
4. In a large skillet, heat oil over medium high heat. Cook slices for 2 minutes per side, or until lightly browned. Cut nori sheets in half and lay on a flat work surface. Place a rice press in the center of the sheet, and press rice tightly inside. Top with a slice of luncheon meat, and remove press. Wrap nori around rice mold, sealing edges with a small amount of water. (Rice may also be formed by hand in the shape of the meat slices, 1 inch thick.) Musubi may be served warm or chilled.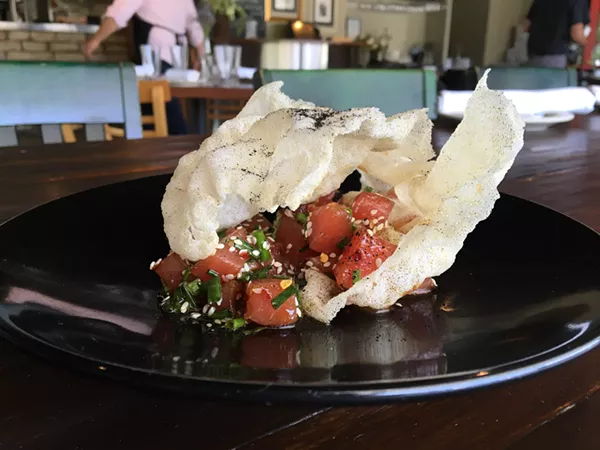 Ahi Poké Salad
Makes 1 serving or 2 appetizers

Add this to your summer repertoire.

Ingredients:

4 ounces sushi-grade ahi tuna, cut into ½-inch cubes

1 tablespoon soy sauce

1 teaspoon sesame oil

1 teaspoon sesame seeds

1 teaspoon diced green onions

1 pinch minced ginger

1 pinch chili flakes
Directions: Combine tuna, soy sauce, sesame oil, sesame seeds, green onions, ginger and chili flakes in a small bowl. Gently toss the tuna in the marinade and serve immediately with nori chips, cucumber slices or on a bed of greens. Modified via Luis Colon
Sidewinder's Fang, Pago Pago and Queen's Park Swizzle

Libations:


Listen, most tiki cocktails require a bit of work. From juicing your own limes and using fresh — never bottled or canned — pineapple juice, tiki tipples call for several ingredients each. David Naylor of Park Social, Hillary Woodhouse of Esquire Tavern and Danielle Chapman of Sternewirthhelped whittle down a few drinks that don't call for a ridiculous number of ingredients.


La Trinidad at Park Social

La Trinidad
Ingredients:
½ ounce Trinidadian rum (Angostura 7yr, Pusser's or any decent aged rum you can get your hands on)
1¼ ounce Chipotle syrup (recipe below)
1 ounce lemon juice
Directions: Combine all ingredients into a shaker tin, shake hard. Strain into a tall glass packed with crushed ice, garnish with a lemon twist and enjoy.


Chipotle Syrup

Ingredients:
1 cup sugar
1 cup water
2 chipotle peppers, cut in half
¼ teaspoon cayenne powder

Directions:
1. Combine sugar & water to make a simple syrup over medium heat
2. As sugar is dissolved a d steam rises, throw in the peppers and cayenne spice and bring to a boil
3. Let cool, strain peppers out and bottle. Will last up to 1 month if left refrigerated. Multiply for larger batches. David Naylor of Park Social


Two Tikis to Paradise by Hotel Emma

Two Tikis to Paradise
Ingredients:
1½ ounce pineapple infused rum (Chapman used Plantation Pineapple, which can be easily found at liquor stores, or can be made by combining pineapples and white rum for 3-4 days)

½ ounce Averna

½ ounce Trader Vic's macadamia nut liqueur

½ ounce lemon juice

¾ ounce pineapple juice

3 dashes tiki bitters

½ ounce grapefruit juice

¾ ounce honey syrup (one part honey to one part hot water for easy pouring)

1 dash Angostura bitters

1 ounce orange juice

1½ ounce passion fruit syrup (Woodhouse used BG Reynold's)

1-2 ounces soda, to taste
Directions: Combine ingredients and shake with ice. Serve in a Collins glass with crushed ice. Modified from Danielle Chapman

Queen's Park Swizzle at the Esquire Tavern

Queen's Park Swizzle
Ingredients:
1 ounce dark Jamaican rum (Woodhouse used Appleton Estate 12)
1 ounce Demerara rum (Hamilton Demerara)
1 ounce lime juice
1 ounce orange juice
1½ ounce passion fruit syrup (Woodhouse used BG Reynold's)
1-2 ounces soda, to taste

Directions: Press mint leaves in bottom of pint glass. Add crushed ice and fill to top. Add lime and rum and swizzle ingredients using a swizzle spoon, but try not to move the mint around. Add more ice to the top, and add several dashes of Angostura. Garnish with more mint sprigs.


Pago Pago

Ingredients:
1½ ounces dark Jamaican rum (Woodhouse used Hamilton Jamaican Pot Still Gold)
1 ounce orange juice
½ ounce lime juice
½ ounce grapefruit juice
¾ ounce honey syrup (one part honey to one part hot water for easy pouring)
1 dash Angostura bitters
1 ounce orange juice
1½ ounce passion fruit syrup (Woodhouse used BG Reynold's)
1-2 ounces soda, to taste
Directions: Shake ingredients with ice, pour over crushed ice, and garnish to your heart's content.

Sidewinder's Fang at the Esquire Tavern
Sidewinder's Fang
Ingredients:
2 ounces Demerara rum (Woodhouse used El Dorado 12)
¾ ounce lime juice
¾ ounce simple syrup
Mint leaves
Angostura bitters
1 ounce orange juice
1½ ounce passion fruit syrup (Woodhouse used BG Reynold's)
1-2 ounces soda, to taste
Directions: Shake rums, lime juice, orange juice and passion fruit syrup with ice. Pour over crushed ice and finish off with soda.