Do San Antonio Restaurant Week right by visiting the Alamo City's star chefs,
finding the best menu items or scoring the best three-course savings. Here's a few we're dying to try.
Bliss
926 S. Presa St. • (210) 225-2547 •
foodisbliss.com
Definitely file this one under special night out. Chef Mark Bliss, a San Antonio staple, and his staff bring out restaurant favorites including the hamachi tostada and George's Bank sea scallops. Don't miss the flourless chocolate cake with sweet corn gelato.
Boiler House Texas Grill & Wine Garden
312 Pearl Pkwy., Building 3 • (210) 354-4644 • boilerhousesa.com
Whether you're going for lunch or dinner, chef Jeff White is likely going to wow you with what's on deck. The dinner menu features your choice of crispy pork risotto, catfish and grits or cracklin' chicken with corn cakes and sweet peaches.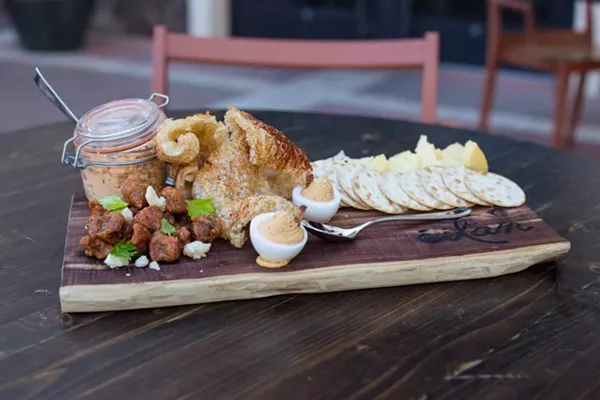 Photo Courtesy of Jacqueline Fierro
Sustenio
17103 La Cantera Pkwy. • (210) 598-2950 • eilanhotel.com
Loopland, there's something in here for you, too. Sustenio's modern Texan menu looks formidable and the Eilan as backdrop make this a fabulous dinner. Four words: Pimento cheese and chicharrones.
J-Prime Steakhouse
18838 Stone Oak Pkwy. • 210-764-1604 • jprimesteakhouse.com
An off-shoot of Chama Gaucha, this local steakhouse can be filed under the Total Steal category if you're planning to go during Restaurant Week. The menu includes lobster bisque, filet mignon and chocolate torte as options.
Kimura
152 E. Pecan S., Suite 102 • (210) 444-0702 • kimurasa.com
A regular visit to Kimura will usually set us back at least $20 and that's not counting parking. During these magical weeks, you can sneak in for lunch and order cucumber sunomono, charred edamame and spicy miso ramen with bok choy for $15. It's a metropolitan lunch on a budget. Don't miss the katsudon for dinner.
Lüke San Antonio

125 E. Houston St. • (210) 227-5853 • lukesanantonio.com
There are several reasons we chose Lüke SA as our cover restaurant. Namely, chef John Russ usually pulls all the tops when it comes to restaurant week. Stop in for choice of chargrilled eggplant with blackfin tuna (we tasted the dish during our cover shoot and it's a winner) or Texas white potato gnocchi with Louisiana crab (and truffles!), Nola-style barbecue shrimp or jambalaya-stuffed pork chop and their legendary desserts a la mode.
Perry's Steakhouse
15900 La Cantera Pkwy., Suite 2200 • (210) 558-6161 • perryssteakhouse.com
You better take it easy during the day because you know you want to try that famous pork chop for dinner. If you're not feeling the swine, choose from the 6-ounce filet Perry with jumbo lump crabmeat or the grilled salmon.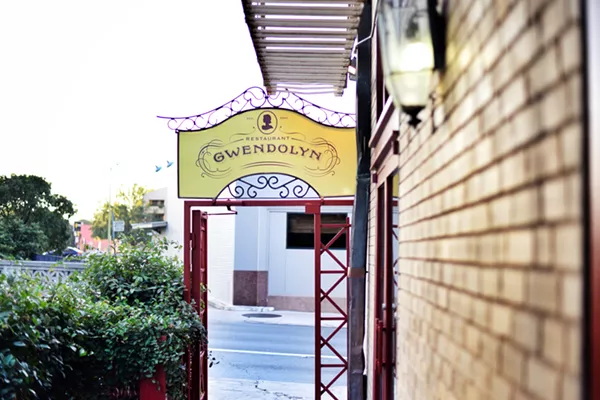 Restaurant Gwendolyn
152 E. Pecan St., Suite 100 • (210) 222-1849 • restaurantgwendolyn.com
Whatever's on the three-course menu at Gwendolyn will likely be a hit. The restaurant takes recipes from the 1800s, updates them with modern techniques and no electrical appliances for an outstanding experience every time. 152 E. Pecan St., Suite 100
Shuck Shack
520 E. Grayson St. • (210) 236-7422 • shuckshack.com
Seafood is expensive, y'all. Any way you slice it, an awesome time at Shuck Shack will cost you. Make it out for dinner for your choice of oysters, hushpups or deviled eggs, chilled corn and lobster bisque, Shack salad or shrimp cocktail and choice of half a lobster roll, market fish and chips or lump crab salad sandwich. You're making off like a pirate.
Southerleigh Fine Food & Brewery
136 E. Grayson St., Suite 120 • (210) 455-5701 • southerleigh.com
The kitchen staff at Southerleigh doesn't disappoint. Their first-week menu includes choice of gulf Bluefin tuna in a jar, smoked meatloaf with roasted tomato jam and jalapeño grits or long-stewed chicken and dumplings for lunch. At dinner the choices get even more luxurious with choice of pan-fried pork schnitzel with brewery sauerkraut mushroom gravy, lightly grilled gulf grouper with smoked green tomato butter or blackened grass-fed beef culotte.
Courtesy of The Hoppy Monk
Lamb belly porchetta from THe Hoppy Monk
The Hoppy Monk
1010 N. Loop 1604 E. • (210)-545-3330 • thehoppymonk.com
Chef Emiliano Marentes has wowed us before during Culinaria's Festival Week with tiny quail egg sliders and legitimately delicious vegan (gasp) tacos. The menu includes several odes to Hoppy Monk's Mexican heritage with a tlayuda (black garlic tortilla with black bean puree, crispy shimeji and hen of the woods mushrooms, roasted calabazitas, quesillo Oaxaca, grilled avocado and dehydrated grasshoppers) along with choice of half roasted chicken on 'shrooms or lamb belly porchetta. Pair these great dishes with equally awesome brews available at the pub.
El Machito
7300 Jones Maltsberger Road • (210) 314-3971 • chefjohnnyhernandez.com/elmachito

No, the parrillada isn't on the menu, but you're still getting a great deal at El Machito with its $10 lunch for its ensalada de la casa, cecina or chicken torta and pastel de elote with guava sauce and berries. For dinner, the menu features a mini tuna ceviche tostada, double-cut Frenched pork chop enchilada with the pastel de elote.
Chicken and apple sausage corny dog from Smoke The Restaurant (Sunset Station)
Smoke The Restaurant
1170 E Commerce St. • (210) 253-9919 • smoketherestaurant.com
Do you love mini chiles rellenos? Do you love burgers? Are you into floats? These questions basically answer themselves. Lunch at Smoke will set you back all of $10 and the $25 dinner includes a chicken and apple sausage corndog, smoked beef rib with Texas barbecue glaze, burnt end beans and coleslaw and finally a whoopie ice cream sandwich with cream cheese ice cream. Check out the new Sunset Station location while you're at it.
Folc
226 E. Olmos Drive • (210) 822-0100 •
folc-restaurant.com

If you haven't had a chance to try what Texas Monthly deemed as the best burger in the state, now's your chance. The restaurant week menu features some of chef Luis Colon's early hits, along with that beefy-briskety goodness sandwiched between fresh-made buns.