Maybe I love gyro because I love trompo. What's not to love? Both are spit-roasted, both topped with fresh ingredients and loads of veggies, both delicious. September 1 is National Gyro Day (just go with it...) and here are a few ways to eat your weight in gyro around town.
Garbanzo Mediterranean Grill
The only thing better then celebrating National Gyro Day is celebrating with a pal.
Garbanzo Mediterranean Grill
will offer a buy-one, get-one deal on Thursday, September 1 from 11 a.m. to 10 p.m. The quick service casual joint can be likened to a Mediterranean Chipotle, but better because there's hummus and baba ghanoush and tasty tabbouleh and, well you get the point.
11o75 Huebner Oaks, (210) 572-4382.
Papouli's Greek Grill
Enjoy your gyro meat in plate for at Papouli's, where the you can pair it with a second protein (falafel is usually clutch as as the shrimp kebabs), and your choice of GreekTown sides including feta, tabouli salad, pita chips, or Moroccan herb cous cous.
Multiple locations, papoulis.com.

Pasha Mediterranean Grill
Pasha Mediterranean Grill
Get you gyro in wrap form at any Pasha location. Though you could add kebabs into the mix and have both proteins nestle against each other in a tightly wrapped sandwich, go for the plain gyro wrap instead. A mix of lean beef and lamb topped with fresh tomato, onion and creamy tzatziki sauce.
Multiple locations, gopasha.com.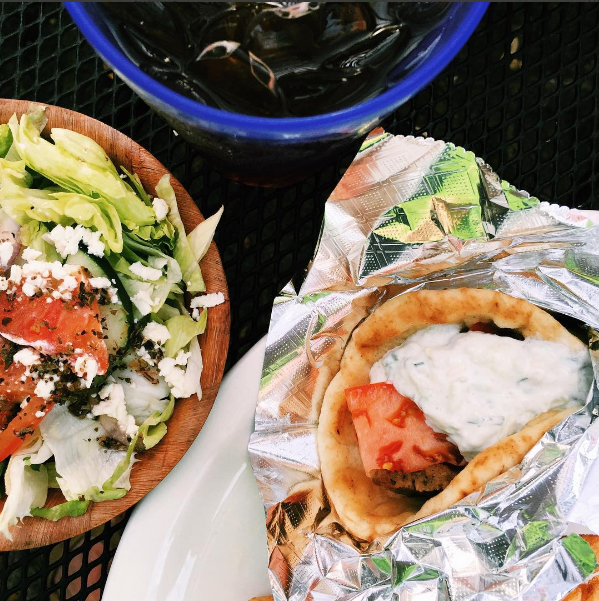 John The Greek
If it's tzatziki that you're after, pick up your gyro from John The Greek, a 17-year-old San Antonio staple. Loaded with creamy goodness and and crisp strips of gyro, this variation is available 10 different ways for lunch with your choice of soup, salad, fries or in pairs with a drink because you've always wanted to double-fist gyros.
16602 San Pedro Ave., (210) 403-0565.
Demo's
Sitting directly across from St. Sophia Greek Orthodox Church gives Demo's original spot a bit more street cred. The casual spot is always airy and the gyro on point. Go for the fries, always served up fresh at any of their three locations.
Multiple locations, demosgreekfood.com.
Mina & Dimi's
Greek House
Big appetites should consider M&D's for their Fat Deluxe Gyro (double meat and fries) with lettuce, tomato, onion, feta and tzatziki sauce. It's a big meal with delicious results.
7159 Highway 90, (210) 674-3464.