For a good time, call 691-1111.
Or, better yet, head straight for
Ali Baba International Food Market
on Wurzbach just off I-10. Like most international markets, there are cheap thrills galore to be had if you just keep your eyes (and nose) open. As the name implies, Ali Baba specializes in Middle Eastern goods (emphasis on Iranian), but an expansion has created room for more Indian and other Asian products as well. Here are some highlights of a recent visit. I started with no particular goal in mind, but one emerged over the course of 30 minutes or so.
Pickled things:
Middle Eastern cuisine is more attuned to pickles than we might imagine. Check out the jars of cornichons, shallots and garlic, all at prices way below regular supermarkets — assuming you could find, say, pickled shallots at a conventional source. On the Indian/Pakistani shelves, you'll also find mixed pickle, mango pickle, green chili pickle…
Dates:
There are more kinds of dried dates here than anywhere else in town, I'm convinced (they are at the rear, near the produce). And though I'm not sure how to use them, you'll also find fresh dates. Who knew they were yellow?
Pita:
Who also knew that pita came in sizes as big as about 24-inch in diameter or elongated at about 10-by-28-inches? I'm assuming you'll want the regular size that's merely around 6-inches; pick up several packages as they freeze well. But also take a look at the pre-loaded pitas already topped with a spice mixture and looking very much like the manakish served next door at Naara Café.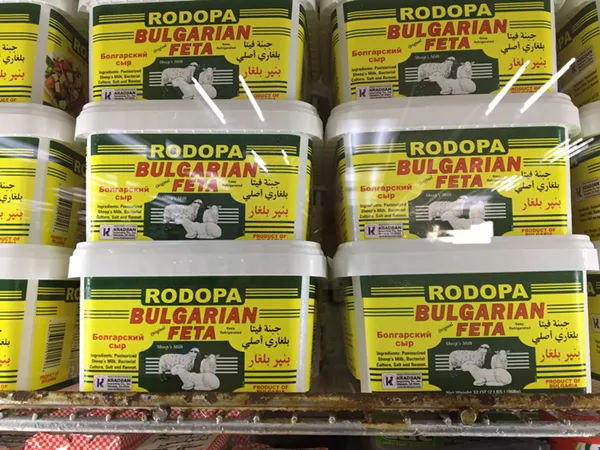 Cheeses and yogurts:
The cool cases at Ali Baba are stuffed with real Eastern European yogurts not freighted down by big-company advertising; you'll find Bulgarian feta, considered the best by many connoisseurs; and there will be less familiar products such as halloumi (great grilled) and shanklish (great topped with tomatoes and onions) cheeses. Buy as many of these as you have room for.
Meats:
Ali Baba runs a halal butchery, and though many of the products look the same as non-halal to us, you'll find things such as ground goat here more easily. Ground lamb, too — and again at prices less that regular supermarkets. Buy some lamb.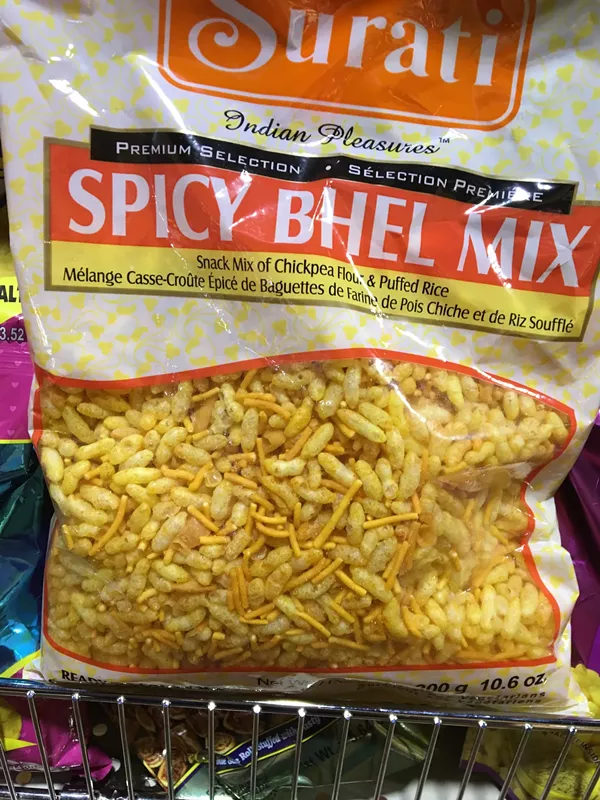 Packaged snack mixes:
Where to start — there are tons of these proto-chaat mixes on the shelves, good for eating out of hand, or, as we will see later, as a crunchy topping. I bought a product called Manglori Mix consisting of dried chick pea flour, dried peas, dal, red chili, mango nectar powder… and I couldn't stop eating it. Resist: save at least some for the recipe to follow.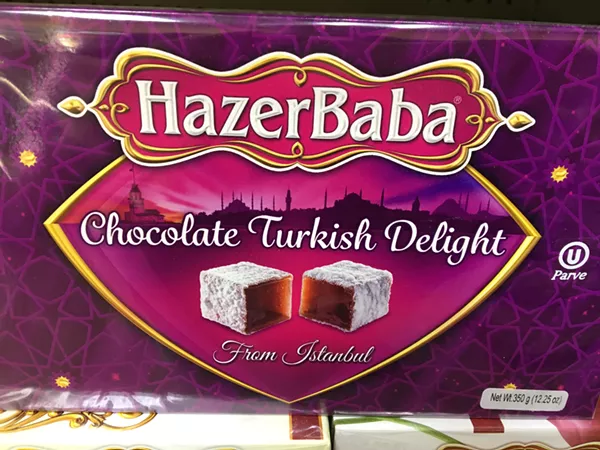 Sweets:
There's everything from saffron-tinted rock candy to packaged Turkish delight from Istanbul. Take your pick of flavors, but my money's on mastic delight (the basic flavor — gum mastic is a stabilizer) or chocolate. Let's say chocolate.
So here's what we're going to do with your goods: Fire up the grill.
Appetizers:
Stuff some of the packaged dates with the shanklish, the well-used tennis ball version at Ali Baba being made from sheep's cheese coated in spices. It's called "robust flavor," but it's not too challenging, honest. Slice some of the halloumi — this we will grill, maybe just to be drizzled with a little olive oil blended with mint, basil and a touch of pepper flakes.
Salad:
Go simple here — let's say romaine with sliced red onion dressed with real Greek yogurt blended with mayonnaise, thinned with lemon juice, dusted with dried dill (Ali Baba has racks and racks of dried herbs and spices) and seasoned with a pinch of sugar, salt and pepper. Toss and top with the packaged snack mix, breaking up any really big pieces. (The snack mix is also good atop straight, unflavored yogurt.) Serve pickles alongside.
Grilled lamb pita burgers:
I have made this
recipe from Bon Appetit
, and it's great, grilling the lamb right inside the pita for maximum juiciness. Feel free to add a little heat in the form of Aleppo pepper flakes or smoked paprika, a little creaminess with one of the cheeses.
Dessert:
Open the package of Turkish delight. Dig in. Ali Baba also has Turkish coffee if you want to go all the way.