Photo by David Rangel
The Brooklynite
The most raucous (dare we call them sucia …?) outings usually have some sort of path: a starting point, a hazy middle and a definitive ending that can be retold several days later much like Frodo probably did after he got back to The Shire from Mordor. There's a certain sense of accomplishment that comes from describing your drinking endeavors to friends, and the more locations this involves, the better. We compiled a few of our favorite crawls for you to enjoy (Responsibly: Call a fuckin' Uber or have a DD at the ready). From the grittiest of dives to posh new joints at The Pearl, here's how to drink your way across the city.

Brooklyn Crawl

Paramour // Paramour, now into it's second of year of business, is downtown's first roof top bar. Settled on the fourth floor of the Phipps Building, it hosts business professionals of all ages. They have a happy hour, which features one of their famed drinks, the Fun Bag. Order one and sip out of a literal plastic bag while enjoying the view of downtown SA. 102 9th St., (210) 340-9880, paramourbar.com
The Brooklynite // Frequent winner of the best cocktail bar in San Antonio, The Brooklynite has all of the charm of a speakeasy, complete with a game room and comfy chairs. They host a tiki night on Tuesdays, and have cheap ass Mondays where happy hour (usually until 7) runs all night long. 516 Brooklyn Ave. (210) 444-0707, thebrooklynitesa.com
Tony's Bar // If you're looking for a classic dive bar where you can get a cheap beer or wine and watch a game, Tony's is the perfect place. Enough visits here and the bartender will know your name, and have your beer ready the second you walk in the door. There isn't a full bar or anything on draft, so don't ask. They also have dancing, and are available to use for private parties. 206 Brooklyn Ave., (210) 227-4551
La Roca Cantina // One of the newest bars in the San Antonio area, it's the sister bar to the Stone Oak staple, the Green Lantern. With a happy hour that lasts 'til 9 (one of the latest in the downtown area), you can get great drinks for cheap while other bars sport regular menu prices. Even so, regular priced drinks are only $7. Order the Viva Verde for a great cocktail at a low price. 416 8th St.
Artisan on Alamo // You won't turn your nose up at this hand-harvested cactus-paddle vodka any time soon. Since opening in September, Artisan has packed in hand-made infusions made with its two house hooches: Texas Pride and Spike. Visit owner and distiller Nick Spink to learn more about this unique line of spirits. 315 8th St.
Big Hops-The Bridge // One of the three establishments in the San Antonio area, Big Hops-The Bridge harbors an extensive draft beer list. The bar is perfect for any beer lover who wants to order local beers they love or try something new. The growler station hosts a trivia night on Mondays. 306 Austin St., (210) 320-1470​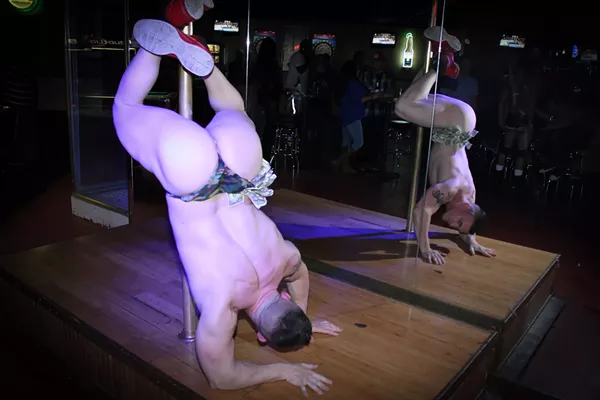 North Main Strip Crawl

Heat //
Located on the corner of East Evergreen and North Main, the Heat nightclub is a towering figure in the city's gay nightlife. Don't forget your dancing boots if you're headed here, as the club's website claims it to be one of the city's "premiere dance clubs." Along with the main room and bar, the club includes a video lounge and recently renovated outdoor patio. Not only does Heat have a reputation for dancing, the club is also known for its infamous drag performances. Heat, once the stomping ground of the late Erica Andrews and retired Shady Lady, is now home to Rey Lopez Entertainment,
who brings many of the nationally recognized drag performers from
Rupaul's Drag Race
to the Alamo City. On Sunday nights, Heat becomes "Club Sin," with no cover all night and plenty of drink specials.
1500 N. Main Ave., (210) 227-2600, heatsa.com


Sparky's Pub //
Sparky's is the strip's "Old-English-style" pub, located smack in the middle of all the excitement on Main Ave. The well-lit bar and casual atmosphere is perfect for meeting friends both gay and straight. Head out to the back patio for conversation with friends, or enjoy a game of pool or darts in the game room. Open daily at 3 p.m., the Café at Sparky's features an extensive list of wines, a variety of sandwiches and coffee selections. Get there early for happy hour specials every day from 3 to 9 p.m.
1416 N. Main Ave., (210) 320-5111, sparkyspub.com


Knockout //
The newest addition to the Main Strip, Knockout welcomes guests into an open space with sports on flat-screens and easy access to drinks. With adjoining spaces offering a dimly lit full-service bar and fresh hot pizza served by the slice, the laid-back venue's destined to become a destination for game days, day drinking and Sunday Funday.
1420 N. Main Ave., (210) 227-7678, knockoutsa.com.
Pegasus Nightclub // As one of the oldest bars on the strip (established in 1994), the Pegasus Nightclub retains some if its older "charm" while pushing forward with recent renovations. The outdoor patio and stage, located at the front of the bar, was once the drinking hole's parking lot. Inside, you'll find a variety of themed bars, from the "country bar" to the main "video room," where the DJs happily take requests. With a reputation as one of the most welcoming bars on the strip, here you'll find everyone from shirtless twinks to bears and grandpas. 1402 N. Main Ave. (210) 299-4222, pegasussanantonio.com

Club Essence // Just a short walk down the road from the main hub is Club Essence. Come here to catch male dancers working a pole or dancing on top of the bar. The usual clientele here range from drag queens, gay to straight girlfriends, and the occasional creep who can't stop staring. The action here centers on a large, rectangular bar located near the center of the room, where patrons gather to watch the weekly parade of dancers and amateur male strip-off contests. Can't take the heat inside? Head to the outdoor patio for a break from the scenery and start a conversation with some of the regulars. 1010 N. Main Ave., (210) 223-5418, facebook.com/clubessencesa

Ouch Apparel // Stocked with underwear in every imaginable flavor (from 2xist jock straps to high-end designer briefs), Ouch Apparel makes for an amusing stopover on the Main Strip. And it's not all about bottoms: the well-endowed shop offers LGBT-centric tees, gifts and accessories. Adventurous shoppers cruise right next door to browse for whips, chaps and harnesses from BDSM emporium Hardcore Leather Co. 1424 N. Main Ave., (210) 320-1416, ouchunderwear.com.

Male B Wear // Billed as San Antonio's "leading retailer of men's underwear, swimwear, and more," LGBT nightlife kingpin Rey Lopez's recently revamped Male B Wear boutique carries styles by dozens of brands, including Andrew Christian, Calvin Klein, Papi and Nasty Pig. In addition to showcasing "your personal attributes," the shop occasionally hosts special events and meet-and-greets with visiting stars from RuPaul's Drag Race. 1700 N. Main Ave., Suite 103, (210) 437-2990, malebwear.com.

Courtesy
Coco Beach

The Dive Crawl

Cobalt Club // It might not look like a whole lot from the outside, but Cobalt Club's lasting legacy might be how it cares for its patrons, i.e. everyone who gets off work late, those who want to keep drinking when the sun rises in the morning. A haven for hospital employees, this straight-friendly gay dive has staying power. 2022 McCullough Ave., (210) 251-2027.

Coco Beach // If you're into Hurricanes and kitschy tropical décor without a hint of pretentious tiki, you'll want to head to Coco Beach. The spot off Nakoma is decked out with palm huts and a strung up marlin above the door so you can't miss it. Once inside, the "Port Aransas-fucked-South-Padre-and-this-is-their-lovechild" vibe persists. Get cozy in the indoor cabanas at your own risk. 12159 Valliant St., (210) 341-5330.
Crazy Ape // Miss Harambe? Crazy Ape does, too. Actually they were fans of ape decorations long before Cincinnati Police shot the Western lowland gorilla in May of this year. Inside, you'll find friendly staff, cheap drink specials, all the popcorn you can eat, pool tables and a general refuge from all things work-related. 9930 San Pedro Ave., (210) 375-5813.

Marty's Cocktails // Practice your karaoke skills in one of the most welcoming of settings. This tiny nook of a bar delivers wild comedy shows, great drink specials, and chill vibes. This country-esque bar is filled to the gills with Texan sport memorabilia (including a painted scene out of most Spurs games with David Robinson and Timmy held in sweet embrace). And there's free wi-fi. 603 Isom Road, (210) 341-9259.
Make My Day Lounge If you're fresh off the late shift, still going from the night before or in need of a morning fix, Make My Day Lounge might be your bar. Stop in early for a dark escape from the morning sun or head in during the evening when they host rowdy karaoke sessions. It's a catch-all bar for anyone looking to satiate their thirst. 12144 Nacogdoches Road, 210-655-6367.

Texas T Pub // Neons and Lone Star in the heart of Downtown: What more do you need? Visit 2016's winner of Best Dive Bar, if you haven't, for cheap drink specials, peanuts, chips and puro nostalgia. 121 Broadway, (210) 271-1058.

Photo by Jaime Monzon
Brass Monkey
St. Mary's Strip Crawl

The Squeezebox
// Jazz, oldies, cumbias — you'll find them all at The Squeezebox, often as performed by living legends such as Jim Cullum and National Medal of Arts recipient Santiago Jimenez Jr. Under the direction of barkeep and mijo, Aaron Peña, The Squeezebox follows in the footsteps of other Danny Delgado-owned joints with reasonably priced drinks and great ambience.
2806 N. St. Mary's St.
TBA
// Ever the service industry-friendly bar, TBA is now in the hands of Austin transplant Ryan Cougs, who spent three years at Barlata Tapas Bar. He's tweaking the menu ever-so-slightly with the addition of a floral Bee's Knees and Night Life with Grand Poppy liqueur or boozy Blood & Horns. The beer list isn't too shabby either.
2801 N. St. Mary's St., (210) 320-1753.
La Botanica
// If you're looking for a watering hole that serves as a safe haven for brown, LGBTQ and everything in between, you've found it at La Botanica. Nosh on vegan tacos before heading out for the night or try any of their patio-friendly cocktails.
2911 N. St. Mary's St., (210) 716-0702.
Cullum's Attagirl
// You'll have to pop over to King's Court for a chance at delicious Southern fried chicken wings and one of the most varied taps on the Strip. The pimento sandwiches serve as good fuel for the rest of your crawl.
726 E. Mistletoe Ave., (210) 437-4263.
Brass Monkey
// Gauge what level of necia/o you want to max out at before visiting Brass. The drink specials are wickedly cheap, and the dance floor is always hot.
2702 N. St. Mary's St., (210) 480-4722.
The Mix
// Under new ownership since October 2015, The Mix has undergone several tweaks but retains that rock-n-roll spirit. There's a shiny new stage, a pink neon swirl that hangs overhead, 20 brews on tap (this also includes cold brew coffee via Merit Roasting to keep the party going), and a rotating ensemble of live music and DJs on weekends.
2423 N. St. Mary's St., (210) 735-1313.

Rumble
// Though Thursday Drake nights aren't guaranteed these days, there are still plenty of reasons to head to Rumble — spacious patio that works as a perch in which to take in all of the action, frosty drinks and an evolving menu for themed nights.
2410 N. St. Mary's St., (210) 365-3246.
Chisme
// The latest eatery on the Strip (opened by the Empty Stomach Restaurant Group) comes complete with a fun happy hour with free chips and queso inside the original Teka Molino. Try La Pistola or namesake Chismosa, a frozen drink that'll catch up to you quick.
2403 N. St. Mary's St., (210) 530-4236.

Hi-Tones
// Back as the Strip's bookend now after The Phantom Room suffered extensive fire damage, Hi-Tones could serve as the start of your crawl. The "Home of the original pickle, chamoy, piña and bomba roja" shots is also the home of XV, a fusion of cumbia and pop to help you relive your quince (or the quince you never had). 621 E. Dewey Pl.,
(210) 785-8777.

Photo by Nick Simonite
Southerleigh Fine Food & Brewery
The Pearl Crawl

How are there not more drunk assholes roaming The Pearl on the regular? Oh, right, 'cause you're looking at a $100 plus bar tab if you tackle each joint separately. So let's cherry-pick a few places for a quickie tour that lets you whet your whistle without breaking the bank. Try this during Saturday's farmers market and make friends with all the dogs you see.
High Street Wine // The newest addition to the Pearl is also a wino haven that hosts free tastings from 11 a.m. to 1 p.m. during market hours. Start here, while your palate still picks up notes of cherry and hints of French terroir. 302 Pearl Pkwy., Suite 104, (210) 908-9144.
Southerleigh Fine Food & Brewery // Grab a beer from Southerleigh's PFM tent and wander around the market some more. You can't go wrong with the Uncommon Texas ale, but do partake in their zanier brews. 136 E. Grayson St., (210) 455-5701.

The Granary 'Cue & Brew // Time for another pint, no? You'll want to get the seasonal brew at The Granary, a recent fave was the ginger Berliner weisse, but you can't go wrong with their brown ale. 602 Avenue A, (210) 228-0124.

Botika // After three drinks, you should probably grab a snack. Go for the $5 veggie eggrolls at Botika and let your bartender suggest either the $5 draft beer, select wine, sake by the glass or spirit of the day. 303 Pearl Pkwy., Suite 111, (210) 670-7684.
Cured // Happy hour at Cured runs from 3 to 6 p.m. Monday through Saturday so pop-in after the market for half-priced house cocktails like the Boy Named Suze with Waterloo Antique Gin, Suze, absinthe, Peychaud's bitters or the Sour Scot with blended Scotch whiskey, oatmeal stout, egg white and Meyer lemon juice. Yum. 306 Pearl Pkwy., Suite 101, (210) 314-3929.
Blue Box // By now, happy hour at Blue Box (4-2 a.m. daily) has started. Choose your poison wisely. 312 Pearl Pkwy.

La Gloria // At this point, you'll want carbs and lots of them. Spring for the chips, buy a molcajete and soothe your soul with a mango margarita. Prop up any wiped out friends a la Weekend at Bernie's so they appear to be gazing at the Museum Reach. 100 E. Grayson St., (210) 267-9040.


Photo by David Rangel
The Brass Tap

The Rim Crawl

The Brass Tap // Brass Tap tries hard to connect with its locale. Out of 60 beer offerings on tap, nearly 20 were San Antonio products. In addition to the local beer, Brass Tap also promotes a community feeling through their "Brew Crew" program, a rewards system that individuals pay $15 to join, after which they receive a T-shirt, the opportunity to accrue credit, access to incredible discounts and — though intangible — a sense of belonging. 17619 La Cantera Pkwy., Suite 2-208, (210) 670-7090.
Mash'd // Mash'd wins big points for its friendly, knowledgeable service, as well as its focus on moonshine. Though moonshine technically refers to any high-proof spirit made illegally, most American moonshine uses corn, which through a process called mashing (hence Mash'd), ferments and can be distilled into liquor. If your curiosity should incite you to order a flight of moonshines, understand that you've essentially ordered yourself four shots of a very close relative of vodka. You can pick one of their pre-arranged flights ($14) or pick four of your own ($15), but regardless, be ready for a heady dose of alcohol. 17623 La Cantera Pkwy., Suite 107, (210) 538-5833.
The Lion and Rose // Though the Broadway location now solely focuses on catering and parties, soccer fans and lovers of all things pub-like can find solace at The Lion & Rose where they boast a 1,500 square-foot patio, 32 beers on tap, a full menu and almost too many TVs. It's perfect for when you're hoping to unwind, chat about the Brexit or escape rush hour traffic on I-10 and 1604. 17627 La Cantera Pkwy., (210) 798-5466.

The General Public // Points are scored here for their commitment to themes. Through December 31, The General Public is hosting happy hour cocktail parties from 4 to 7 p.m. Monday through Friday. The usually posh restaurant will ditch some of its usual décor for a new 60's style motif that harkens of The Jetsons, because why not? 17619 La Cantera Pkwy., Suite 102, (210) 920-1101.