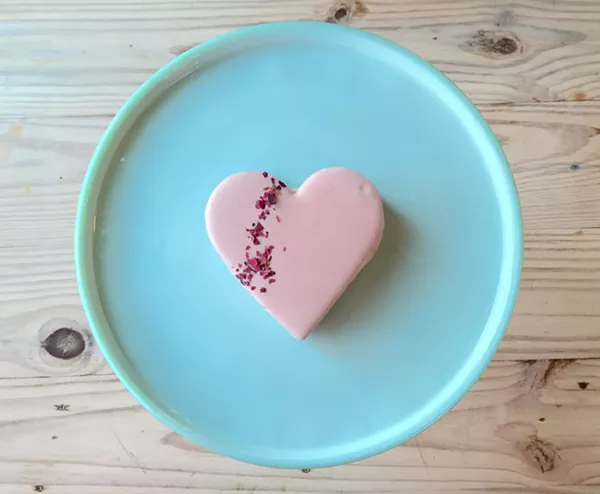 Courtesy of Bakery Lorraine
Valentine's Day doesn't fall on a weekend, this year, but you'll still want to get those reservations in ASAP. If you can fathom eating a five-course meal and then taking your boo to the bone zone, check out the following Valentine specials.
Bakery Lorraine:
Both locations of this local favorite will feature sweet goodies throughout February including heart-shaped pop tarts and moonpies, raspberry rose Japonaise, and specialty macarons including chocolate-dipped strawberry macarons.
Prices vary, multiple locations, bakerylorraine.com.
The Bin:
Enjoy a tapas tasting menu with your choice of six plates such as Spanish chorizo and queso, pan tomate, Serrano ham-wrapped dates and more.
$25 per person, February 14, 4-11pm, The Bin, 511 E. Grayson St., (210) 994-8099.
Bite Restaurant
: The prix fixe menu at this tiny Lavaca fave includes three courses. Choose between fennel and Champagne soup, goat cheese and fig tarts, pear, goat, gorgonzola salad or prosciutto melon salad; lobster risotto, beef tenderloin with potatoes au gratin, butternut squash ravioli, pan-seared scallops; and pistachio gelato or creme brûlée.
$60 per person, February 14, 5-10pm, Bite Restaurant, 1012 S. Presa St., (210) 532-2551, biterestaurantsa.com.


Boiler House Texas Grill & Wine Garden:
Chef Jeff White will romance you with specials for the evening including poached egg, truffle and bacon cheese grits ($15); lobster gnocchi with sweet pea and fingerling sauté, and caviar Buerre Monte with pea tendrils ($19); braised Wagyu short ribs with exotic mushroom bordelaise and house creamy spätzle ($29); diver scallops with country ham, asparagus and Meyer lemon butter ($35); 52-day dry-aged cowboy ribeye with duck fat fingerling potatoes, roast bone marrow, asparagus and Bordelaise and Bearnaise sauces (market value); and finally for dessert, a bourbon chocolate pie with maple bacon ice cream ($8).
Prices vary, February 14, 3-10pm, Boiler House Texas Grill & Wine Garden, boilerhousesa.com.


Boudro's Texas Bistro:
Swoon over your dinner on the river with choice of starter (cow's milk burrata with grape tomatoes, mint, basil, mustard seeds, balsamic and toasted focaccia or mixed field greens with goat cheese, Roma and sundried tomatoes and toasted pecans); entree (wood-grilled Atlantic salmon or petite beef tenderloin); and dessert (Grand Marnier crepe cake with Nutella mousse and compressed strawberries).
$45 per person, February 14, 3-11pm, (210) 224-8484,
boudros.com
.
Brio Tuscan Grille:
Keep things relatively light with a two-course dinner at Brio. Choose your soup or salad and then an entree (chicken saltimbocca, scallop risotto, crab-stuffed shrimp and lobster tail, or center-cut filet mignon).
$20.95-$29.95, Brio Tuscan Grille, available February 10-14, brioitalian.com.

Las Canarias:
Sweep your boo off his/her feet with dinner at Las Canarias. Start with a trio of chilled Canadian oysters (wink); choose between truffle butter-poached Alaskan King crab or filet mignon with baby root veggies; and end with a chocolate ganache bar with strawberry and passionfruit.
$85 per person, wine pairings available for an extra $35 per person, February 14, Las Canarias at Omni La Mansion, 112 College St., (210) 518-1063.
Crumpets Restaurant & Bakery:
Sit on the patio and enjoy the view while noshing on a special four-course menu and live music by Terry Muska.
Prices vary, February 14, 5:30-10pm, Crumpets Restaurant & Bakery, 3920 Harry Wurzbach, (210) 821-5600, crumpetsa.com.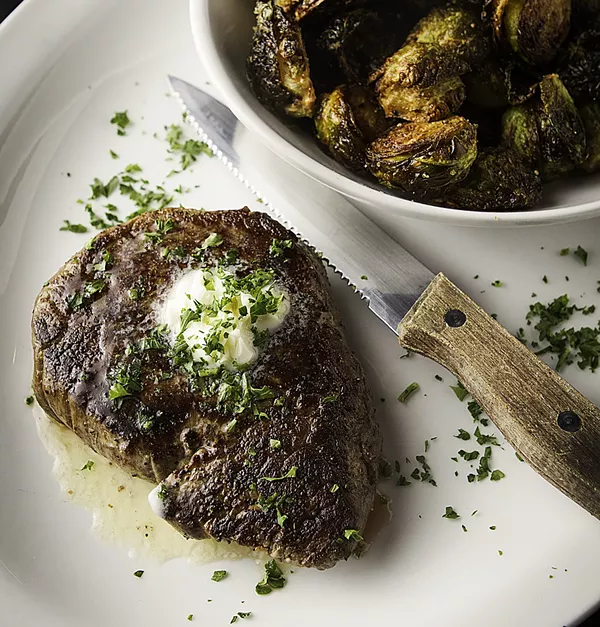 Courtesy of Down on Grayson
Down on Grayson:
Get that meat-loving beau of yours something they'll love: steak and frites a la Grayson ($19) and pair it with a bottle of Vall Lach Embruix with notes of black cherry jam, fennel and toasty oak.
Available February 12-14, 303 E. Grayson St., (210) 248-9244, downongrayson.com.

Frank:
Stop in for $12 El Libre wines by the bottle (cabernet sauvignon, sauvignon blanc, rosé). If you plan ahead, you can get hitched in the repurposed Methodist church by Frank owner, Daniel Northcutt, by appointment only.
11 a.m.-midnight, February 14,
Frank, 1150 S. Alamo St., (210) 265-5292, hotdogscoldbeer.com.
The Granary 'Cue & Brew:
Take your sweetheart to enjoy one of SA's finest restaurants. Choose one dish from each Welcome, Savor, Stay courses and let the staff do the rest.
$55 per person, 5:30-10pm, 602 Avenue A., (210) 228-0124, thegranarysa.com.
Il Forno:
Gaze into your SO's eyes over a Napolitano-style pie at Il Forno. The menu includes green salad for two, an entero pizza and chocolate beet cake.
$25 per person, $20 bottle of prosecco, 5:30-9pm, February 14, Il Forno, 122 Nogalitos St., ilfornosa.com.
Jazz, TX:
Is Jazz the sultriest joint in all of The Pearl? Yep. The sexy lineup includes an Italian-themed performance of Sinatra tunes by Doc Watkins and Johnny P. along with a three-course prix-fixe meal with choice of calamari or roasted caprese salad; truffle ricotta-stuffed tortellini or braised beef cheek; and tiramisu or raspberry panna cotta.
$150 per couple, 6:30pm seating, 8pm show, February 14, Jazz, TX, 312 Pearl Pkwy., Building 6, jazztx.com.
Josephine Street:
Celebrate at one of San Antonio's most beloved eateries with an iceberg wedge salad, 7-ounce bacon-wrapped filet, and homemade cheesecake all for $22.25.
Available February 10-14, Josephine Street, 400 E. Josephine St., (210) 224-6169, josephinestreet.com.
Kona Grill:
Make it a sushi night with Kona Grill as they host choice of starter (individual soup or salad, or potstickers or shrimp and lobster roll to share); entrees (Macadamia nut chicken, NY strip, miso-sake sea bass, pork tenderloin or sushi and sashimi combo) and finisher (any of the homemade desserts for an additional $6).
$44.95 per couple, February 14, multiple locations, konagrill.com.
Magnolia Pancake Haus:
The doors of Magnolia Pancake Haus open for one romantic evening, as the Medical Center location hosts 70 diners for Valentine's Day. Enjoy a five-course meal (with choice of entree: beef short rib, Roma chicken, vegetarian stuffed pepper and bourbon-glazed salmon).
$60 per person includes glass of Champagne and gratuity, February 14, 6:45pm, Magnolia Pancake Haus, 10333 Huebner Road, (210) 496-0828, magnoliapancakehaus.com.
Nao Latin Gastro Bar:
The romance continues at Nao where they'll offer a three-course dinner menu the weekend before Valentine's Day.
$140 includes food for two and a bottle of wine, February 10-11, Nao, 312 Pearl Pkwy., (210) 554-6484, naorestaurant.com.
Nectar Wine Bar:
Grab your boo and head in for a three-course dinner that includes a crab cake starter, filet mignon skewer with potato and vegetables and raspberry mousse in a chocolate cup as paired with four wines.
$50 per person, February 14, 7pm, Nectar Wine Bar, 214 Broadway, (210) 375-4082, nectarsa.com.
Ocho:
Take a seat at Hotel Havana's Valentine's Day Shiner Supper Club. The three-course feast (with choice of butchers cut steak with papas bravas or seared salmon with crispy artichoke hearts as a main) will feature suggested Shiner pairings.
$150 per couple, February 14, 7 and 8:30pm seatings, Ocho, 1015 Navarro St., (210) 222-2008, havanasanantonio.com.

Ostra:
The Mokara Hotel's Ostra packs in the seafood bites with an amuse bouche of oysters and pearls, first course seafood trio of hamachi crudo, King crab and gulf shrimp, cocoa-roasted duck breast and dark chocolate bar. Aphrodisiacs all around.
$75 per person, $35 for additional wine pairings, 5-10pm, February 14, Ostra, 212 W. Crocket St., (210) 396-5817, omnihotels.com.

Paramour:
Downtown's rooftop bar will feature chocolate flights with curated cocktails. Try the dark chocolate-covered caramels with sea salt paired with the house barrel-aged Old Fashioned. Special Champagne bottles will also be available with free charcuterie board.
Prices range between $125-$300, 102 9th St., Suite 400, (210) 340-9880, paramourbar.com.
Las Ramblas:
Valentine's Day dinner at Las Rambles features three courses. Choose between a gulf shrimp cocktail, portobello fries, corn chowder, or Romaine hearts; grilled filet of beef with lobster risotto, port-braised lamb shank, pan-roasted salmon, or gnocchi; and chocolate trifle or molten red velvet cake.
$55 per person plus tax and tip, 5-10pm, February 14, Las Ramblas, 306 W. Market St., (210) 298-8040.
Restaurant Gwendolyn:
Reservations are an absolute must for this dining experience that includes caviar service, oysters on fire, a root vegetable salad with ricotta and Balsamic, heart tartare, steak au poivre or fish with beurre blanc, and a chocolate gateau and white chocolate mousse all created by chef Michael Sohocki and his staff.
$125 per person, February 14, 5:30-10pm, Restaurant Gwendolyn, 152 E. Pecan St., Suite 100, (210) 222-1849, restaurantgwendolyn.com.
Shuck Shack:
Things are going to get sensual with $1.50 Gulf oysters, and baked oysters Rockefeller for $16. The day will feature $3 rosé starting at 11 a.m.
February 14, 11am-10pm, 520 E. Grayson St., (210) 236-7422, shuckshack.com.
Sisters Grimm:
Is your Valentine spooky? Hold them close as you tour some of San Antonio's most haunted spots. Enjoy a three-course meal inside the haunted Menger Hotel and follow it up with a walking ghost tour, or hop onto one of their macabre buses.
$75 for walking tour, $95 for bus tour, times vary, February 10, 11 and 14, check sistersgrimmghosttour.com for availability.
Southerleigh Fine Food & Brewery:
Stop in for dinner specials from the Pearl's casual seafood eatery. And don't forget to pick up his and her matching beer glassware.
Prices vary, 5-11pm, 136 E. Grayson St., (210) 455-5701, southerleigh.com.


Sukeban:
The Valentine's Day offers are bifold at Sukeban. Couples can choose between option 1: (steamed chicken dumplings, miso soup, three speciality rolls, and cheesecake) or option 2: edamame, seaweed salad or miso soup, selection of sashimi and speciality rolls and cheesecake.
$55 or $69, respectively, February 14, 3-10pm, 1420 S. Alamo St., (210) 562-3231, facebook.com/sukebansushi.
Tacos and Tequila:
Treat your loved one to Hot Rock Fajitas (grilled chile pepper steak, orange Sriracha chicken skewers served on a sizzling hot Himalayan pink salt rock, with black beans, ginger rice, signature salsas and flour tortillas) paired with a 64-ounce Big Boy Pitcher of house rock margaritas.
$45 for two, February 14, 4-9pm, Tacos and Tequila, 1915 Broadway, Suite 111, (210) 314-8226,
tacosantequilatnt.com
.
Tre Enoteca:
Whisk away to Italy with your significant other for your choice of oven-roasted chicken, pan-roasted salmon with braised white bean ragout or pan-seared gnocchi with blue crab, Meyer lemon and thyme. Or upgrade your entree to a Tuscan-marinated 12-ounce NY strip with grilled asparagus, roasted cippolini and natural jus for an added $14.
$60 per person, $30 for added wine pairings, February 14, 4-10pm, Tre Enoteca, 555 W. Bitters Road, (210) 496-0555, treenoteca.com.
Tre Trattoria:
Whether you choose the charred cornish game hen or not, you'll want to finish this four-course dinner with the Dady's signature Nutella X 3 dessert. Trust us.
$70 per person, $30 for added wine pairings, February 14, 5-10pm, Tre Trattoria, 4003 Broadway, (210) 805-0333, tretrattoria.com.
Tribeca:
Olmos Park's Tribeca will feature Mediterranean-marinated lamb chops, pan-seared grouper, or pan-seared tenderloin as a main.
$40 per person, February 14, 4-10pm, Tribeca, 4331 McCullough Ave., (210) 320-0698, tribeca212.com.
Zinc Bistro & Bar:
Enjoy four courses with your boo at Zinc with chateaubriand steak for two with grilled asparagus and Bearnaise and Bordelaise sauces and a chocolate box for two with chocolate dipped strawberries.
$75 per couple, February 14, 3-11pm, Zinc, 207 N. Presa St., (210) 224-2900, zincwine.com.