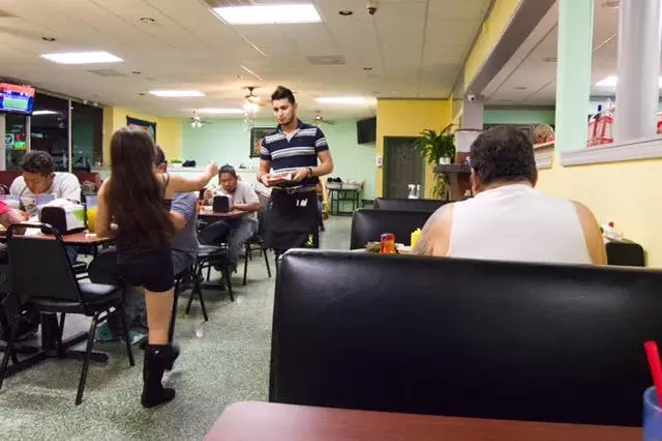 San Antonio — a city with close culinary and cultural ties to Mexico and Central America — is slowly expanding its mercados to include the rich ingredients and dishes found across South America. Tienda Centro America is a delicious hybrid — half-restaurant, half- mini-mart — that celebrates the foods found in countries throughout the South and Central Americas and recently relocated from its former digs at the opposite end of the block.
Tienda is not a place to hurriedly shop and eat, especially on your first visit. This is a space where family and friends come to eat, laugh, gossip with the cashier, linger at tables, and occasionally look up at TVs to check out the fùtbol matches. Call at least 20 minutes in advance to place an order for pick-up, or prepare to wait.
If you're just walking through the door, ask for a menu and order carne asada (or meat of choice) to-go. Tell the cashier that you will pay for your groceries and order together; grab a basket, and make a sharp left to pick up fresh onions, red and green bell peppers, cilantro, parsley, two cloves of garlic, and a couple of platanos.
Look for the refrigerated case mysteriously labeled "Sandwiches," and pick up a couple of containers of dulce de leche. Attempt to ignore the aisles of conchas and palmiers, and head toward the money order counter, where you can pick up several packages of sugar cookies, located to the right of the counter.
Turn around and walk to the standing shelf for oregano, tomato paste, comino, salt, red pepper flakes, and black pepper. Products are often rotated throughout the store, so ask the cashier to point out the ingredients if you can't find them.
Look to the freezers on your left and pick up several packages of GOYA's discos para empanadas (six discs per package), or explore cheeses from Honduras, Guatemala, El Salvador. Keep walking along the coolers to check out their extensive soda collection, which includes everything from Jarritos and Micoco to Mexican Coke and Tropi-Cola. If you have extra time, stop by the back shelves for new veladoras, varieties of pasta and flour from Columbia and Peru, and an odd collection of fùtbol jerseys and cleaning supplies (sorry, no Fabuloso). Pick up the nearby small bottles of vegetable oil and red wine vinegar.
Your to-go order should be ready by now; head to the register to pay for your groceries, and make any final impulse buys (looking for a new bed sheet set?) before you head home. Don't put anything away in the fridge; allow the ingredients to come to room temperature.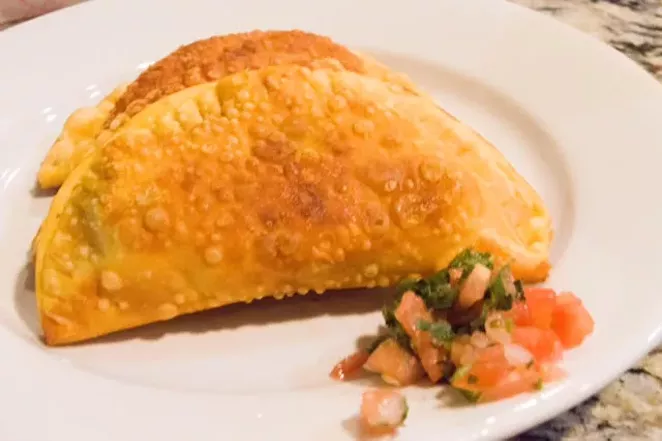 Chimichurri: In a blender, add garlic, 2 tablespoons of chopped onion, ½ cup of oil, ¼ cup of vinegar, ½ teaspoon of black pepper, ½ teaspoon of red pepper flakes, 2 tablespoons of oregano, ½ cup of lightly packed cilantro, ¼ teaspoon of salt, and 1 lightly packed cup of chopped parsley and blend until well-chopped. Cover and leave out until ready to use.
Empanadas can be found in nearly every Spanish-speaking country, but in Argentina, they are served with a savory chimichurri sauce. First, dice onion and bell peppers and place to the side. Chop the meat into smaller, cubed pieces and add to a bowl with 2 tablespoons of tomato paste, chopped peppers and 1 tablespoon of onion. In a saucepan with oil over medium heat, cook the meat mixture for about three minutes; remove from heat, add ½ teaspoon of comino and mix the ingredients. Allow filling to cool slightly, before storing in the fridge.
Remove the discs from the package and allow dough to thaw; separate the discs and roll the discs to slightly spread out the dough.
Spoon 2-3 tablespoons of the cooled filling in the center of each disc. Using water, wet the outer half of each disc before folding over dough and crimping the edges with the tongs of a fork. Place empanadas in pan with oil over medium heat; cook both sides of the empanadas until golden brown. Allow the empanadas to rest at least five minutes before you eat them; serve with chimichurri or your favorite hot sauce.
Plantains are a delicious, healthy and versatile food that can be found in many South American countries, including Argentina. We are going to peel, thinly slice, and remove nearly all nutritional value when we fry these in hot oil. Place in a pan with oil over medium-high heat and fry between one and three minutes, until evenly browned and tender.
Looking for a healthier option? Arrange sliced plantains in even rows on a covered baking sheet, and bake at 375 degrees for 15-25 minutes; flip plantains halfway through the total baking time. Remove the plantains from heat, and sprinkle with the desired amount of salt. Allow them to cool before serving, or quickly eat them before anyone else realizes there are incredible plantain chips lying around.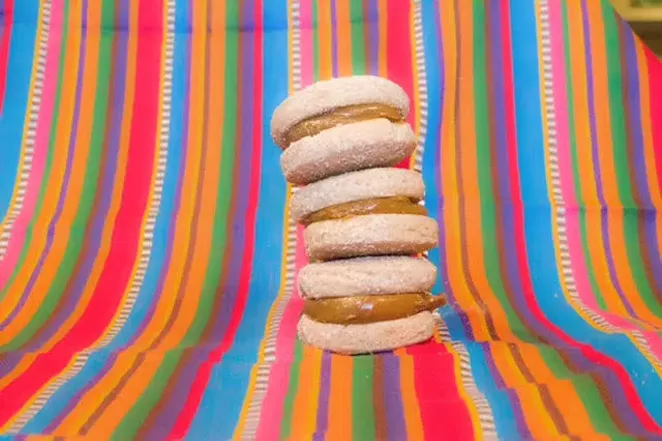 Alfajores are soft, buttery cookies that remain a sweet favorite among Argentinians. These cookies are way easier to make. First, remove the sugar cookies from the packages. Using a spoon, scoop the dulce de leche and spread generously on the bottom of a single cookie; line up with another cookie to form a sandwich. Serve alfajores with coffee, and nod politely as your guests admire your culinary know-how and flawless technique. Show off your new bed set, and remember that thriftiness and resourcefulness will translate anywhere.
3915 San Pedro Ave., (210) 733-8951.