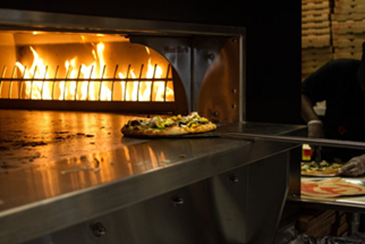 Firenza Pizza, a growing franchise that claims "pizza like never before," is coming to San Antonio.
The franchise, based in Virginia, specializes in hand-crafted, made-to-order pizza. The spot will host nearly weeklong grand opening from Monday, December 18 to Saturday, December 23. Like most grand openings, Firenza Pizza is bringing out all the stops for the celebration.
If you donate $2, you'll get a free two-topping pizza and your donation will go to the Susan G. Komen Foundation, William Taft High School and Communication Arts High School. Plus, the first 10 people in line on Friday and Saturday will earn themselves free pizza for a year.
"We couldn't be more excited about bringing
Firenza
to San Antonio," said Bola Sanni, who will run the new restaurant, via press release. "We look forward to becoming the go-to fast-casual pizza place in The Alamo City."
This pizza spot gives plenty of options for pizza customization with nearly 40 toppings. Don't worry if that sounds overwhelming, you can also choose from eight signature chef-inspired pizzas. Every pizza is baked in an open flame stone-hearth oven and is ready within five minutes.
A simple cheese pizza starts at $5.99 with toppings at 99 cents each, while signature pizzas start at $8.49. Firenza also dishes out customizable salads, oven-baked wings, homestyle meatballs, breadsticks and more.