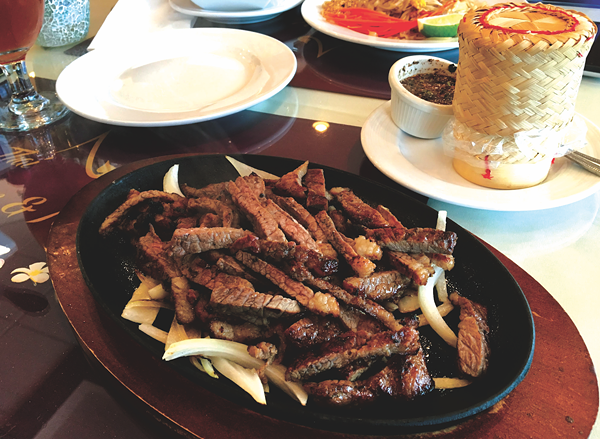 Most San Antonians not of the Anthony Bourdain bent have had scant opportunity to sample the cuisine of Esan (Esaan, Isan…), Thailand's, vast northeastern province bordering on Laos and Cambodia. Blink in 2016 and you missed Baan Esaan, as far as I know the city's first restaurant to feature the food of the region. Run by a cocky half-Thai kid backed up with female family members in the kitchen, BE introduced Southtown to the spunky-spicy somtum salad of green papaya that's an Esan specialty, to uncompromisingly odd yet irresistible sauces and pastes utilizing ingredients such as cow's skin, and to lidded baskets of resilient, sticky rice, the essential accompaniment to fermented sausage.
Baan Esaan might have been just a little too uncompromising. Apparently not about to make that mistake, low-key Thai Esan has hedged its bets with a selection of Chinese favorites and anodyne appetizers such as cream-cheese filled seafood rangoon. As good as the kitchen's renditions of orange chicken might be, we're confident that cocky Current readers will want to concentrate instead on those dishes that more truly represent the region. (Pro tip: you may need to push back, in firm but friendly fashion, against well-meaning staff that will assume you're just some rube in off the street not willing to be challenged.)
Thai Esan meatballs, pork version, were only a semi-success. Springy yet surprisingly moist, these deep-fried orbs need a little spice to make them more interesting; the house-made sweet chili sauce just didn't do the job. But, to the rescue, the house rendition of a classic fish sauce with lime, sugar, chili and cilantro. It's both more delicate and more complex than many you will have had at other Thai and Vietnamese restaurants, and it will come in handy frequently over the course of your meal.
Meatballs are a part of many culinary cultures, but the Thai Esan fried sweet eggs don't have a lot of competition. Often called Son-in-Law eggs, they're first hard-boiled, then fried (this gives the eggs a kind of skin), halved, and topped with a sweet chili sauce that traditionally contains tamarind and palm sugar. Toppings include crushed peanut and scallion, and the success of this unlikely-seeming combination is one of the reasons reviewing remains rewarding after all these years.
There are still things to be learned about Asian soups, too. Two "signature soups" cohabit on the restaurant's menu; we picked tom saap due to the distance the ingredient list implied from standbys such as tom yung. And we loved it. Tender tripe gave the bowl a lacy visual component, beef added depth, and galangal, kaffir lime, and lemongrass provided citrusy fragrance and flavors.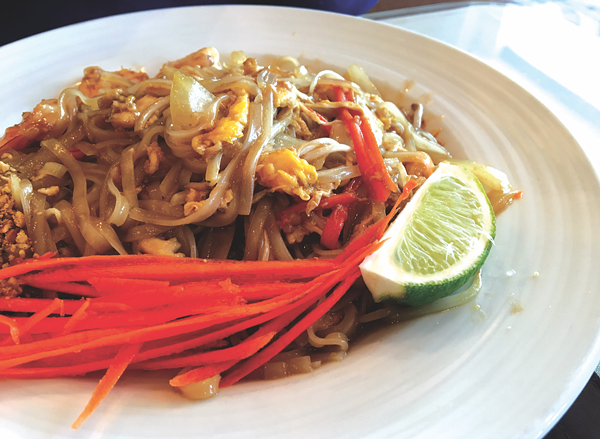 And there's more to know about sticky rice. "We like to pinch off a bit and eat it with the papaya salad," (often called somtum) said the owner. "I also prefer cabbage to lettuce as a wrap," she continued, citing its heftier crunch. You may not like the resilient rice on its own (I find it annoyingly chewy — though good when grilled), but there's no doubt that, in combination, textures run the full gamut in a single mouthful. Even ordered spicy (but not "Thai Hot"), the green papaya and carrot salad isn't as incendiary as some I've had, and you need to think of the salad's dried shrimp the same way you might a bay leaf — as seasoning but not to be eaten. But wrapped and rice-stuffed, it's all a thrill ride.
Sticky rice serves another function with the fermented pork sausage: it helps keep the accessory peanuts and grated ginger in place. Taken alone, the sausages aren't as funky-fermented as the ones I first tried at Baan Esaan; with accents of lime leaf and lemongrass, they skew more to the mild side if ordered "regular." (If you want them "spicy", you may have to have another discussion with staff.) But, again, it's the package that wins it.
Now, in this push-back climate, may be the time to suggest another hashtag: #embraceunfamiliarfoods. We had one more encounter with our delightful but dubious waitress over a noodle order. We wanted the Thai Esan dry noodle "tossed in tangy house sauce"; she was convinced we would prefer Spicy basil noodle — and we finally gave in. In any other setting, this veg-filled plate with clear noodles and Thai basil might have been perfectly acceptable (and it benefitted by a dousing in that fantastic fish sauce), but here it brought nothing new to the party. On their way out, some friends who own local restaurants allowed us a sample of the doggie-bag dry noodles they had been insistent enough to order. Much more interesting.
Moral: Stand up for your rights as an adventuresome eater. (Instead of mango and coconut sweet rice for dessert, go for the far more exotic Ruam-Mit, for example.) Eventually, your palate will thank you.
Thai Esan & Noodle House

9820 Huebner Road, Suite 109, (210) 877-0888
The Skinny:
Thai Esan provides a window into the mostly unfamiliar cuisine of Northeastern Thailand. Standout dishes include the classic somtum salad of shredded papaya with carrot, fried sweet egg with crushed peanut and scallion, a fragrant soup called Tom Saap, and fermented sausages — order them as spicy as you dare. And ladle the house fish sauce over almost everything but dessert.
Best bets:
Papaya salad, Thai Esan sausage, Thai Esan fried sweet egg, tom saap soup, Thai Esaan dry noodle
Hours:
11am-3pm Monday, 11am-9pm Tue-Fri, noon-9pm Sat, noon-7pm Sunday
Prices:
$8.99-$16.99