At Villa Rica, Chef Johnny Hernandez's latest venture, servers wear T-shirts printed to resemble guayaberas, the crisply pleated and embroidered shirts favored by men of a certain age. It might be tempting at this point to imply that as the T-shirts merely suggest the real thing, so does the restaurant's Mexican seafood menu only sketchily resemble what one might find, say, on the beach in Mazatlan. (I'm looking at you, pescado zarandeado.)
But despite some missteps, what's coming out of Villa Rica's side of the kitchen shared with Burgerteca is an honest enough reflection of the cooking of both Mexican coasts to merit our attention, albeit at prices that don't allow for taking random pot shots. But that's what we're here for.
To get this out of the way first, the Tampiqueña plate, indirectly from Tampico by way of a chef who moved to Mexico City from there in the 1930s, is to be avoided unless you're in the company of ornery Uncle Edgar who, even at a seafood restaurant, only eats beef. In which case he gets what he deserves: the classic arrachera (skirt) steak itself was reasonably tender but had no real flavor; there was plain white rice; a scoop of competent but in no way distinctive guacamole; legitimate but only marginally interesting enchiladas made by passing corn tortillas through a mild tomato sauce; and tiny fried plantains. You can't go wrong with fried plantains of any size.
If only Edgar could be inveigled into attempting the ceviche Veracruzano. It's not a fancy rendition, but it's absolutely true, clean and fresh — a good introduction to the genre.
Among Villa Rica's small plates, you might well be tempted, as I was, by the fish minilla (hash) empanadas; they sound way better than they are. On two occasions, the masa packets came away as seeming both pasty and under-seasoned. The eager-to-please chef came by a second time, asking how everything was, so I told him. His response was to bring out a ramekin of crunchy/punchy chileajo salsa. Don't waste his or your time — just ask for this automatically at the beginning of every meal. It does wonders for almost everything and is much more interesting than the table's merely fiery habanero salsa. A jot of it wouldn't have hurt even the appealingly inventive soft shell crab tacos with their guacamole and crisp serrano ham.
Fish enchiladas rojas are the most substantial option among the small plates, and you should absolutely try them. Here, the spicing is just right, the fish holds up texturally, and the plate satisfies at every level, with crema and queso fresco adding welcome grace notes. Speaking of texture, it's a quality that weighs heavily in any dish featuring octopus—and Villa Rica's pulpo chielajo is no exception. Fortunately, it's an exception in the positive direction. The formidable loop of cephalopod, its suckery apparatus all-too-apparent, would be daunting to most. But though the chileajo cloaking is a little one-note in this context, its heat does tame a beast whose texture offers some resistance but not resilience. The refried black beans on this plate came mixed with white rice in a kind of unfortunate mash-up of the Caribbean's classic Moros y Cristianos. But then there were those fried plantains…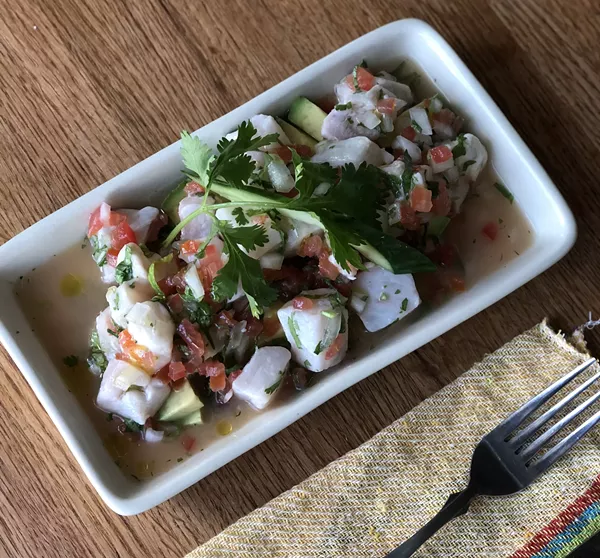 Perfect in almost every way was my favorite plate of all those sampled at VR: the fish fillet (corvina, or drum) a la Veracruzana. This classic recipe depends on a harmonic (and not hot) blend of tomatoes, onions, capers and olives, everyday herbs such as bay and oregano — and expertly cooked fish. There's nothing to hide behind, and the kitchen triumphed.
My second favorite plate was a dessert, the sweet corn torte with coconut ice cream. (On my first visit, I sneaked next door to Burgerteca for a paleta, a tactic I can also recommend.) Almost pudding-like, the torte sports just enough whole kernels of corn to convey legitimacy, and the coconut ice cream is an altogether amiable companion. I took my time with this while sitting on Villa Rica's narrow patio flanking the Mission Reach running-walking-skate boarding-sauntering-biking-dog walking trail, all the time aware that running is what I probably should have been doing instead of dessert. But to hell with it. In the fading light, even watery mojitos somehow seemed magic.
Villa Rica
Hours //
5-10pm Tue-Thu; 5-11pm Fri-Sat; 10-4pm Sun;
Cost //
$15-$27
Best Bets //
ceviche Veracruzano, fish enchiladas rojas, pescado a la Veracruzana, sweet corn torte with coconut ice cream.
The Skinny //
Villa Rica, featuring seafood of Mexico's coasts, is Chef Johnny Hernandez's latest venture, this in partnership with the Guzman family of Veracruz. Not everything on the menu works, the fish empanadas being an example, but when the kitchen hits its stride with ceviche Veracruz style, pescado a la Veracruzana, fish enchiladas rojas, and corn torte, all's well on both western and eastern fronts.
So many restaurants, so little time. Find out the latest San Antonio dining news with our Flavor Friday Newsletter.