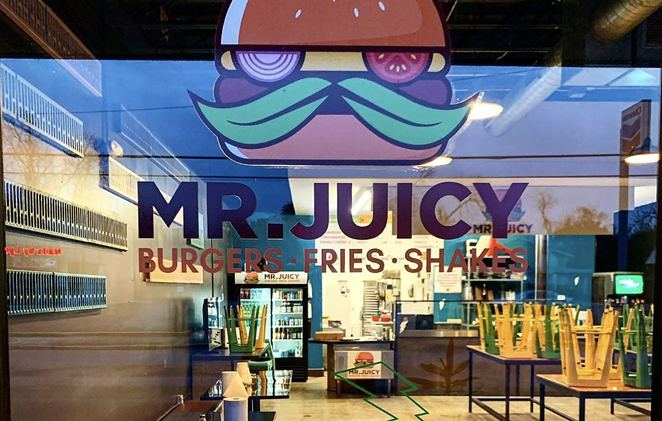 Instagram / mrjuicyburger
In the court of public opinion, the
ongoing beef
between San Antonio hamburger chains Mr. Juicy and Longhorn Cafe appears to have one clear winner.
After a trademark dispute between the two burger purveyors simmered over into social media, local Twitter users said Longhorn Cafe's cease-and-desist letter demanding Mr. Juicy change its name left a bad taste in their mouths.
"I have been a frequent customer of Longhorn Cafe throughout this pandemic. But I can no longer support them in light of this ridiculous, needless, money-wasting legal action. You're misdirecting your efforts, Longhorn - and it's shameful," Twitter user @DoctorAng
said
.
Weighing in on the dispute, other Twitter users pointed out that Longhorn Cafe utilizes a cow silhouette and burnt orange tones in its advertising, much like a certain public university in the Lone Star State.
"A trademark infringement claim coming from a restaurant that uses a longhorn logo AND burnt orange color scheme is really rich," @TylerFischbeck
tweeted
.
"Longhorn Cate (sic) is a bunch of dried out non juicy choads [sic]," @digitlacuache
declared
. To drive the point home, @N7Zebracakes
replied
: "Mr. Juicy is #WAP, @Longhorn_Cafe is Ben Shapiro's wife."
The feud is ongoing, but Mr. Juicy owner Andrew Weissman has said he'll fight until the end — which, if fan @jgillm is to be believed, has already come.
"I am going to declare you the official winner of the #BurgerWars," she
tweeted
.
So many restaurants, so little time. Find out the latest San Antonio dining news with our Flavor Friday Newsletter.