Ramón Rodríguez - Transformers: Revenge of the Fallen
By Kiko Martinez
San Antonio Current contributing writer
Standing at the base of an Egyptian pyramid, actor Ramón Rodríguez didn't miss the opportunity to take a moment and let it all sink in. Not only was he shooting a scene for Transformers: Revenge of the Fallen, one of the most anticipated blockbusters of the summer, he was also living a childhood fantasy.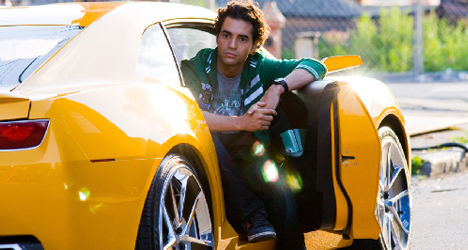 "I was excited because I grew up watching the cartoon and playing with the toys," said Rodríguez, who is of Puerto Rican descent. "It's like I'm in the middle of a huge whirlwind. It's intense. I've never experienced anything like this."
Just off the release of his first summer film, The Taking of Pelham 123 with Denzel Washington and John Travolta, Rodríguez now stars in Revenge of the Fallen as Leonardo Ponce de Léon Spitz (AKA Leo), a college roommate of Sam Witwicky (Shia LaBeouf), who runs a website on conspiracy theories.
Rodríguez spoke to me about how fast-paced it really is on the set of a Michael Bay film and why he's okay with letting computer-generated robots take some of his spotlight.
Transformers is so popular here in the U.S., but when you're promoting it internationally does that put it into perspective how huge it really is?
You really don't have any idea. We just got back yesterday from our international press tour. We were in Tokyo, Madrid, London, Amsterdam, Vienna, and Rome. Shia `LaBeouf` and Megan `Fox` both told me that this was going to be a life-changing thing. But even hearing that you still don't know what to expect. Next thing you know, I'm filming on the pyramids in Egypt. It's was insane.
So many actors don't even get the chance to get off the Hollywood lot and here you are in Egypt. What was it like shooting on location?
Man, I had to keep a journal throughout the whole thing and take a lot of photos because working with `director` Michael Bay, it's incredibly fast-paced. Everything is 100 mph. It feels like you're on this machine. We call it "Bay-os." It's Michael Bay chaos. When I was on the pyramids I literally had to just stand there and write about everything I was feeling. It's so humbling. You can't even image how big the pyramids are. You think you know and they you stand by them and you're like, "Wow!" You feel like a little ant. At the end of the day we're shooting a robot movie, but look where we're at.
With a film like this that relies so much on special effects, do you worry that people won't notice what's going on from the acting side of things? I'm guessing it's pretty easy to be overshadowed by Megatron.
(Laughs) Yeah, if I get upstaged by Megatron or Optimus Prime it's all good with me. There are some really funny moments in this film. My character, Leonardo Ponce de Léon Spitz — I love saying that name — he's got some funny moments that are really going to mix in well. I mean, you can have a lot of action and explosions and robots beating each other up, but if there isn't a human factor people aren't going to connect to it. I think that's the importance of my character.
In real life, are you a conspiracy theorist like your character?
I like to question things. I always like to hear both sides. I think there are a lot of things that we don't know about especially in politics and government. I think it's important that people don't become nonchalant and lazy about finding out the truth. It's important to challenge things and not accept everything.
Other than yourself, who is the most excited about your role in this movie?
My mom! Right now she is flipping out in New York City. I actually bought her and my three sisters tickets to fly out for the L.A. premiere. I don't think they have any idea what they're coming out for. I can't wait to see their faces. My family is really emotional so I'm sure they're going to be a lot of crying.
What do you bring to this sequel as a Latino?
I bring a lot of sabor (flavor) and a different kind of character. The character starts of completely in control, but then he gets tossed into this real-life situation with all these robots. I really think the people are going to enjoy the journey through Leo's eyes.