Stephanie Andujar - Precious: Based on the Novel Push by Sapphire
By Kiko Martinez
San Antonio Current contributing writer
For actress Stephanie Andujar, her role in the critically acclaimed drama Precious: Based on the Novel Push by Sapphire, hit close to home.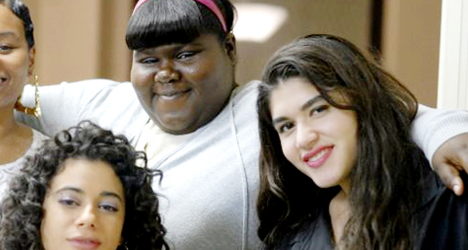 Born and raised in Manhattan, Andujar, who is of Puerto Rican descent, spent most of her adolescence without her father, who was in and out of jail for drug-related crimes. In Precious, she plays Rita, a young girl trying to put her life back together by quitting drugs and attending an alternative school. There, she meets the title character, Precious (Gabourey Sidibe), an overweight and illiterate teenager who is pregnant for the second time with her father's child and living with an abusive mother (Mo'Nique).
During an interview with me, Andujar, 23, talked about the film, which won the Grand Jury Prize at the Sundance Film Festival this year, and what she hopes audiences discover in their own lives after seeing it.
You graduated from Pace University this past May with a degree in business. When did acting become a part of your life?
It's always been a part of my life. I did a lot of theater growing up in New York. My mom put me in an after-school program for acting. She didn't want me to be on the streets. Then, I went to a performing arts high school. All I could see myself doing was acting and being an entertainer. I couldn't picture myself doing anything else.
Tell us about Rita and what interested you in playing this role.
Rita is a former heroine addict. In the book, she can't read, she has HIV and she's been a prostitute since she was 12. `The role` hits home because my father was a heroine addict. I've dealt with things like that in my family. I've always had a tumultuous relationship with my father because he was always in and out of jail.
What did he say about your role in Precious?
It was tough to talk about. I just remember when I got the part, he told me I should go to rehab programs to see what they were like. He didn't get to see Precious. He passed away in January.
Did your role give you a better understanding of what your dad was going through?
Oh, man, yes. Heroine is such a tough drug to beat. My father really tried to overcome that. I can see the same in Rita. She had no other choice in her life. In the film, she is ready to get her life together. She wants a better life.
Precious is your first film. What was the audition process like for you?
I just remember `director` Lee Daniels telling me in the audition room, "I don't care how many other girls are out there, you got this part. I want you to play Rita." I was so excited. At the time, it was only a small independent film. We didn't know where it was going to go. Now, it's getting all this press. I feel honored to play this character.
What would tell people who might say this character is stereotypical?
I play this part because it's a true character. There are so many Latinas out there who are told, "You can't do this. You can't do that; just have babies and get on welfare." They don't have the guidance to see they can do whatever they want. They can become a Supreme Court Justice. Unfortunately, there are a lot of Latinas who are misguided and go through things like this in life. Other Latinos might say these types of roles are demeaning, but I'm an actor. Why is it demeaning? If a role calls for a pregnant prostitute involved in a murder case, I'm going to play it because that's what I do. That doesn't mean I'm limited.
What do you hope audiences who see this film take from it when they leave the theater?
This film is about hardships and getting through difficult things in life. I hope people see that they shouldn't let things bring them down. They should keep on fighting and succeed. The movie might make some people cry, but the tears will be happy tears. I can't wait until the world sees it.