Tue 2/9


Shambhala Day- Tibetan New's Year Day Celebration




2016 is the year of the Fire Monkey, and to celebrate the Tibetan new year The San Antonio Shambhala Meditation Center will offer a toast to the Sun Rise at 7:00 a.m. along with a traditional lhasang ceremony. At 6:00 p.m. there will be a reception for new members, and all are welcome to attend these two events on the first day of the Tibetan New year!
Free, 8-9pm, 6-7pm, Tue., The San Antonio Shambhala Meditation Center, 257 East Hildebrand Ave
.,
sanantonio.shambhala.org

Tue 2/9


Chicana Great Books Series:
The House on Mango Street



Presented by Gemini Ink, the Chicana Great Books Series is a call to celebrate and explore four particularly impactful works of literature. Kicking off with Sandra Cisneros' classic
The House on Mango Street
, a coming-of-age tale told in a set of vignettes, the series will be moderated by San Antonio College English professor Patricia Portales. The inaugural event kicks off with a performance by Monessa Esquivel and a wine and cheese reception.
Free, 6:30 pm, Tue., Gemini Ink, 1111 Navarro
,
geminiink.org

Wed 2/10



The Age of Love


Director Steven Loring's 2014 rom-com
The Age of Love
follows the adventures of 30 seniors who attend a novel speed-dating event for 70- to 90-year-olds.
Free, 1pm, Wed., Central Library, 600 Soledad,
(210) 207-2500,
mysapl.org

Fri 2/12

Dallas Black Dance Theatre - " An Now Marvin"
Dallas Black Dance Theatre is a multi-ethnic troupe of dancers that perform a mixed repertory of modern, jazz, and spiritual works by nationally and internationally known choreographers.
Free, 7pm, Fri., McAllister Auditorium, 1300 San Pedro Ave., (210) 486-0700
,
alamo.edu

Fri 2/12

Art at the Jalapeno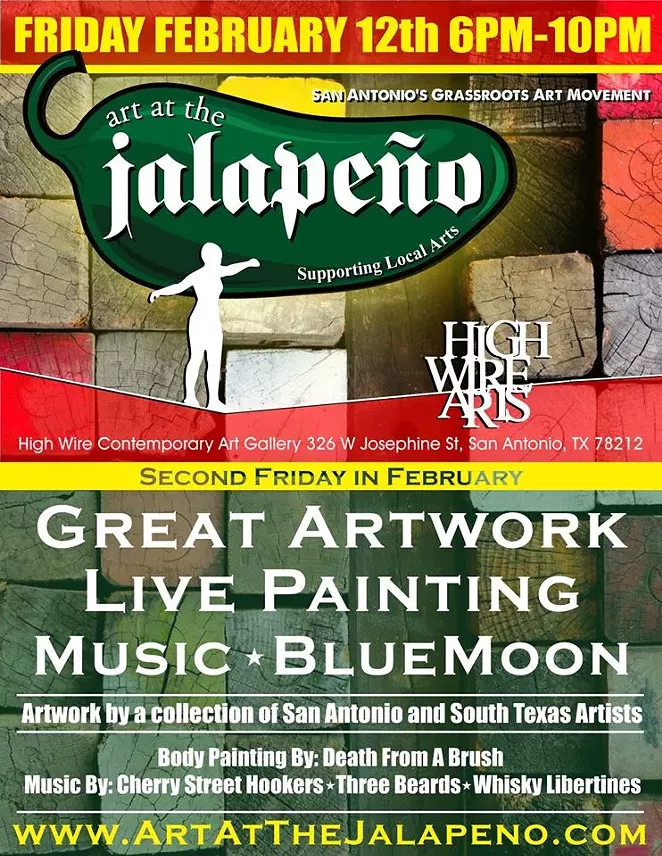 Art at the Jalapeño has celebrated art and music in the San Antonio and South Texas area since 2009. This show will feature artwork by a collection of over 60 artists.
Free, 6-10pm, Fri., Highwire Art Gallery, 326 West Josephine, (210) 827-7652
,
highwirearts.com

Fri 2/12



Come celebrate Valentine's Day with
50 First Dates
at the Tobin Center. Snuggle up and enjoy the movie on a 32-foot LED screen under the glow of the Tobin Center.
Free, 8pm, Fri., Tobin Center for the Performing Arts, 100 Auditorium,
tobincenter.org

Sat 2/13

SoFlo Market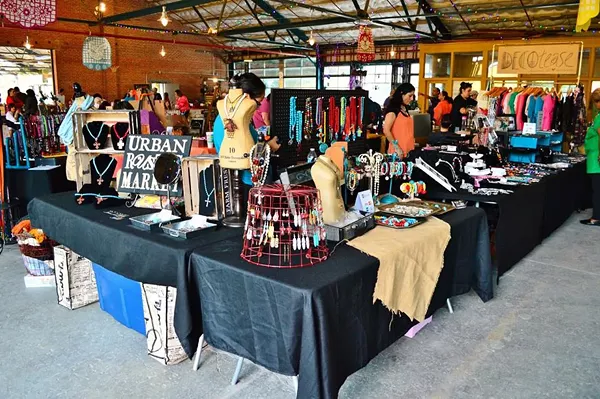 Come check out unique handmade creations, local homegrown products, and special vintage finds created by several artists and makers.
Free, 10am - 4pm, Sat., SoFlo Market, 1344 S. Flores, (210) 379-4648,
facebook.com/soflomarket

Sat 2/13

Second Saturday Artwalk: Lionel and Kathy Sosa


Dock Space Gallery in the Lone Star Art District showcases Lionel and Kathy Sosa to their February exhibition. Kathy's oil portrait collages display her artistic voice while speaking to the beautiful things that women are. Lionel Sosa paints the people he knows best featuring large and small portraits of Latina women in this exhibit.
Free, 7pm-10pm, Sat., Dock space Gallery, 107 Lonestar Blvd, (210) 723-3048
,
facebook.com/LoneStarArtDistrict

Sat 2/13

Paint the Town Red




Join the San Antonio chapter of the American Red Cross celebrate their centennial and help prepare to serve the residents of San Antonio and surrounding communities for the next 100 years.
Free, 11am-3pm, Sat., Travis Park, (210) 212-8483
,
redcross.org

Sun 2/14

Love Edition: Live Glass Blowing Demos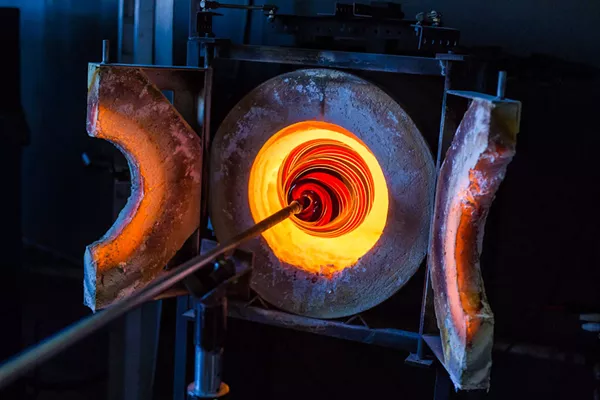 Witness the love in the air this Valentine's Day by watching glass blowers share their knowledge and expertise while making unique art from glass. F
ree, 11am-3pm, Sun., Caliente Hot Glass Studio, 1411 North Hackberry, (210) 386-7153,
facebook.com/calientehotglass