By Enrique Lopetegui
elopetegui@sacurrent.com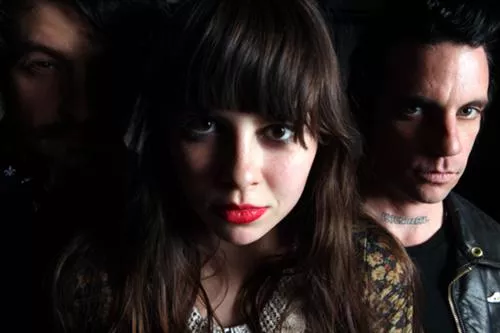 Le Butcherettes 2011: Jonathan Hischke (bass), Teri Gender Bender (guitar, keyboards, vocals), and Gabe Serbian (drums).
How do we do this? English or Spanish?
[In Spanish:] Anyway you like! What do you prefer? I'm totally bilingual. I was born in Denver, but moved to Guadalajara when I was 14. I already knew Spanish because my mother is
tapatía
[from Guadalajara] and they taught me both languages since I was little.
But did you always sing in English?
Yes. I started in Guadalajara, and there was a lot of controversy. "If you are Mexican, why do you sing in English?" My answer is: English is also my language. I grew up talking as much English as Spanish. Sometimes people prefer to criticize instead of trying to understand anything. But that's OK.
The whole album is in English. Do you always write in English?
I'm used to it, because I've been singing in English all my life. [Switches to English]. I spoke Spanish, but I didn't know how to write it. I never got any formal lessons. My mom had two jobs and my dad always worked, so they didn't have the time to teach me how to write or read. So when I went to Mexico the only thing I could do was keep on writing in English, because it was my only way to express and understand myself. But one day I said, "You know what? Screw it. I'm gonna come out to the world and be who I am." One day, hopefully, I'll write in Spanish. I am, actually, writing in Spanish, but I'm keeping it to myself because I'm not so sure of my voice. You know, people's tones change when they switch tongues.
You play guitar and keyboards, but used to work with only one drummer. When did you decide to add a bass?
Omar Rodríguez gave us an advice:
We should have a bass player all the time, because in concert I often go crazy and I need the bass element to keep the music in check
.
Sometimes more is OK, but sometimes less is more. I recorded all the guitars and keyboards in the album, and Normandi [Heuxdaflo], the previous drummer, all the drums, and Omar all the bass racks.
What's the story with Omar?
It was very strange. In Guadalajara I was used to playing in little bars for less than 30 people, and he went to one of those shows and saw us. A friend of mine is also a friend of his, and thanks to that friend Omar invited us to have dinner. I was lucky.
I don't know what to make of your guitar playing. I love your strumming, but your picking is strange.
Oh, man   that's a great question. I'll be completely honest. I have my own guitar tuning and I only play with four strings. Because of this, a lot of hardcore musicians judge me because they think you should play the guitar traditionally, with all six strings, and do traditional tuning, which is OK. Everyone has a way of playing the guitar, but I have mine. It's just like religion: you can believe in God or you can believe in whatever, as long as there is respect. I believe in playing the guitar my way and I respect other people's way. They should respect that too.
But the beginning of "Henry Don't Got Love..."
[laughs] Oh, that started with my brother, who is a huge cyber nerd and always plays at a site that has a very similar theme song. Unconsciously I picked that up and used it as a ridiculous intro, and then bam!
Explain to me the whole meat concept. I'm a veggie and was ready to hate you, until I heard the album.
I'm a veggie too! I used to be a vegan, but I was anemic and now I'm a vegetarian. The name of the band has to do with butchers cutting meat. The meat represents
machismo
, discrimination, and we want to cut that meat that fucks up society. We want to cut it in little pieces and get rid of all the shit. Sorry for my language but It's all symbolic. I'm well aware that a lot of people are going to be bothered by this and are not going to think, "Oh, this is symbolic." They'll just be repulsed by it all. But this is something I do for myself, I'm a little selfish in that respect. But some people do understand. "Oh, you are a butcher girl getting rid of all that
machismo
and moving on." And the blood thing is also in honor of the dead women at [Ciudad] Juárez. But it also has to do with women that are tired of cleaning the house, and that's why I sweep and dust the stage. Sometimes I wash it with water and soap. You know, a woman gets tired of cleaning. Now I have two men in the band and they understand the concept perfectly. But my thing is not against men, not at all. That would also be an act of sexism. So that's
what the meat is.
Why did you leave Mexico?
There were some little problems [Former drummer Auryn Jolene] wanted some royalties for the songs, which are all mine. She never collaborated musically. She was the drummer and I respect her for that. But she wanted half of the royalties and I said, "Listen, I can't give you so much. You didn't write the music or the lyrics." And she left the band, just like that, without telling me anything.
Is that why you moved to Los Angeles?
It had something to do with it. Don't get me wrong: I love Guadalajara, but right now the music scene there is going down. All the Guadalajara bands are moving to Mexico City or New York. It's very sad. Supposedly, the big drug boss was killed and all the little dealers are fighting to take over the Guadalajara market, and it's all disgusting. But that's another issue. When Jolene left the band I didn't have a reason to remain in Guadalajara, so I moved to Mexico City and started from scratch. In Mexico City everything worked well, until a lot of people started attacking me. "The music is good, but you sing in English and I don't understand you." And I felt it was such a hypocritical position, because they don't have a problem understanding the Killers or Interpol, but they don't want to try to understand me? So I said, "You know what? I don't want to just focus on Mexico, I want to go to other countries as well." It sounds ambitious, but I love to travel and know different cultures.
Your voice reminds me of both Florence Welch (Florence + The Machine) and Patti Smith. Where do you come from?
When I started to get into music, my father [from Spain] listened to Mozart and my mother listened to Lola Beltrán, but I wanted to find myself and I found Bikini Kill. Kathleen Hanna has been one of my greatest influences. She's fierce and sensual. I also love Janis Joplin, and when I arrived in LA I discovered a lot of old underground bands. And I love Marnie Stern — she's one of the greatest guitarists I've ever seen.
You have a critical take on feminism, don't you?
I read books that inspired me to doubt about many angles and aspects of traditional feminism. I read Christina Hoff Sommers and others who criticized and pointed the bad things of feminism, which sometimes is like a liberal mafia that manipulate feminism for the convenience of upper-class women. Not only about feminism, but about everything, I want to have more references, more points of view. I don't want to be narrow-minded. If you say you hate religion, at least read the Bible to be able to criticize with authority.
You got to tell me about that video you did with Adanowsky
[laughs] It was a mockery of couples so into their relationship they can't see that they're like naked in public, so full of fury and violence I was attacked more than him for it. "How can you be a feminist and appear nude in a video?" But I don't have to prove anything to anybody. We had a lot of fun making the video, and in fact it was
my
idea. The French police was applauding us, and I was thinking, "My God In Mexico I would go to jail, and in the U.S. it would've been worse!" If you're a woman and an artist there should be no limits. I don't regret a thing about that video.
But you love to shock
I was expecting that kind of reaction, but I knew it was worth it. You don't have too many opportunities in life to do that, and I went for it. Auryn Jolene had just left the band, and I wanted to do something that was totally mine.
Jolene posted a video
It was all lies, what she said about "the direction of the band." The truth is: the band was moving to Los Angeles and her parents didn't want to let her go. I told her from the very beginning that everything was registered on my name. I don't want to talk trash about her, but she did talk trash against me behind my back while pretending to be my friend. What she said in that video was false and it was meant to throw dirt on the band's name. The band continued, it never ceased to exist, like she said. I always told her: "If you want to write songs, fine, the royalties are yours." But
cuentas claras, amistades largas
(clear accounting, long friendships). I wanted to have meetings with her and she never showed up. When we played live she didn't like it when I went crazy onstage. I was always pushing the envelope and she wasn't, and that's perfectly understandable, but I never did anything that went against our dignity. It was a personal thing, like envy. At first everything was great, but when we started playing a lot in Mexico City she and our former manager started growing apart from me. They didn't want me to do other things, like playing with Adanowsky. And when I released my book [
El caparazón perdido
]) they didn't even go to book's presentation. It was all very strange. But I swear to you: I'm not a bad person, like she said. [Auryn Jolene didn't want to comment]
Le Butcherettes w. Deftones and The Dillinger Escape Plan
$32 7pm doors, music 8pm Fri, June 3 AT&T Center, One AT&T Center (800) 745-3000, attcenter.com