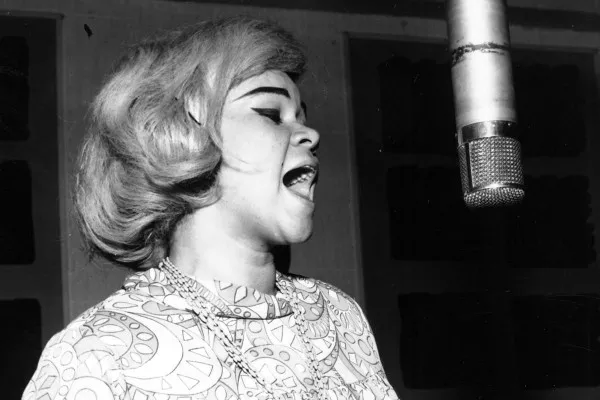 Etta James, the "fantastic, fabulous, dynamite Lady of the Blues," as Chuck Berry once introduced her, passed away Friday in her native Los Angeles, of complications from leukemia. She was 73.
America, like Brazil, has had a long tradition of amazing female vocalists, but I always felt particularly fond towards Etta James. She could sing anything, from gospel to blues, from R&B to rock 'n' roll, always displaying a lethal mix of bravado and vulnerability. At their best, her albums — often uneven, as was and is the case with most interpreters — had an unusually high rate of terrific songs in it. But my favorite album of hers is Love's Been Rough On Me (1997), one of the greatest breakup and love's-a-bitch albums ever made (also, perhaps her most critically underrated, even though it reached #6 in the blues charts).
The opening track says it all: Etta's song characters (and herself) would take some shit, but eventually they'd move on.
Her guest appearance in 1987's Hail! Hail! Rock 'n' Roll was a showstopper. The movie — arguably the greatest rock documentary of all time — celebrated Chuck Berry's 60th birthday with an all-star band and guests that included Berry himself, Keith Richards, Eric Clapton, Julian Lennon, and others. Here's Etta's rendition of Berry's classic, in my heart second only to the Beatles' cover of the same song:
Her biggest hit was "At Last," which she performed at the Austin City Limits TV show in 2005:
But no matter what your favorite Etta James era is, you can't honor her memory without revisiting Etta's version of "At Last." Written by Mack Gordon and Harry Warren for the 1942 movie Orchestra Wives, a musical, the song had several versions by different singers until she completely reinvented it in 1960 and made it her own. Her version was the definitive one, and it was inducted into the Grammy Hall of Fame in 1999.
Rest in Peace, Etta. And, in the names of my several friends whose spirits were lifted after listening to Love's Been Rough On Me, thank you. — Enrique Lopetegui