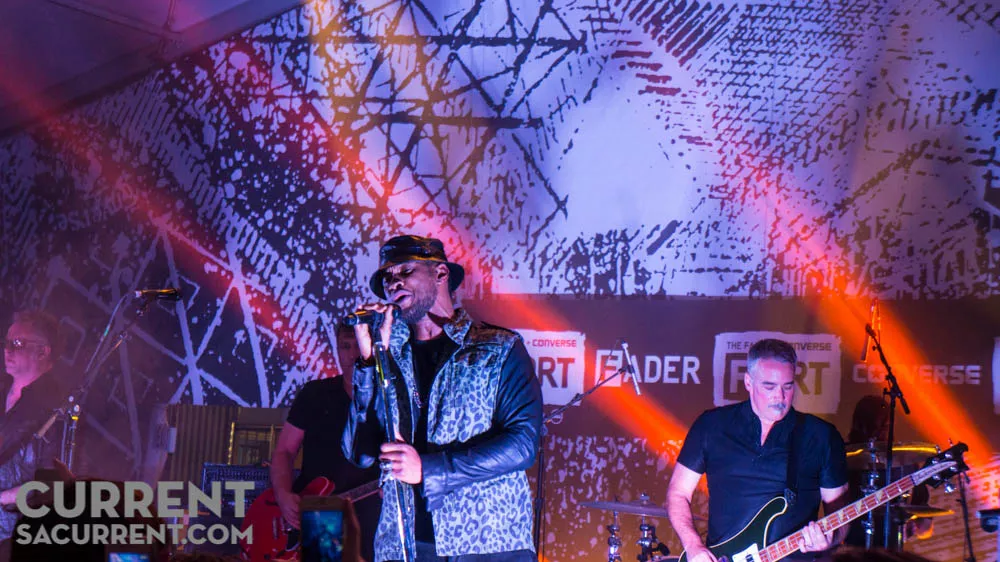 Usher on stage with the Afghan Whigs.
The tweet came out early in the day.  "There will be a special guest joining Afghan Whigs tonight."  Throughout the rest of the day, many replied with speculating guesses.
My first guess was Frank Ocean since they cover one of his songs, but I heard Usher mentioned alot.  Everyone else must have heard the same things because the crowd was jam packed up at the front.  The lights dimmed. Greg Dulli and company walked onstage and opened up with "Blame , Etc." from their album Black Love.
They then played the Frank Ocean song "Lovecrimes", but no special guest walked up for that.  Then, in the middle of their next song, out walked Usher to huge applause.
Usher then dueted with Greg Dulli on the Afghan Whigs song "Something Hot" from 1965.  It sounded great and the crowd was loving it.  After that it became the Usher show.  Those of us wanting to see an Afghan Whigs show, didn't get much more.  But it seems we were in the minority.