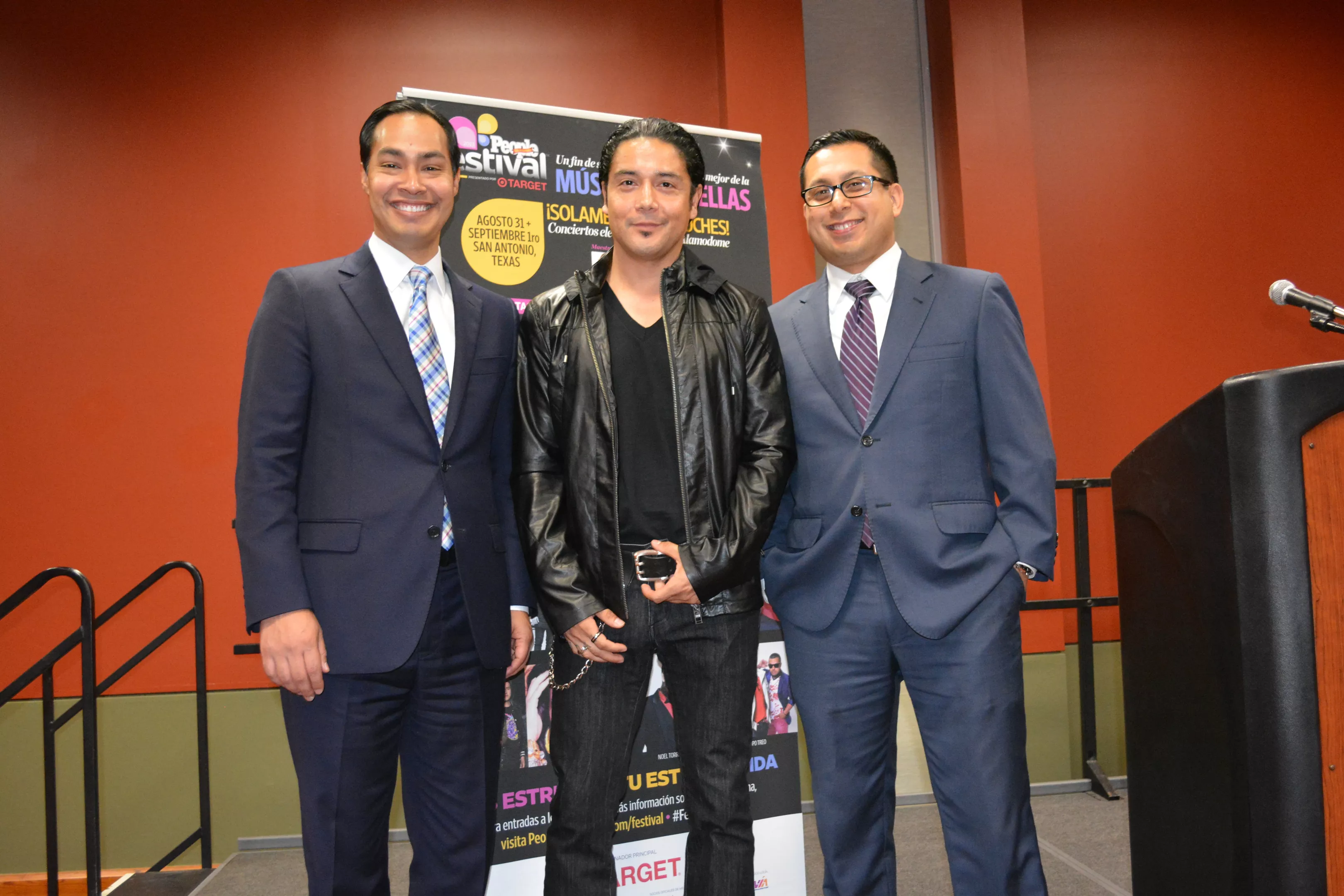 From left: Mayor Castro, Chris Pérez and Councilman Diego Bernal (photo by Christine Castaño)
"I think it is fair to say that Chris is the better looking of the two," said Councilman Diego Bernal Wednesday at the Henry B. González Convention Center, introducing a smiling Mayor Julián Castro and Chris Pérez (Los Dinos, Chris Pérez Project). The occasion was a press conference to announce the free events to take place during the second annual Festival People En Español, which will take place at the Convention Center (the free day events) and at the Alamodome (the paid concerts at night, with tickets starting at $30) on August 31 and September 1.
After a technically impeccable 2012 edition (the sound, the lights and the flow of the festival were first-class) marred by surprisingly poor attendance (half of the arena was empty in spite of top names like Luis Miguel and Olga Tañón), this year the festival started production several months earlier with Emilio Estefan Jr. as artistic producer of the event. For the paid portion of the festival, stars like Gloria Estefan, Wisin & Yandel, Alejandro Fernández, and Chris Pérez Project are scheduled to perform.
"We're expecting a great event with a strong turnout this year, and we're anticipating a Festival People En Español for many years to come," Mayor Castro told the Current when asked whether the festival's 2014 edition depended in any way of better 2013 ticket sales than in 2012.
The free events on August 31 and September 1 include a tributo to the late Jenni Rivera, performances by Bobby Pulido, Mariachi Vargas Extravaganza and Kat Dahlia, among others, and an appearance by middleweight world champion boxer Sergio "Maravilla" Martínez.
Even though the purpose of the press conference was to promote the free day events, Chris Pérez (who will perform with his Chris Pérez Project at 7 p.m. Sunday, September 1, at the Alamodome) couldn't help but share his enthusiasm about the names he'll share the stage with, especially Demi Lovato, who will perform at 9:30 p.m. on Sunday, September 1.
"I love her music, I think I think she's great," said Pérez, "but my daughter is a superfan, so I'm even more excited for her."
Read more about Festival People En Español in the Current's August 28 edition.